10 creative ways to display your art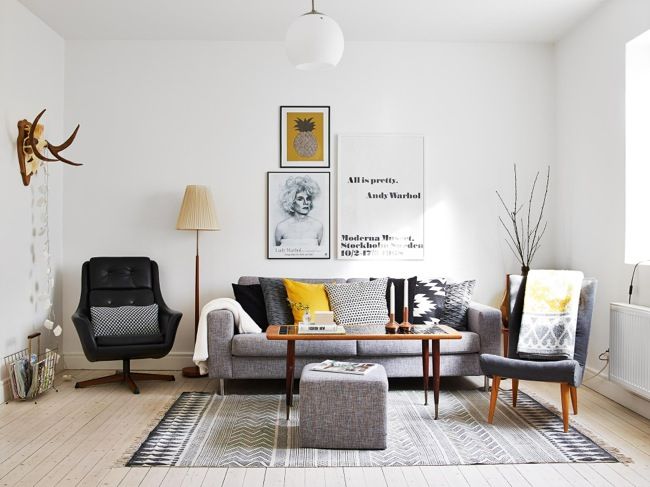 Amuse and delight your family and friends by displaying your favourite art pieces in a variety of creative and unexpected ways.
Mismatched art

Displaying a collection of mismatched art is quirky and fun. The neutral colour palette, combination of textures and pops of yellow give the room an understated and comfortable feel.

Design tip: Create a subconscious sense of 'visual tension' by displaying art in groups of three. This will allow you to highlight specific aspects of your home.

Image: Decor Dots

Casual elegance

A grouping of framed paintings and photographs that casually rest against a mantelpiece, work well in this pared-down room. White walls and ceilings and exposed wooden trusses are the perfect backdrop for the interesting elements featured in the space.

Image: Ashe + Leandro

Wooden shelves

A minimalist wooden shelving unit can beautifully showcase a collection of artsy memorabilia. The strong angular lines, monochrome photographs and decor pieces convey a sense of cool masculinity without going over the top.

Image: Ashe + Leandro

Modern marvel

A piece of ultra-modern, abstract art has both a feminine and masculine appeal. A pink and grey colour scheme is calming and sophisticated. Pink adds a warm touch to an otherwise cool space.

Image: Digs Digs

Colour me happy

Vivid, contemporary artwork helps home owners to achieve a modern space without the feeling of being cold or clinical.

Photograph by Michelle Harth

Golden allure

The golden hues of the canvas complements the lit coals of the fireplace, and organic looking floor-lamp.

Photograph by Michelle Harth

Mirror magic

In this room, an unusual mirror becomes the art and one of the key focal points.

Photograph by Nic Baleta

Classic design

Are you a fan of classic art? A beautiful painting of a tulip enhances the elegant feel of this bathroom and complements the old-world charm of its claw-foot bathtub.

Photograph by Fiona Barclay-Smith

Overlapping frames

Try overlapping frames to create an unusual art display.

Image: Style & Grace

Retro cool

A fun geometric print, hanging planter and polka-dot bed set gives this room a funky and retro feel.