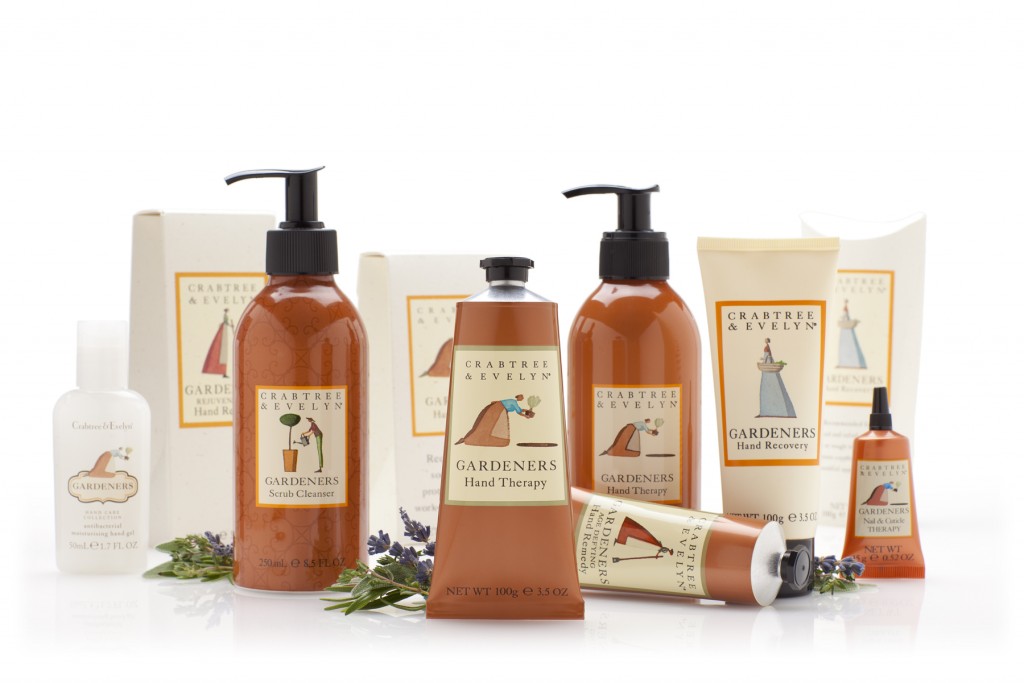 Enjoy your time in the garden with Crabtree & Evelyn's highly effective Gardeners Range. The intensive formulas of our hand and body range will leave skin beautifully soft, smooth and moisturised after spending the day outside.
A blend of natural ingredients and botanical extracts inspired by an English herb garden – rosemary, clover, thyme, sage and lavender – helps restore, soothe and protect work-roughened hands.
For the softest hands follow this step-by-step guide:
1)      Cleanse with Hand Scrub with Pumice to remove dirt and other impurities.
2)      Apply Hand Recovery® to exfoliate skin.
3)      Moisturise with award-winning Hand Therapy, or if hands need an extra boost, use antioxidant-rich Hand Remedy.
4)      Apply Nail & Cuticle Therapy to soften cuticles and condition nails.
Here are some fabulous products in the range:
Gardeners Age Defying Hand Remedy 100ml Price:  R350
This intensive formula helps reduce the visible signs of aging, leaving
hands soft and smooth with a more youthful appearance. A blend of peptides and naturally derived extracts help even skin tone, plump and firm skin, and improve overall suppleness.
Contains a unique time-released capsule of antioxidants, which have been found to minimise the damaging effects of free radicals.
Gardeners Hand Recovery® 100g Price R350
This innovative 3-in-1 formula is filled with a blend of salt crystals, macadamia oil and shea butter to cleanse, exfoliate and condition the skin. From the first treatment, your hands will look and feel noticeably more supple. Follow up with Gardeners Hand Therapy to maintain soft, smooth hands.
Gardeners Hand Scrub with Pumice 195g Price R220
Blended with soothing herbs and fine pumice to gently lift and remove ingrained soil from the skin, this hand scrub comes in an easy-to-use tube.
Gardeners Hand Therapy 100ml R300 50 ml R160
Recommended for anyone with dry skin, this hand treatment is a rich blend of conditioning shea butter, moisturising macadamia nut oil and hydrating ceramides for soft and supple hands.
Gardeners Nail & Cuticle Therapy 15ml  R225
Soothe, soften and condition dry or roughened cuticles with Nail & Cuticle Therapy. This handy cream is the secret to glossy, healthy-looking nails.  Formulated with conditioning panthenol and moisturising glycerine, it softens the nail and cuticle area, allowing cuticles to be gently pushed back.
VISIT: