Discover nine contemporary design ideas for your bathroom.
Geometric shapes
"In order to make a dramatic statement for a bathroom, one can consider elements with unique patterns and shapes. Geometric patterns work well for a contemporary bathroom theme, and when featured on flooring the visual impact is noticeable on entrance.
"When choosing a rounded patterned shaped floor tile, make sure to repeat the soft curve elsewhere in the design, such as in the lighting, mirrors, angles on the bathroom accessories, rugs and even ornaments. This will offset the traditional hard edges of a contemporary design." – Zanee Matthews and Antionette Stander, directors and senior interior designers, M&S Design Studio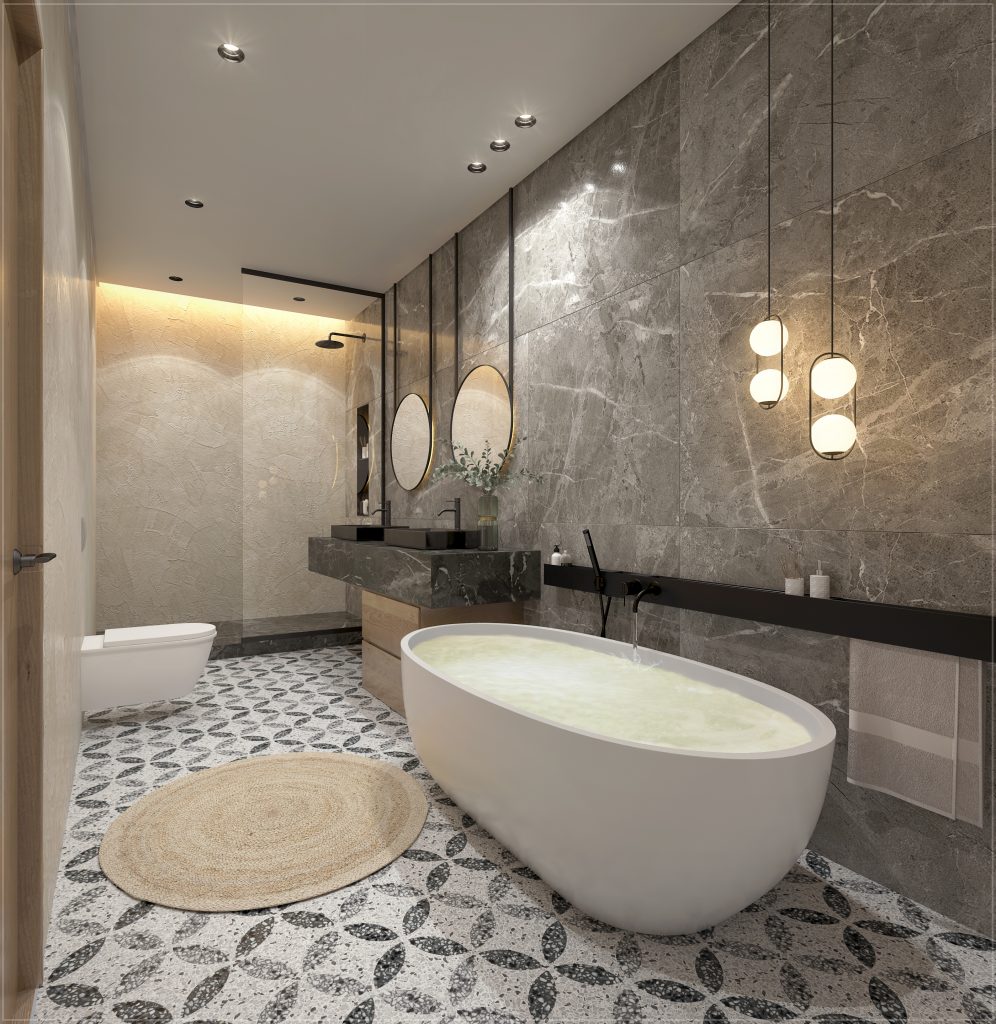 Keep it grounded
"When it comes to having lifespan in a design, we often keep it simple when choosing colours for a contemporary bathroom. Neutral colours keep the design grounded, especially with natural-look tiles such as marble, travertine, wood, terrazzo and concrete-look tiles.
"Remember you don't have to tile every single wall. We often introduce stucco paint techniques in order to add texture and movement on a wall.
"Implementing textured tiles creates shadows when casting light onto it, which in effect enhances the depth needed to be created, which often falls flat with a contemporary design." – Zanee Matthews and Antionette Stander, directors and senior interior designers, M&S Design Studio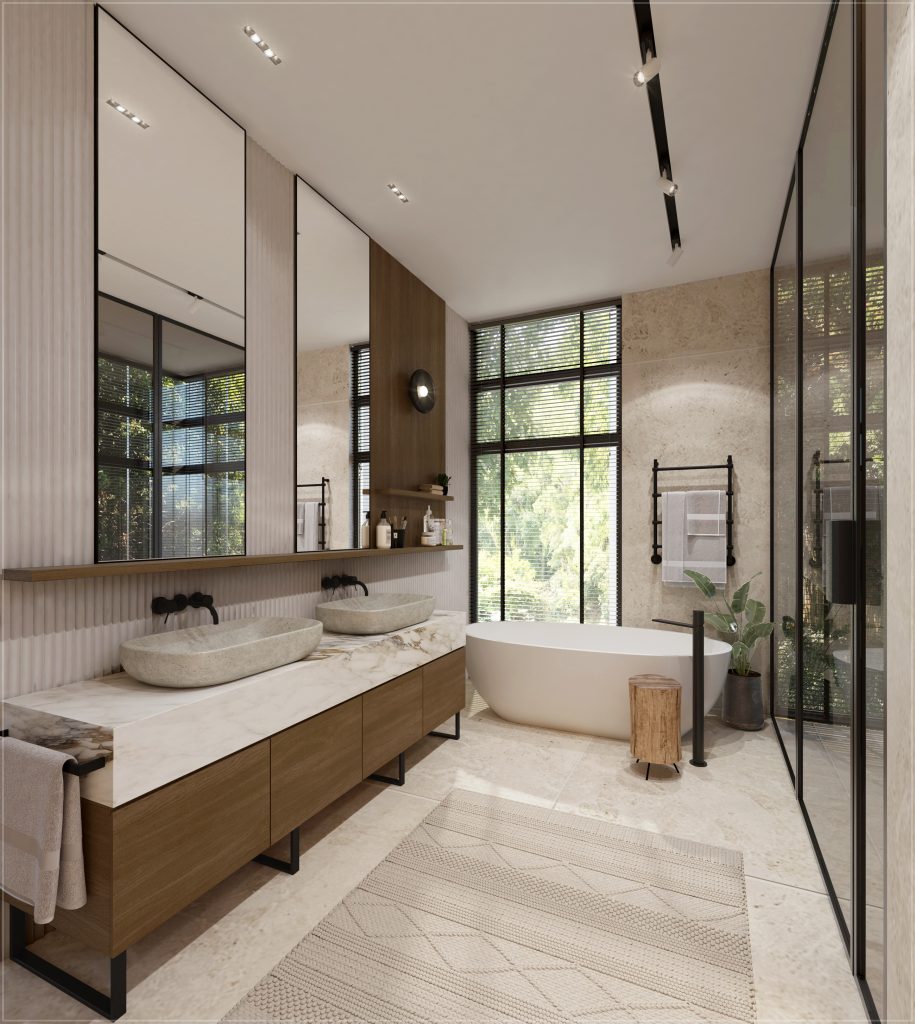 Real wood
"A particularly natural feeling in the bathroom is created by using real wood furniture and surfaces. The particularly refined look and feel of the White Tulip series underlines this approach, and depending on the design approach, brings a Mediterranean feeling into the bathroom." – Karen Robyn, Duravit South Africa general manager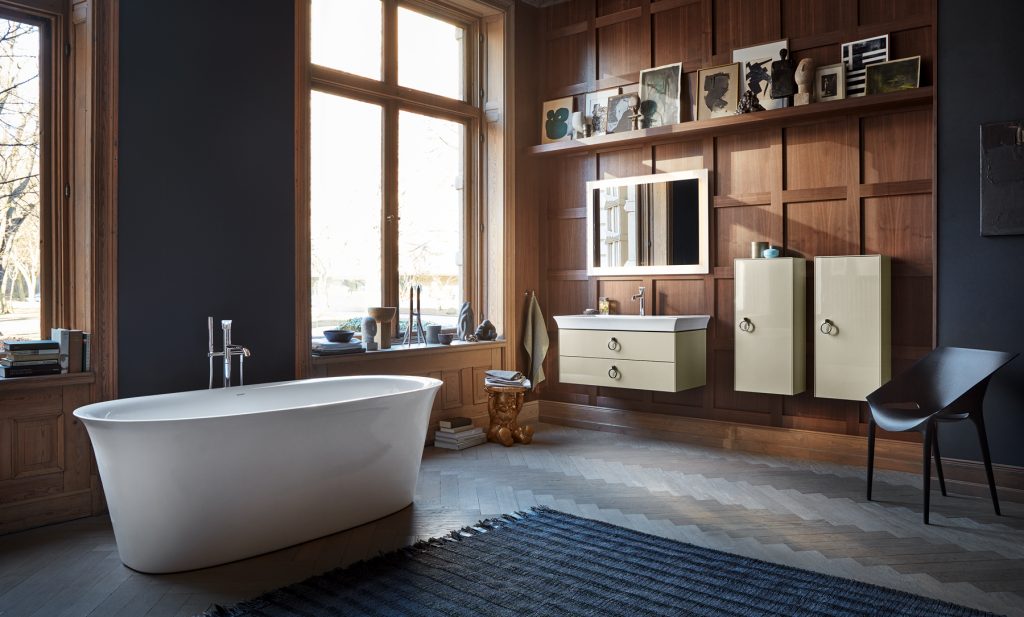 Individuality is key

"One bathroom series – countless design options. The variable approach of the D-Neo series supports individualism. Whether a family bathroom with generous storage space, an urban bathroom in a small space, or the perfect imperfection in your own four walls – it all works with just one series." – Karen Robyn, Duravit South Africa general manager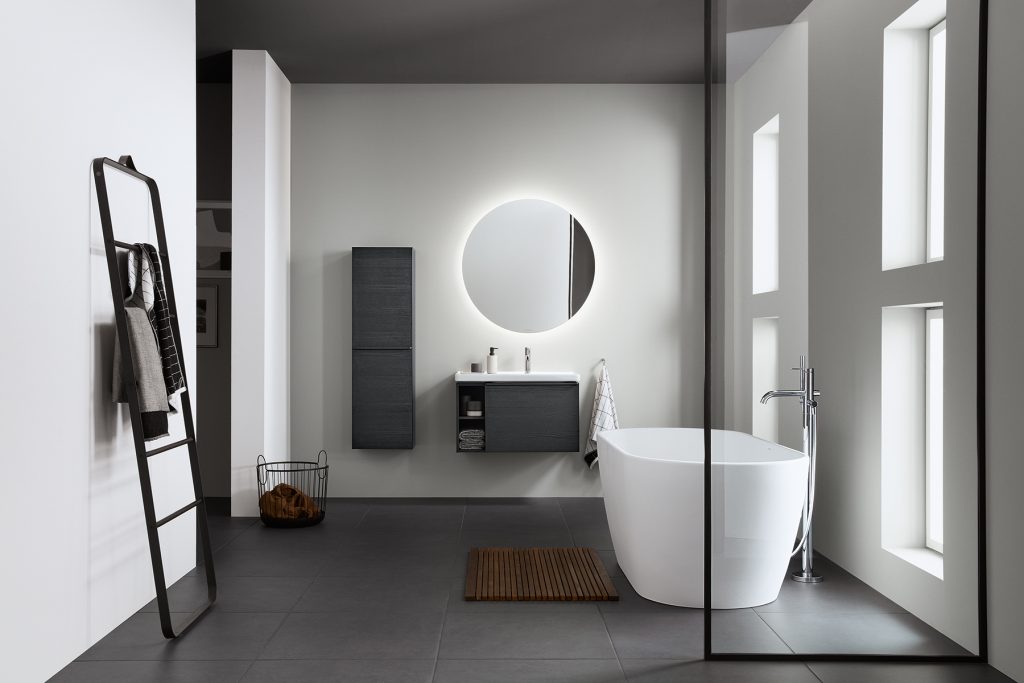 Go black
"When planning a contemporary bathroom and you are looking to modernise your space, adding black elements is suggested. The Arco Black vanity is a great option as it has a sleek and modern look. If a vanity if not your first choice, adding matt black accessories, taps or finishes will transform your space." – Nicole Russell, Italtile marketing manager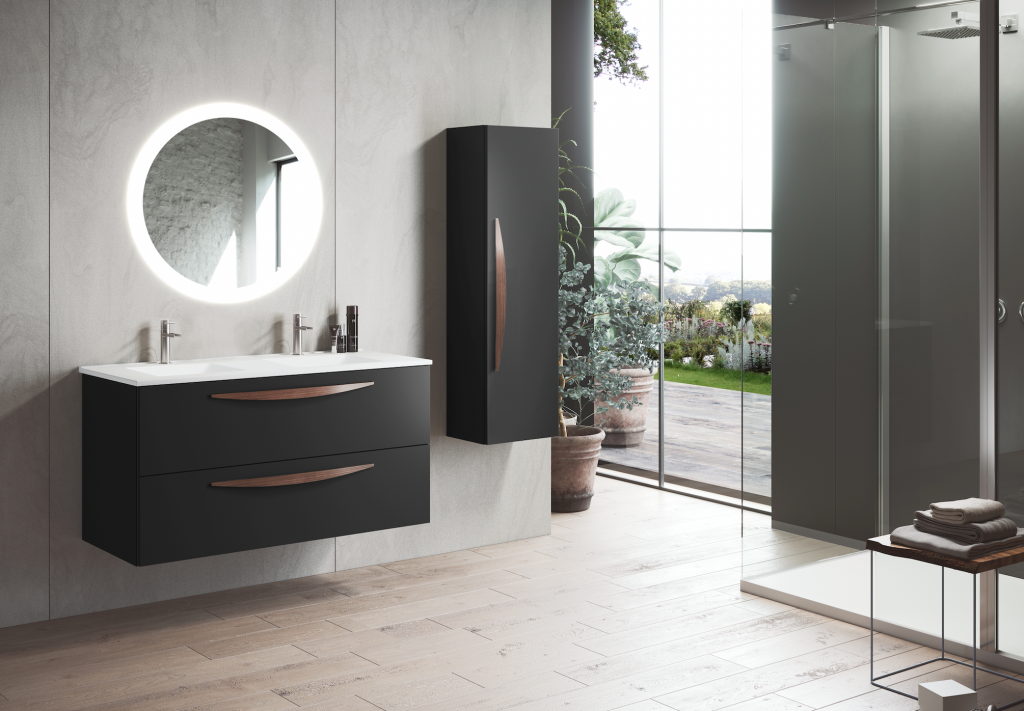 Terrific tiles
"Tiling floor to ceiling and staying with a neutral colour scheme is a great way to piece together a contemporary bathroom. Look at colours such as creams, beiges, greys. If you want to stay away from the 'flat' look, layer various shades of the same colour throughout the bathroom." – Nicole Russell, Italtile marketing manager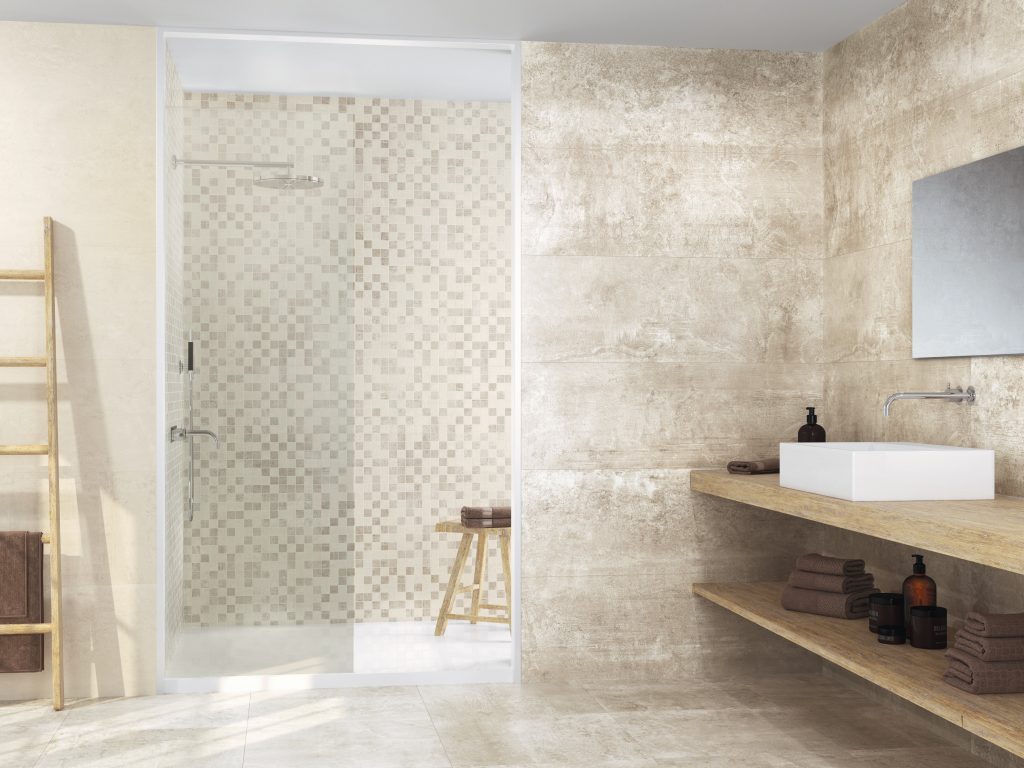 A dual colour palette
"Stick to a dual colour palette and select up to three different tiles that work in harmony, and try to keep the selection simple with smoother finishes like large-format concrete-look or wood-look tiles. Minimal textures and natural colours will complete the contemporary look." – Cayley-Jade Smith, Bella Bathrooms & Tiles design consultant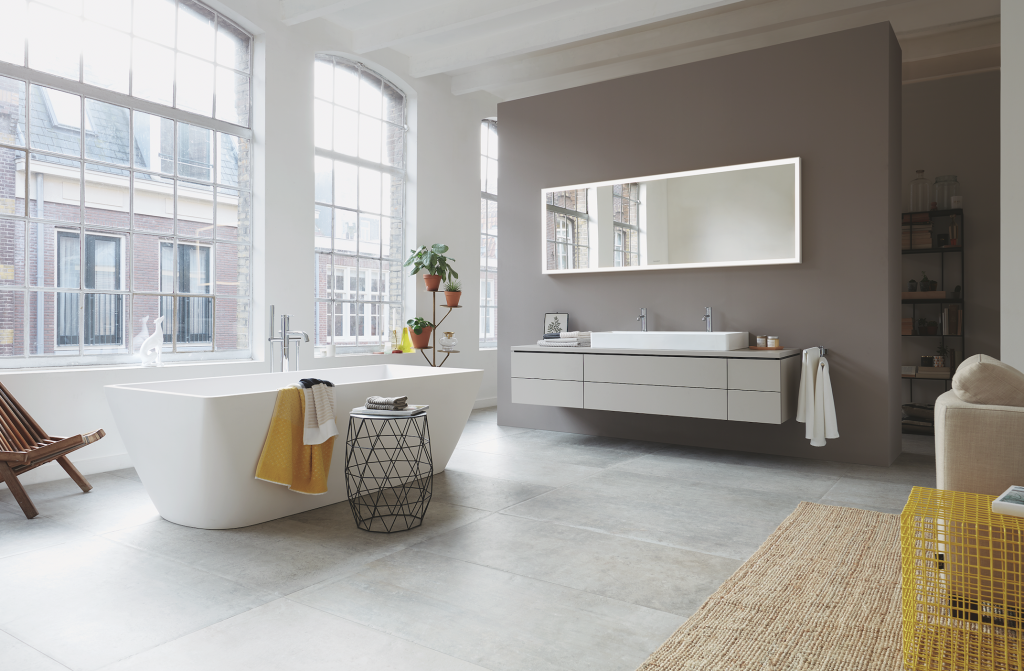 Consider your lighting
"Lighting is sometimes an underutilised item, but if one wants a contemporary bathroom, one should have contemporary lighting as well. Don't just go for standard downlights – try using LED strips in bulkheads or recessed alcoves in the bathroom. Pendant lights over vanities and baths are a must. Always try to get as much natural light as possible." – Kyle Du Preez, Olala Interiors interior designer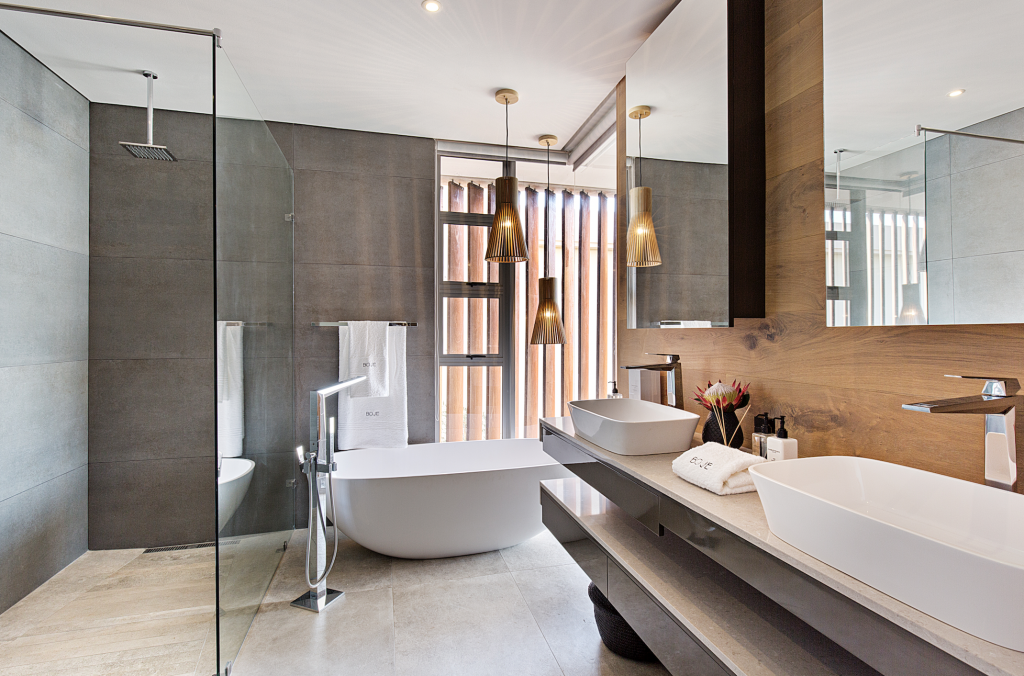 Marble and stone finishes
"Marble-looking tiles that go from floor to ceiling are a good way to achieve a contemporary bathroom. They don't have to be white, as long as they stick to your colour scheme. The tile does not have to stay in a standard pattern, one can use a chevron or herringbone pattern as well. The tile does tend be a key feature so choosing one that is eye-catching is a good idea." – Kyle Du Preez, Olala Interiors interior designer