Leafy indoor plants add a touch of crisp interest to indoor spaces. Thanks to our round-up of design-savvy ideas and statement pots, they'll be dressed to look the part.
Modern talking
While foliage takes centre stage, presentation pots add a sense of style to indoor plants. The secret to success is one of careful execution and care, advises Alon Sachs, co-founder of Mobelli Furniture + Living.
"Plan your indoor ensemble before digging in. Take time to select stylish, trendy pots that suit your décor and your plants," advises Sachs.
Create the look
Form and function: Oversized pots always make a sharp style statement. They're versatile, too. Add some nature-inspired privacy by arranging these Cararo Premium planters along the perimeter of your living area. Visit www.mobelli.com.
Balancing act: When a clean-line design mix, such as a trio of Diamante Premium White pots, leaf texture, colour and shape, come into high definition. Available from www.mobelli.com.
Design savvy
"Whether you're opting for a bold statement or a toned-down approach, remember to maintain a balance," advises Karin Cawthorne of KARE Design.
One of the best ways to fuse nature and high design is to use contrasting elements. "Play around with differing colours, textures and materials until you find a look that suits your style," suggests Cawthorne.
Create the look:
Colour bomb: Make the ultimate colour statement by contrasting popping colours with monochrome pots. Find the look at KARE Design. Visit www.kare-design.com.
Gold standard: Brushed gold and copper shades are ideal counterparts, especially when paired with unexpected silhouettes. Add elemental appeal by melding the diamond-patterned Harlequin pot from SHF and a gold planter from @home. Find the look at www.shf.co.za, www.home.co.za.
Less is more: Use different-scaled pots to add depth and dimension. The on-trend Stockholm planter with wooden detail will brighten up any corner. Visit www.mrphome.com.
In the mix
There's no better way to raise the bar on modern aesthetics than by adding a curated selection of indoor plants to the mix. For a hands-on approach, dig in.
Craig de Necker, managing director of The Friendly Plant, suggests choosing a variety of ferns, delicious monsters, fiddle-leaf figs, crotons, bromeliads and tillandsias. While evergreen foliage is synonymous with indoor plants, shop around for flower-bearing varieties such as begonias and calla lilies.
Pressed for time? In terms of practicality, options abound. "If you don't have green fingers, opt for a planter that self-waters plants for you for up to 12 weeks," says Sachs.
Create the look:
Can't commit? Add a dash of fuss-free faux greenery with SHF's Fern Botanic range. We promise we won't tell … and neither will visitors. Visit www.shf.co.za.
Clever thinking: Jam-packed diaries and pint-sized spaces call for savvy solutions. The stylish Eva Solo self-watering frosted-glass orchid pot is as easy as it gets. Find it at www.yuppiechef.co.za.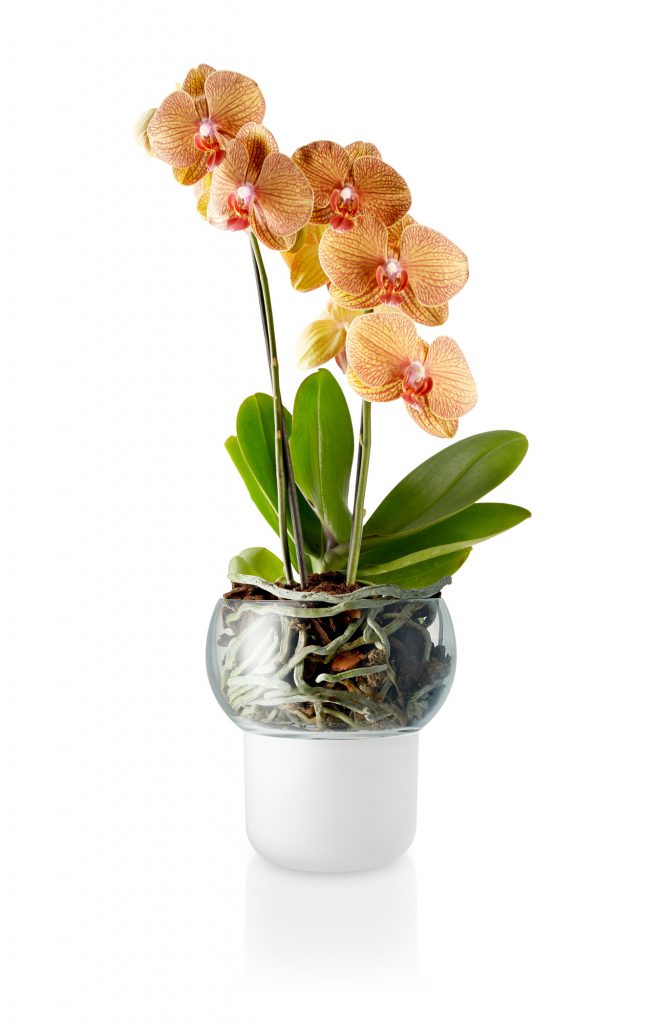 In good measure: Craft a crisp, pulled-together look by ensuring that indoor plants are in proportion to their containers. Always add drainage holes to the bottom of your presentation pot to prevent it from becoming waterlogged.