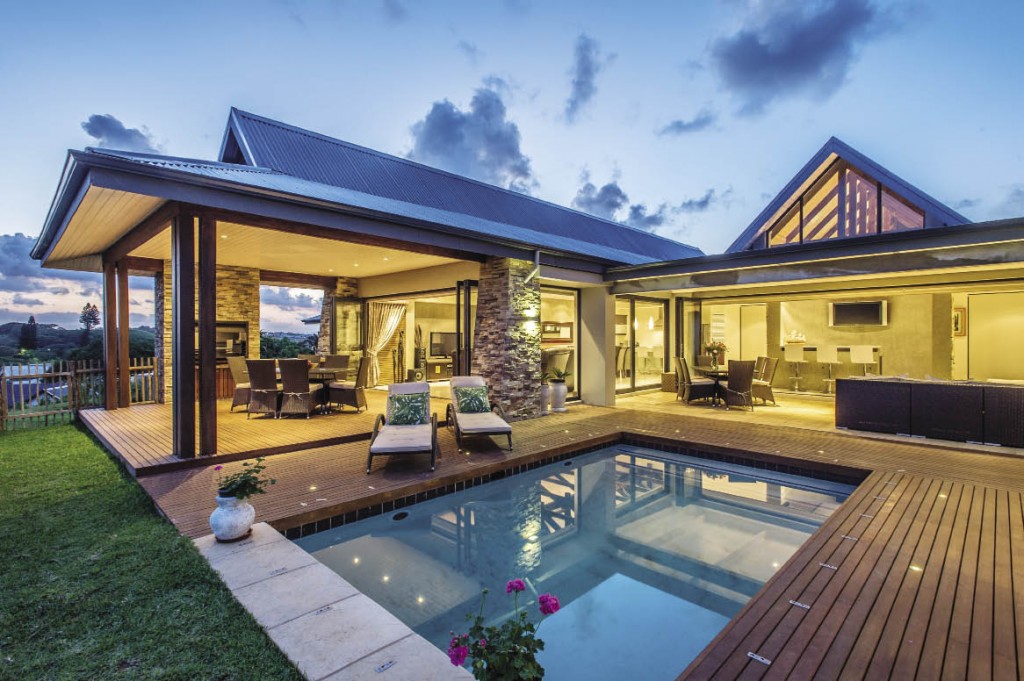 By Heidi Olivier, Property Co-ordinator Avril Elias and Claudelle Knock, Photography Chris Allan
An "outdoor-indoor" delight – this home is an environment enthusiasts' dream. The house boasts not only sea views but also overlooks a section of the golf course. No matter where you stand in the house, you can see the outside.
The owners wanted a home that was practical and had living areas separate from the bedroom wing. Yet they wanted easy access to all areas including the entertainment areas with the bar and the pool deck. Mark Leslie-Smith Architects was called in to design the home, and with a brief describing the client's needs, including a strict budget, the architects set to work.
"We had no particular decor needs in mind, but we wanted something that would express our personal style in terms of entertainment and most importantly family needs," explains the owner. In terms of the decor, Edlena Leslie-Smith Interiors stepped in to design and create the spacious interior.
The interiors of the home were not the only spaces that were treated with attention to detail – the garden was also considered in order to add to the overall holistic feel of the home.
When asked about his favourite part of his home, the owner says: "The open-plan living area is my favourite. The exposed roof trusses give the illusion of spaciousness, while the stack and sliding doors add to this by creating a natural flow in the entertainment area."
He adds: "We asked our interior designer to use her flair when combining the existing furniture with modern appliances and artwork." And this was done with end results that show off a stylish yet warm and welcoming home.
What may seem surprising to most is that while the house was being built, the owner was overseas and could not view the building site in person. He was however sent weekly photographic updates with detailed descriptions regarding the building progress. In fact the first time he actually saw his new home was when he took occupation.
And his first impression of his new home: "I instantly fell in love with it. The architecture and interior design was what we, as a family, had in mind for our dream home."
The owner also believes that when taking on a project such as building your dream home, you need to find a team that works well together. With this home, it worked out perfectly as the architect and interior designer are also husband and wife, so collaboration on the design from beginning to end was team work with the added benefit that all the designs were done simultaneously.