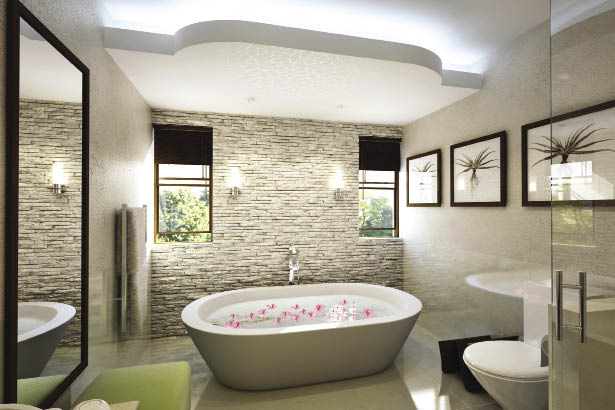 By Rami Moorosi
Changing your bathroom is always an exciting experience – be it small changes with new accessories or a complete make-over. The first and probably the most important part of creating your new bathroom is planning. Look at the space, decide what you want in it and how much you are prepared to spend.
"It is preferable for a specialist design service to be used as alternative layouts can be presented for the same room. This is done by drawing up a floor plan of the available space to scale, and putting in the position of the doors and windows with space required to open and close them. When you have decided on the perfect layout, you are ready to look at the final choice of the sanitary items and finishes such as tiles, taps and so on," explains Heather Darby of Bathroom by Design.
Maria Conradie of Ironwood Creations adds: "The two main considerations that dictate layout are the plumbing and space required around the various fixtures so they can be used comfortably. Also to be considered are the positions of the windows and the door."
She states that by knowing exactly where all the plumbing pipes are you can avoid nasty surprises, like burst pipes, when it comes to installation of accessories. "Keep expenses down by using plumbing and electric points that already exist," says Maria.
Tiles
"The most impactful and effective way to revive your bathroom would be to change your tiles. Out of all the rooms in a home, the bathroom probably has the most tiling (walls and floors) which means that changing just this one element of the room will give your bathroom a completely different appearance," explains Lars Nielsen from Natural Stone Warehouse.
Experts from Maharani Tiles advise home owners to look for a style that endures over time. They add: "With the vast range of elegant, sophisticated and sensual new tiles available, you are allowed to create unique settings with the emphasis on glamour, luxury and fashion."
Lance Porter of Tiletoria says: "Big size tiles, up to 1m x1m and in either glossy or matt, are very trendy and popular.
Mosaic inserts, running down the wall from top to bottom are being used as well, instead of the traditional 'dado' style horizontal listellos."
Mosaics stylishly transform a bathroom and can be used to create a feature wall behind the bath or in the shower for a dramatic effect.
"These delicate tiles work well as a column behind the basin and toilet or laid out in a horizontal or vertical row," says Kate van Niekerk, marketing manager for Tile Africa.
Taps and sanitaryware
Peter Jefferson from On Tap says: "The easiest way to revive a bathroom is to replace the taps and showerheads with classy, yet easy to install designs. Chrome-plated single lever basin mixers, shower mixers and bath mixers can add an instant touch of modern appeal."
Another way to update the space would be to install a frameless glass enclosure around your shower as this will ensure that it is in line with the latest trends. "The latest trend is to incorporate a steam unit into your shower thereby turning your shower into a state of the art steam room with minimal adjustments to your existing shower," add professionals from MOG Frameless Showers and Steam.
Round shapes are popular in creating a soft feel to the space, however for the ultra modern design, a square option such as the Moderno Duo Island bath range from Summer Place Spas and Baths provides a great alternative. Another way to update your bathroom is by changing your old toilet with its chunky cistern to one of the newer, more streamlined products on the market.
Geberit, supplied by Italtile for example, has launched a new product called the Monolith cistern which is also an innovative way of bringing a contemporary look into bathrooms without having the hassle of breaking walls, changing tiles and so forth.
Accessories and storage
Injecting colour through accessories such as bowls, soap dishes, decorative ornaments and even towels will always breathe new life into this space. Sameera Khan of MGA Emporio suggests adding "beautiful mirrors, with an art deco feel or really clever furniture to hide items like toilet paper and towels". To avoid clutter, ensure that personal items are neatly packed away in cupboards.
Cabinets are not always the way to go and it can sometimes be hard to find options that will do justice to your bathroom design.
As a solution, Nico van der Merwe from Dado Creations suggests installing a floating vanity as this can save space, complement your current style and create a designer bathroom.
Heated towel rails
Wrapping yourself in a warm fluffy towel after a rejuvenating bath or shower will never go out of style. The latest technology now allows for more energy-efficient heated towel rails. For instance, Bathroom Butler's optional Total Digital Control (TDC) timer can be fitted to all its heated towel rails. The TDC timer can save the user more than 70% of their electricity bill for a heated towel rail.
The new Hydronic heated towel rails from Jeeves do away with the electrical heating element. They are designed to operate as part of a re-circulating hot water system, by using solar generated hot water together with a solar powered circulation pump.
With all of this in mind, Lisa Millbacher of Inside Living says home owners should "plan the make-over of their bathroom with a realistic budget and work on about a five to six week building time".
This is because vanities, mirrors and frameless glass enclosures that are custom-made take time to be made up.
"Work with an experienced, specialised architect or designer so that the space is carefully planned and is used to its full potential," adds Lisa. And as always, work with good quality products only.