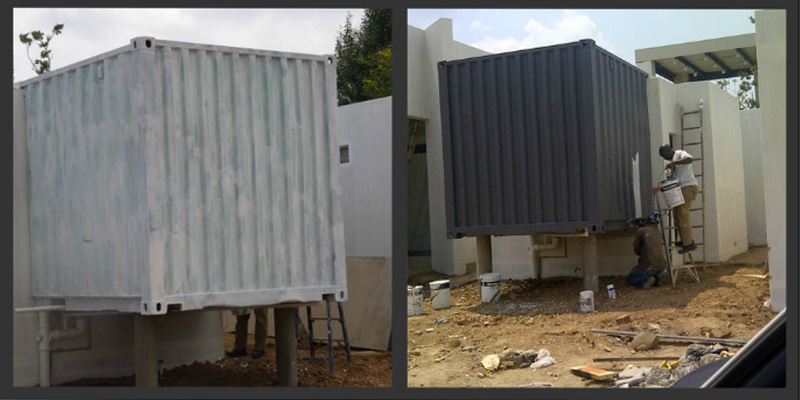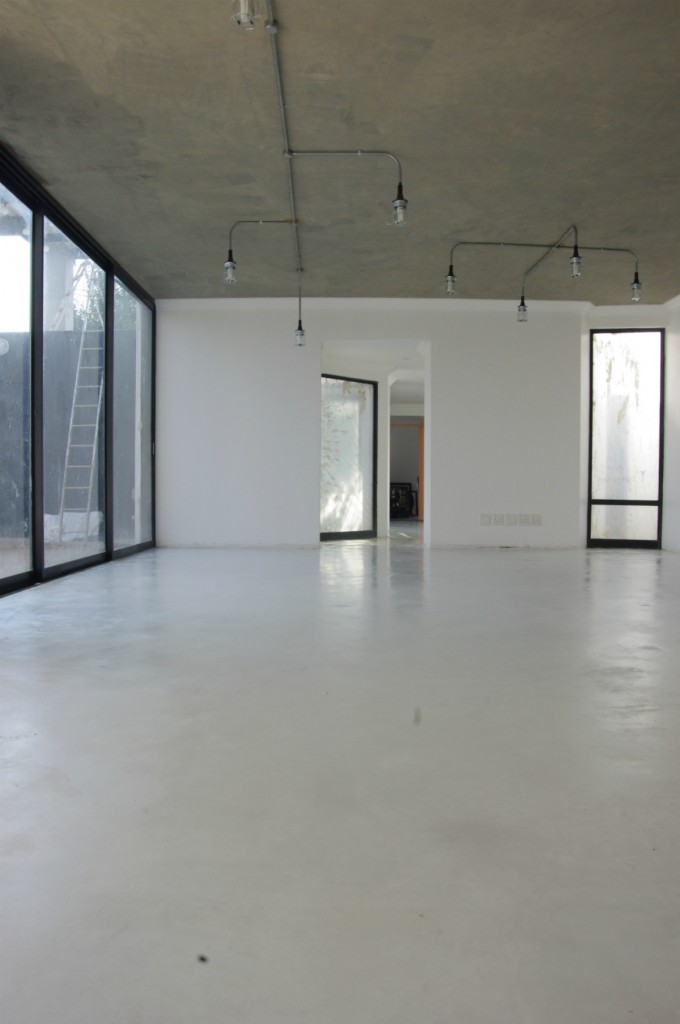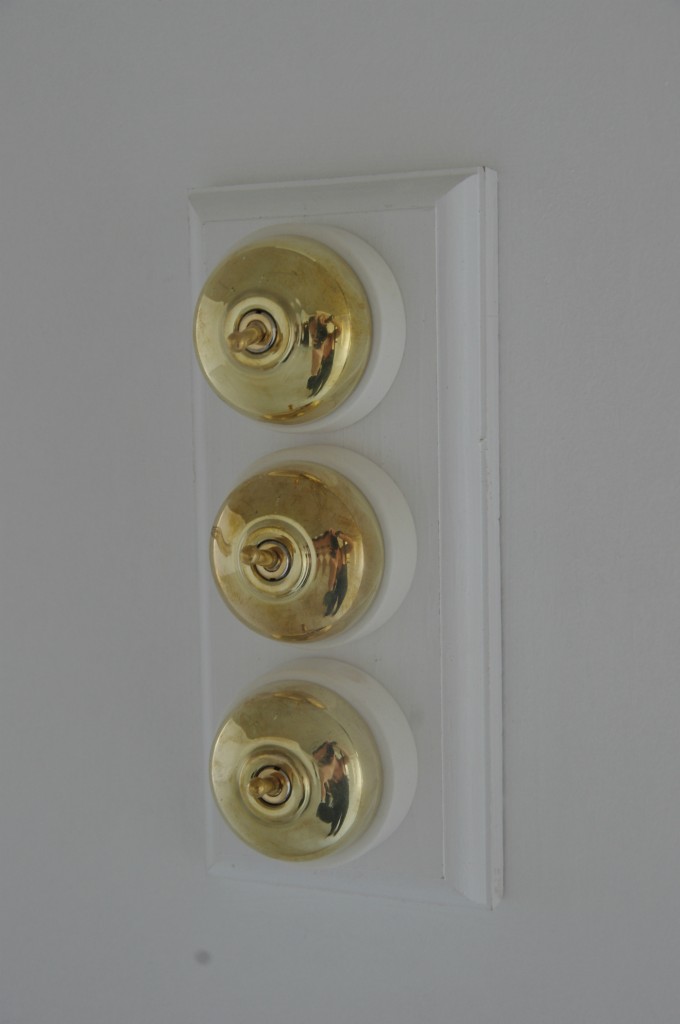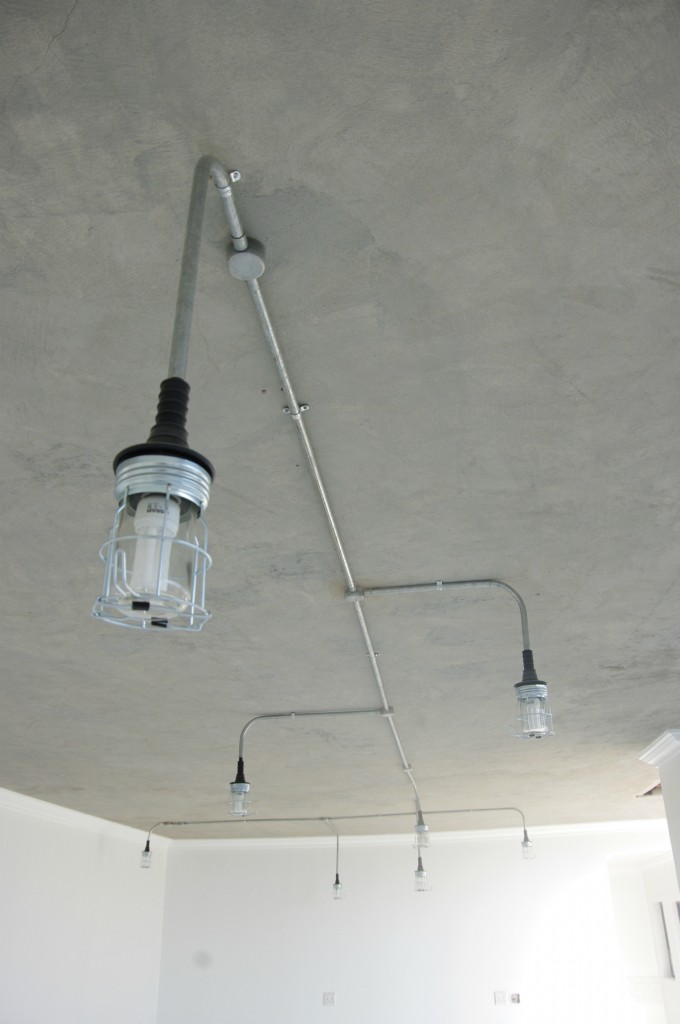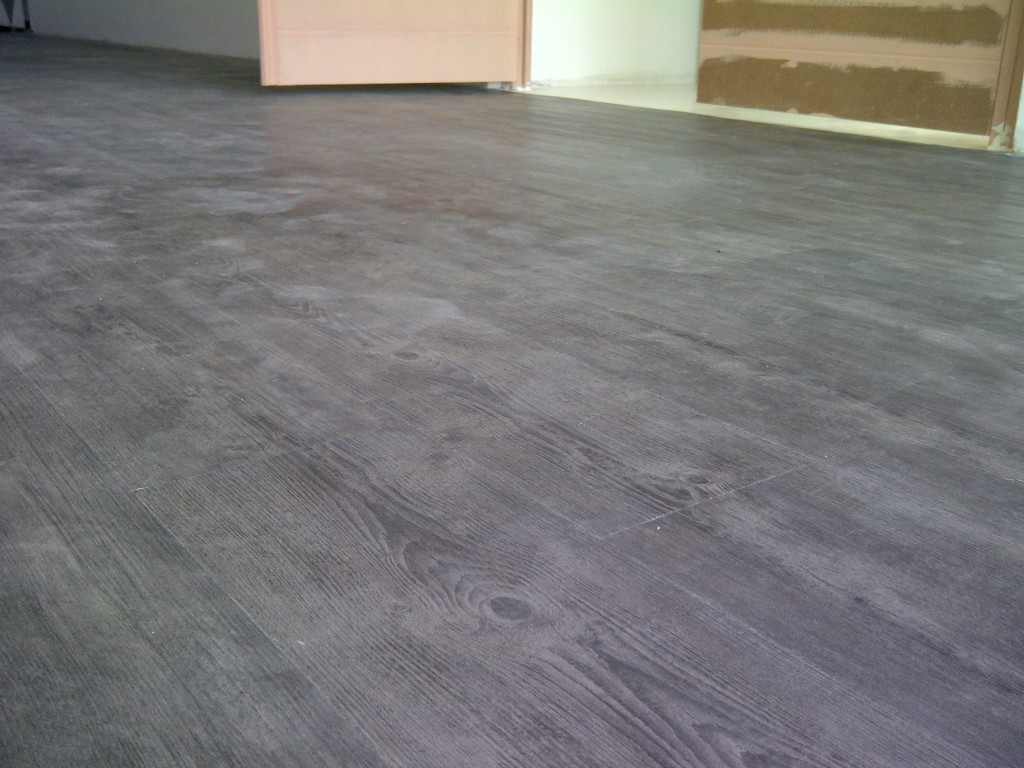 So the closer we come to finishing the more stressful it's all getting. And one thing I've noticed with building is that nobody has respect for each other's work – it drives me insane. The electrician will just grind into the newly plastered walls, while the plasterer will mess all over the painted walls, and it goes on and on… OK – vent over!
And then there was light
Johan and I have a thing for lights. So we got creative with the lights in the open plan living area.  We went shopping for lights in an automotive hardware store. Right about now, I'm sure you think we have officially lost it.  What do you think of our creation?
And to switch our lights on, we bought Victorian reproduction light switches. I started collecting the original switches, but unfortunately learnt later that they can't be used as they are not earthed, which was shocking news to me.
Flooring
The highlight this week has to be the installation of our floors. This was a decision we didn't take lightly. A floor to me is so important as it can make or break a room; it also sets the scene and mood for the entire space.
We eventually decided on a coloured cement product in white.  It's taken 4 days to do, and everybody was banished from site for fear of making dust or walking on the floors. Rather safe than sorry. With my view from the garage doorway, I love how it's looking so far. I can't wait for it to be ready and sealed so I can just run across and enjoy it. We did the whole house except the bedrooms, which gives a great flow through the space.
In the 3 bedrooms and 2 bathrooms we went for a solid vinyl wood plank floor in a dark grey colour, which is quite new to the market. We're so happy with how this turned out too, as it was quite a risky choice for the bedrooms. But I'm envisioning large rugs scattered over the floors throughout the house. What I just love about this product is that at long last you can have a 'wooden floor' in your bathroom without worrying about it getting wet.
A splash of paint
We have finally prepped, primed and painted the containers! We went for Plascon's Smokey Grey.  The containers look completely different now, much more a part of the house. It's so exciting to see how the design is all coming together. Now just to decide on the colours for the rest of the house.  I have painted large pieces of cardboard with the different choices instead of painting it directly on the walls, something my Dad taught me. It works so much better, you can walk all around the house and put the colour up against the wall to see the effect in different parts of the house. This is important because depending on the time of day the colour can look totally different.
I'm so excited as a huge box with my lights has just arrived. Can't wait to open it! Check back next week to see what it looks like.
Watch out for Sacha's next post on 27 February.