Brick by brick – Sacha's diary – part 5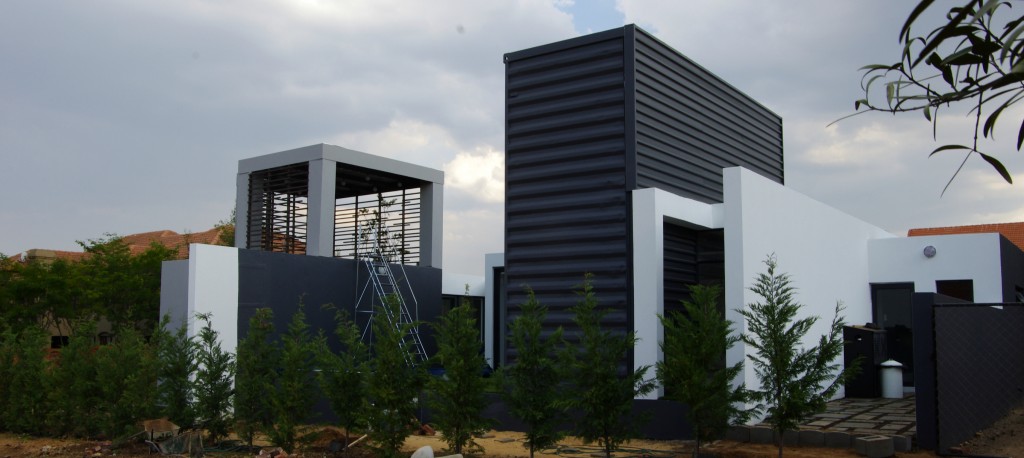 I'm back and honestly it feels like I've been through hell since my last post. We've had to move everything out of the house again in order to fix the floor fiasco. This hopefully will be over soon, so we can finally start enjoying our new home.
All painted…
The house is all painted on the outside; we went with Plascon Standard White Micatex and NuRoof Smokey Grey with hints of City Fog (Micatex) for the shipping containers. We love how it all looks so crisp and clean.
We also painted the house number this weekend, and seeing as we live in Player Street, I thought it would be a fun touch for the text to resemble a football player's jersey. First the design was traced onto a transparency and projected onto the container and chalked out – this all had to be done at night. Then it was painted with a very steady hand the next morning. Never paint in the dark unless you enjoy doing double work.
Gardening fun has begun…
We've tried to keep our garden as low maintenance as possible by using various conifers and a significant amount of gravel. I think the general theme is boxes, as we have made large raised garden boxes to house our plants. All the planks come from a bridge that was breaking down on the golf course. The Gabion boxes, which can be seen on both sides of our driveway, are expensive to fill so my advice is to try fill as much as you can with broken bricks/rocks etc and then only pack the outside layer with pretty rocks.
Both courtyards received the stepping stone treatment and the kitchen courtyard has mint planted between each of the stepping stones. This should give off a lovely smell.
Fingers crossed we can finally get into the house this week to get started with the interior.
Watch out for Sacha's next post on 9 April.