Bespoke furniture and cabinetry can be designed to fit any space, and every element is considered, ensuring that a client's personality and lifestyle are continuously reflected. From the initial contact and design consultation through to manufacturing and installation, the relationships Olala Interiors develop with clients offer a truly bespoke experience.
If you can imagine it, Olala Interiors can bring it to life. Along with a dedicated team of design professionals and skilled craftsmen, having an extraordinary in-house manufacturing division means the design, specification, manufacturing and installation process is fully controlled by the Olala team. This means "copy and paste" is never an option – every interior has its own, unique signature.
Fabulous and functional
Using reflective materials with various stones, from the cladding on the wall and island fronts to the various countertops, these all work well in complementing the warm natural beauty of the wooden floors.
The kitchen is framed on either side by walls of striking grey mirror-with-brass-strip detail – not only adding to the elegance of the home but reflecting its beauty as well. The stone combinations are used throughout the design from surfaces to framing features.
Piatra grey Caesarstone has been used as a thin border on the tall units on the back wall and framed around the eye-level open oven (creating an interesting feature where the unit protrudes from the cabinetry) and again on the sides of the island.
On the back wall, a box was built cladded in the same Neolith Strata tile as the front of the island, creating an interesting seating area. This stone adds a lovely texture to both the back wall and island front.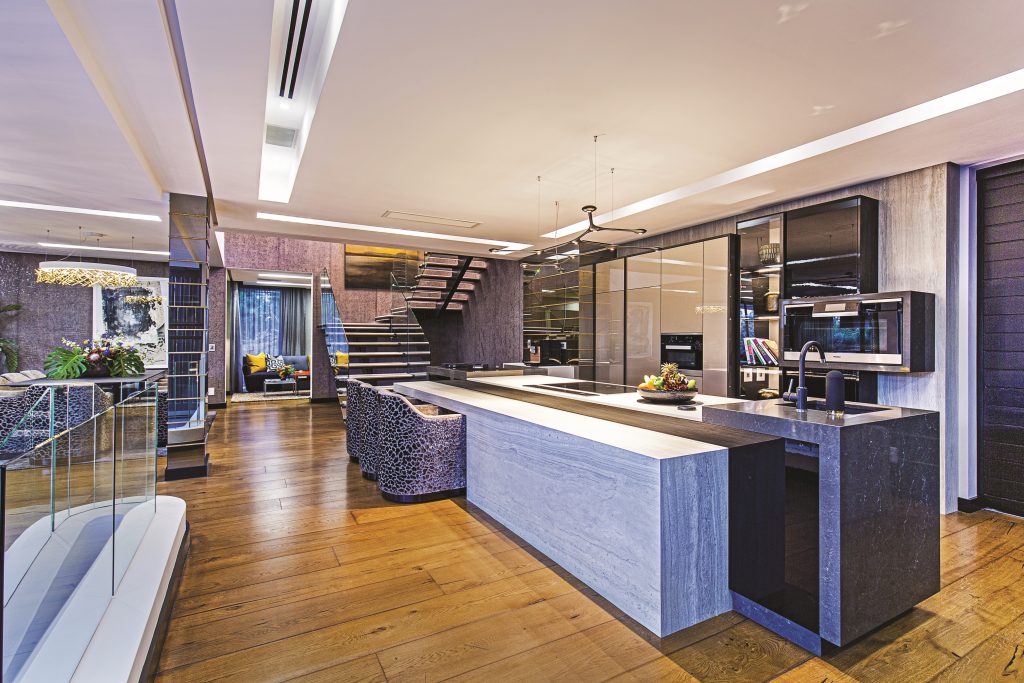 Elegant design
This is a tailored en suite walk-through dressing room with exceptionally high-specified finishes. The carcasses were built in a specially imported linen textured board, with high-gloss hand-finished surfaces, mirror tops, glass doors and internal custom-made separations in oak lined in velvet for lingerie, apparel, belts, watches et al. Shadowline detailing is evident in every area. Sensory LED lighting comes alive when movement into the dressing room is detected.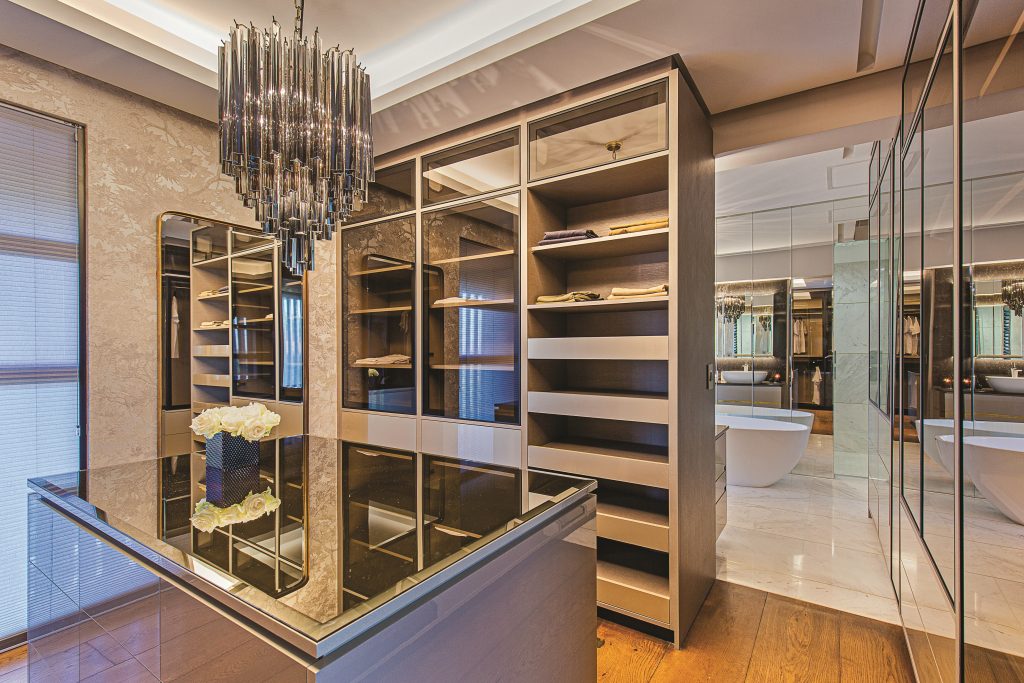 Warm veined Calcutta Statuario
Glazed polished porcelain tiles were cut using a water-jet cutter on-site and installed into parallel strips with chrome inlays. This gives a wonderful feature and further functionality to offset the heat generated from the slimline linear bio-fuel fireplace that was laser-cut into the HPL surface counter.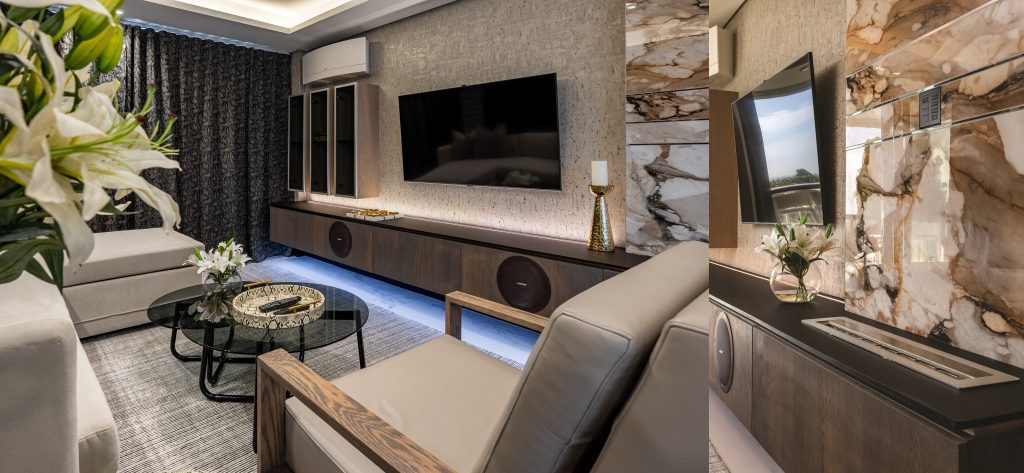 Integrating beauty and tech
The pedestal has integrated Control4 automation points as well as charging stations and plug points which are well hidden in the integral design.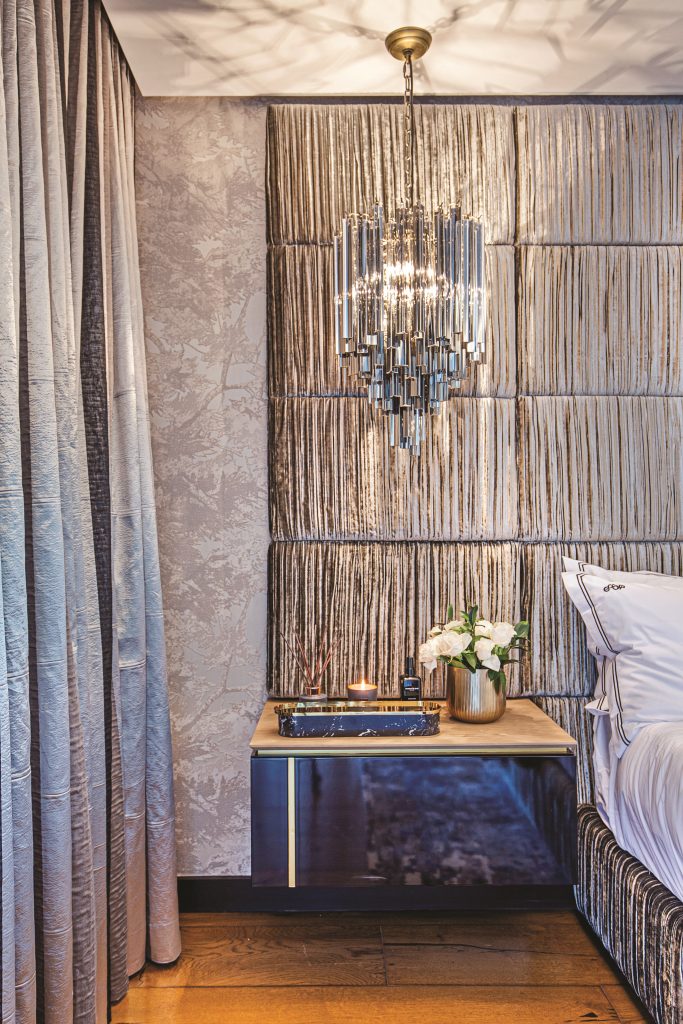 Custom-designed plasma unit
The intricate cut-out pattern in the centre of the plasma unit allows for uninterrupted TV controls without any wires being visible.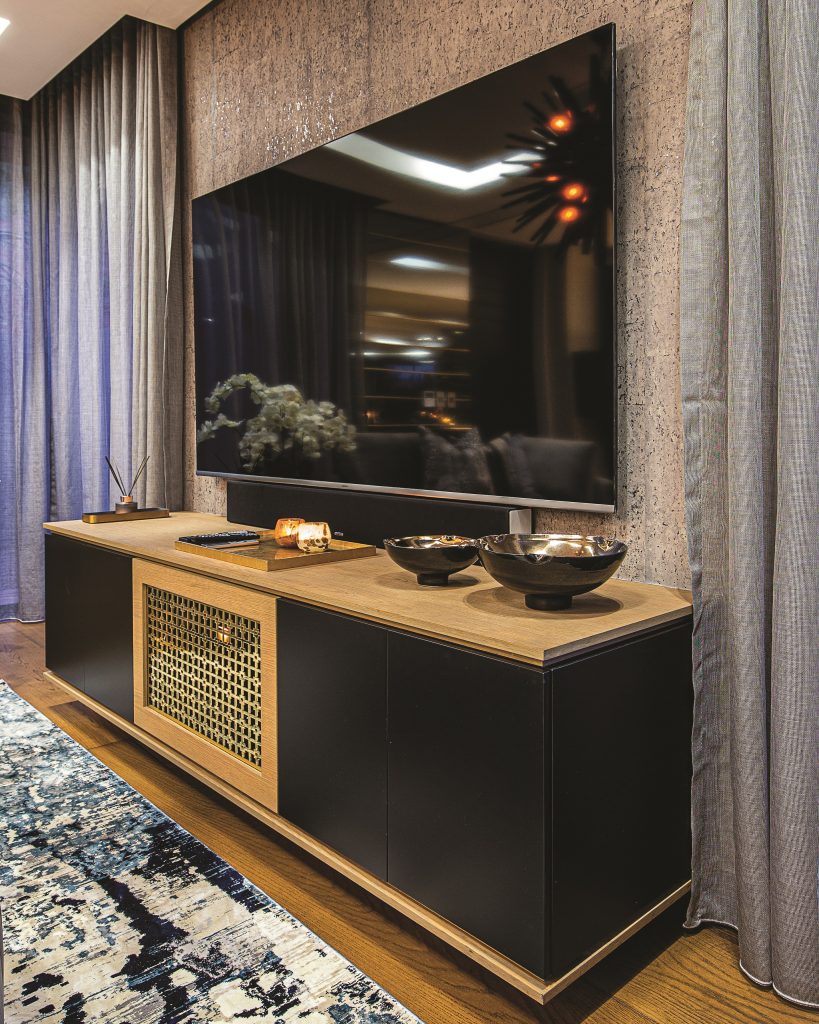 Handcrafted wall-hung servers are exquisitely set off by handmade grass wallpapers.
Glamorous bar details
Rivalling some of the trendiest night clubs, with brass and marble detailing, and plenty of reflective surfaces from dark grey mirror, to polished gold inner pendent walls. A black Caesarstone island is wrapped with a back-light natural translucent agate stonework for the "wow" factor.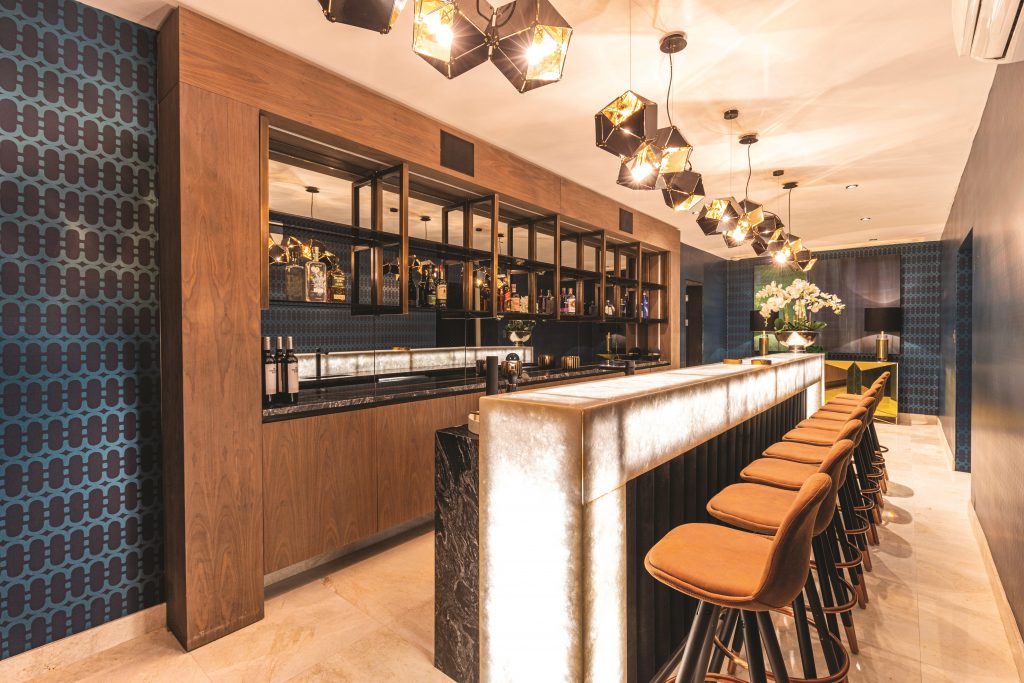 Visit www.olalainteriors.com