Build it green – part 12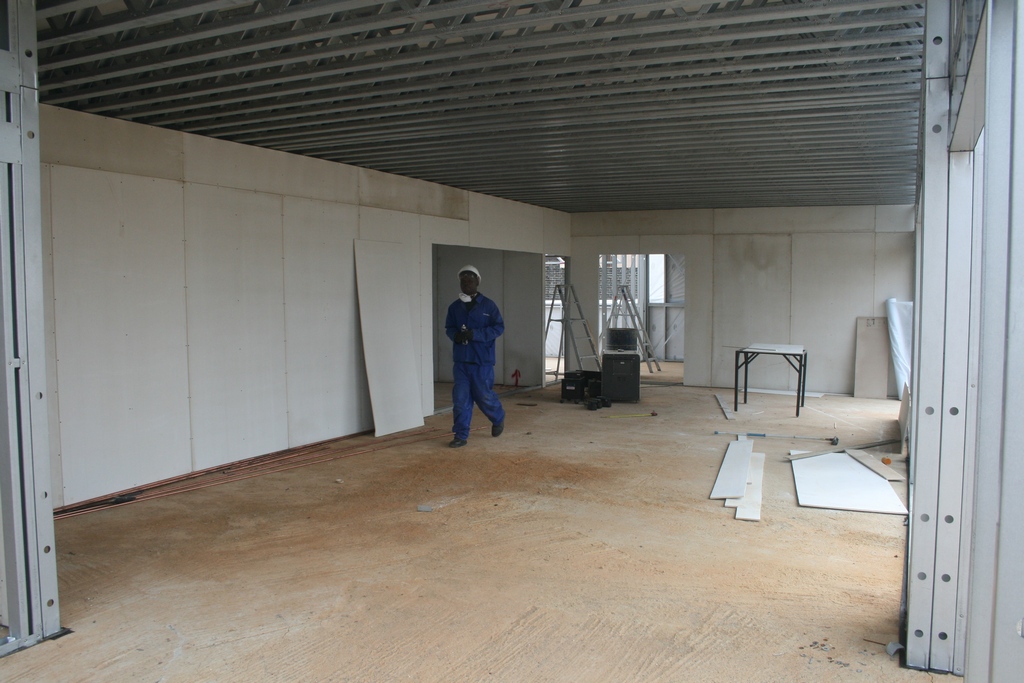 The week started with more cutting and fitting of boards, and the first layer downstairs was finished on the second day – just in time for the delivery of the roof trusses!
The first layer of MgO boards is placed on top of a layer of plastic sheeting (breathable moisture membrane). This is the most important layer for waterproofing, and it only goes on the outer walls. By the end of the week, most of the outer walls were up on the ground floor level, and some of the inner walls were going in. As I stood at an imaginary kitchen countertop, and surveyed my new home, I was once again impressed with the design of a very open-plan living area. I can see from the front door right through into the children's play area and out across the garden in one sweeping glance (thank you Tiaan and Nardi).
Our landscaping has also begun, although not by a horticulturalist – but by the plumber!! We have huge trenches everywhere, and our foreman was re-living his gangster youth by spraying red spray-paint all over the place. After initial alarm at our spray-paint-happy team leader, we realised he was marking all the water points, and laying out the bathrooms. Somehow we are trying to balance aesthetics with practicality and the result is that we are re-arranging baths, showers, basins, and toilets in our sleep. The copper pipes have started appearing in the steel frame, they are going to be beautifully hidden inside the walls (no chasing required).
An interesting concept in the plumbing layout is a looping system of water flow. If water flows through a loop rather than along a straight pipe, there will be no dip in water pressure when a tap is opened (the drop in water pressure is redistributed through the whole loop). Both the internal and the external water has been laid out in this fashion, almost like two parallel electrical circuits.
Now that the plumbing is becoming a reality, we look forward to the roof and then some electrics! I am amazed at how much I have to report on each week, so watch this space for the next exciting installment.