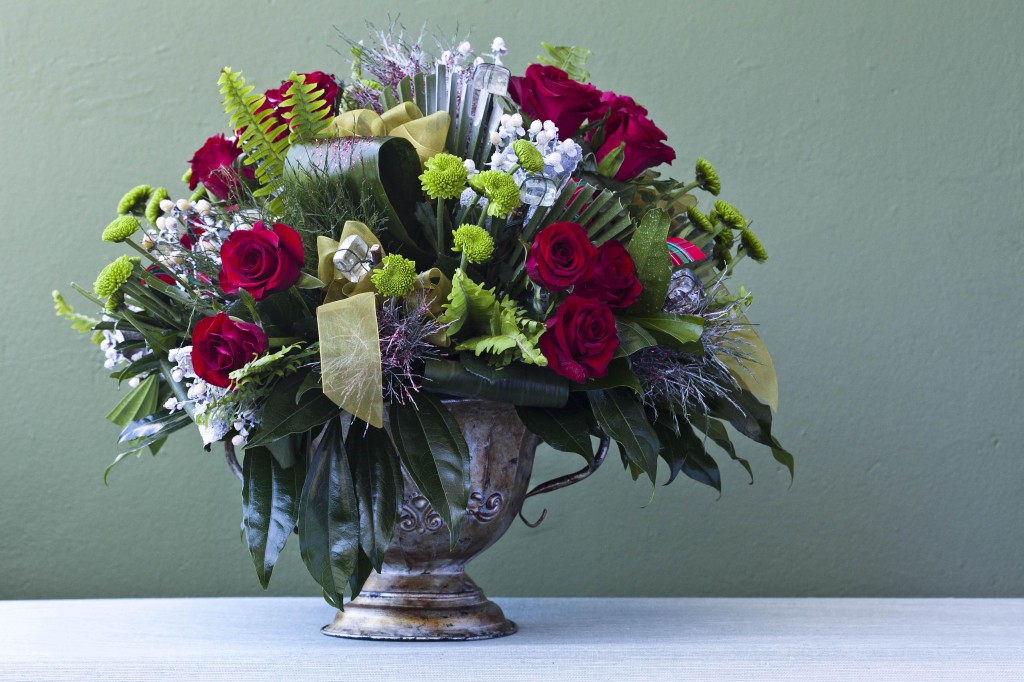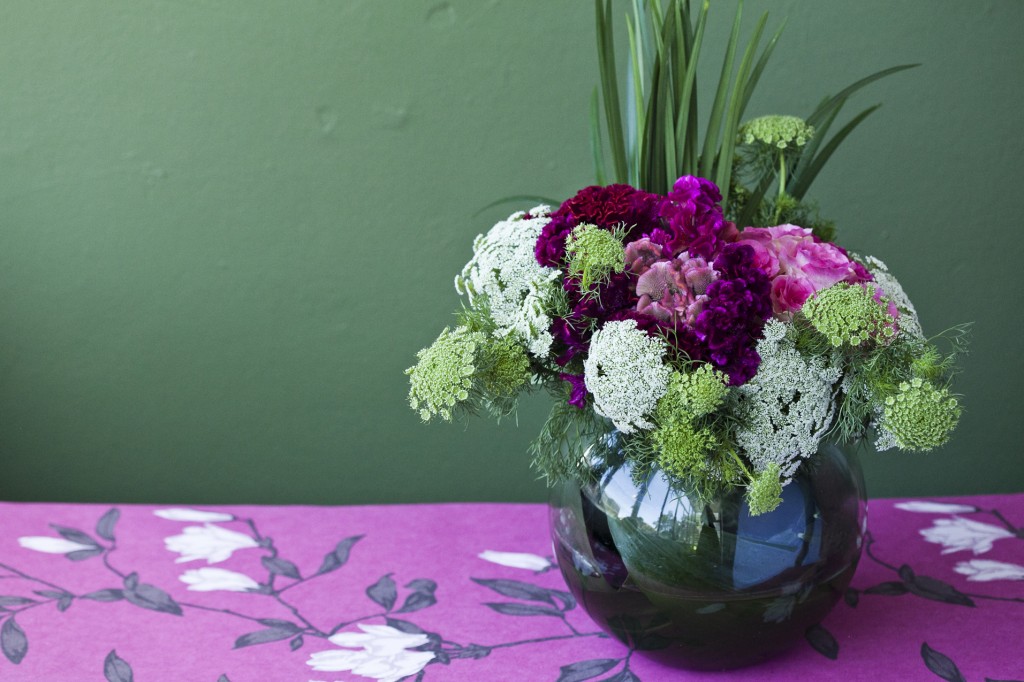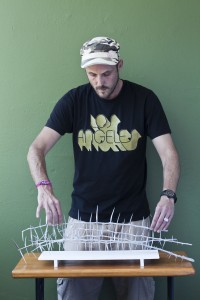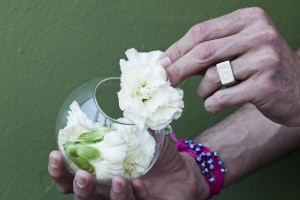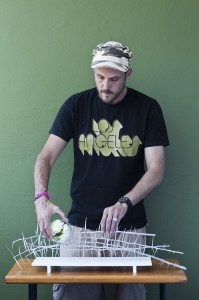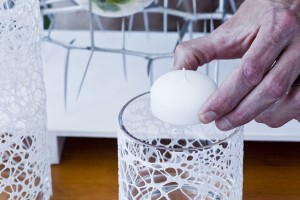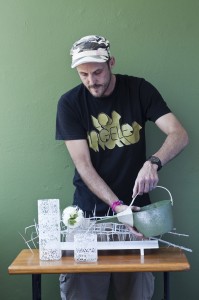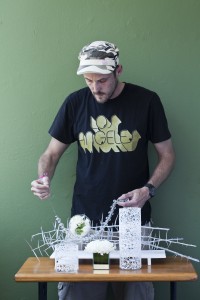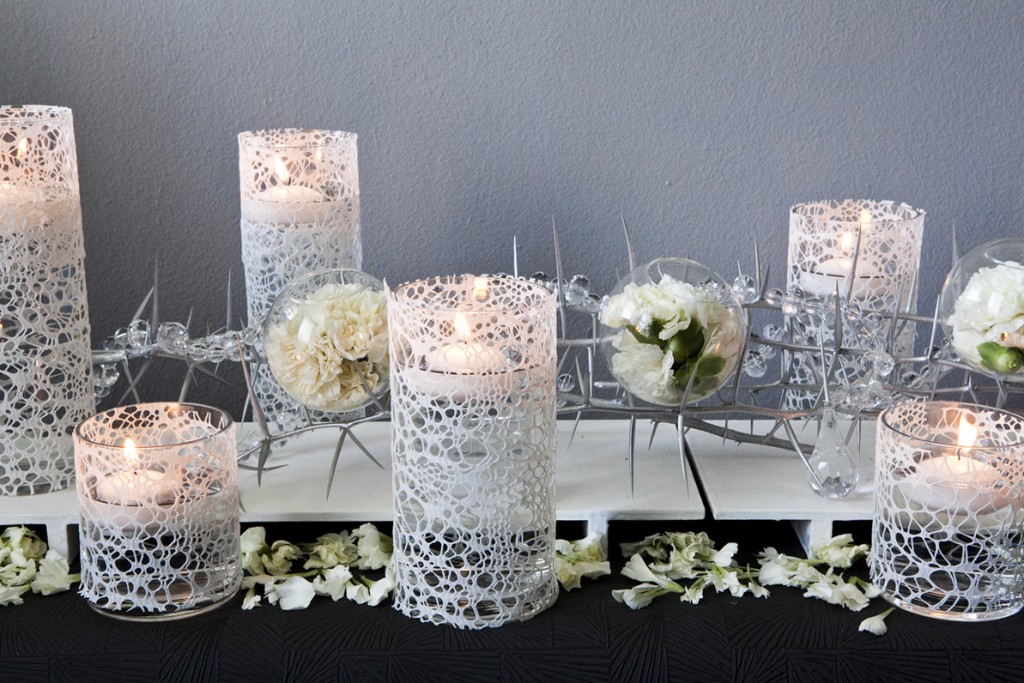 It's that time of the year again and we've put together a bit of inspiration for your festive table settings. Here are three different floral centrepiece interpretations, which are guaranteed to wow your family and friends.
The Flower Emporium
What you need:
Red roses
Hypercum berries
Green button chrysanthemums
Asparagus fern
Sword fern
Aspidistra
Palm leaves
Floral foam (Oasis)
Scissors
Container of your choice
Floristry knife
Christmas decorative items (glitter, floral spray paint, angle hair, ribbons, acorns…)
Glue gun
How to:
1. Soak your floral foam in a large container with cold water and let the floral foam sink by itself. It is important that you refrain from pushing the block down under the water.
2. Place your floral foam in your container of choice. You might need to shave the edges of the floral foam with a knife in order for it to fit into your container.
3. Cut your foliage and greenery stems at the same length and place into your container. Remember to cut your stems at an angle for a greater surface area so that they can absorb more water.
4. At various intervals, add in clusters or groups of roses, sprays and other flowers of your choice. Remember to push your stems deep into the floral foam.
5. Add some excitement to your arrangement by spray painting some leaves, dabbing some glitter on some greenery, making some pretty bows for ribbon or adding some acorns.
CONTACT:
www.flower-emporium.com, (011) 268 5855, orders@floweremporium.co.za
La Fleur de l' Homme
What you need:
Aspidistra leaves
Cocks combs
Aqua pink roses
Lilly leaves
Clear glass bowl
Elastic band
Scissors
How to:
1. Use any clear glass vase of choice.
2. Cut Aspidistra leave stems off then wrap the leaves around the inside of the bowl covering the clarity of the glass.
3. Fill your vase with water about half way.
4. Clean all you flowers leaves off.
5. Cluster the roses and cocks combs separately.
6. Place the clustered flower together at different levels; place the lily leaves at an angel on one side of the cluster.
7. Tie the bunch together with an elastic band.
8. Cut the bunch to the required length so that the whole cluster rests on the mouth of the vase.
CONTACT:
www.lafleurhomme.co.za, (011) 447 8803
Atomic Orchid
What you need:

Trays or boards as a base
Thorn branches or any other discarded tree branches
Simple white flowers (chrysanthemums or carnations look great)
Clear glass baubles
Real (or faux) strings of crystals
Large drinking glasses or clear cylinder vases (various sizes)
Floating candles
Vintage lace trim or crape paper to wrap around the glass or vase that you are going to float the candles in
How to:
1. Place the tray(s) that you intend to use as a base exactly in the position where you want to assemble your centrepiece display as it will be difficult to keep it all together once you have assembled all the elements. Position the thorn branches on the tray (ours have been sprayed with mirror chrome to add lustre).
2. Take a glass bauble and fill with flowers of your choice.
3. Hook the eye of the bauble onto a thorn of the branch and make sure it rests securely to maintain balance (you can also secure the eye with a tie of ribbon or string).
4. Next, place your candle vessel of choice in position and fill with water two thirds of the glass.
5. Place your floating candle in the vessel.
6. After adding all the glass baubles to the branches and wrapping lace trim or crepe paper and securing with double sided tape to the vessels, you can add a few strings of crystals to the branches for more sparkle. Arrange the floating candles on either side of your display to make sure it looks balanced.
CONTACT:
www.atomicorchid.co.za, Colin 083 284 4968
Project Co-ordinator: Shereen Lurie
Photographer: Candice Askham