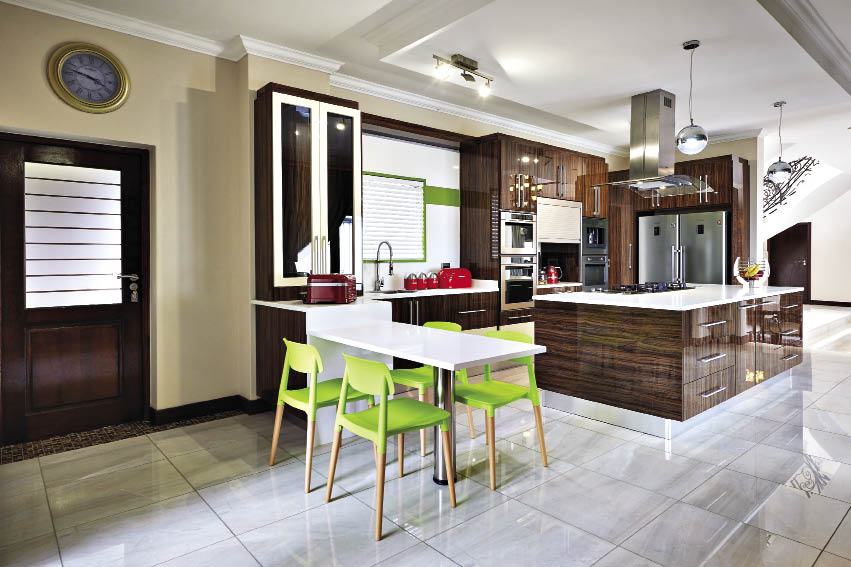 By Refilwe Boikanyo, Project Consultant Anthea Verster, Property Coordinator Chantel Spence, Photography Nic Baleta
With fine architectural detail and sophisticated furnishings, this home is a luxurious example of the classic, yet contemporary style. According to the owners, a couple with two young boys, they were inspired to build this family home after 10 years of living in small spaces. "We wanted a house that would give us a sense of freedom," explains one of the owners.
"A house that is modern, yet not too complicated. We also wanted a seamless flow between all of the rooms, which is good when we are entertaining."
The result is a double-storey home that is perfectly tailored to their lifestyle and needs. Built in a secure estate, the location has made it easier for them to adopt and maintain a healthier, more active lifestyle, while enabling their children to experience a taste of how they grew up, "playing outside in the streets and on the soccer field, walking to school, and so on".
The exterior of the home has a unique aesthetic consisting of many angular shapes, such as triangles and rectangles, and a cylindrical glass facade. Materials ranging from glass and concrete to wooden cladding dress this interesting facade.
The interior has a contemporary, open-plan layout that promotes flexible living. But with five en suite bedrooms, an open-plan kitchen situated next to the family room, a formal dining room and lounge, two studies, a playroom, a pajama lounge and an entertainment area with a gym and movie theatre, all designed to their specific requirements, it comes as no surprise that the owners struggle to choose a favourite room. They have three: the big, open-plan master bedroom; the pajama lounge; and the movie theater.
When it came to the decor, their aim was to create something classy, classic and elegant, but with an African flair. "There was no particular theme," explains the owner. "But we wanted to capture as much of our African culture as possible. This can be seen in the paintings and ornaments dotted around our home – from a mother who is carrying a child on her back, to boys going on a pilgrimage to manhood."
These decorative touches make this home a true and beautiful reflection of its inhabitants.