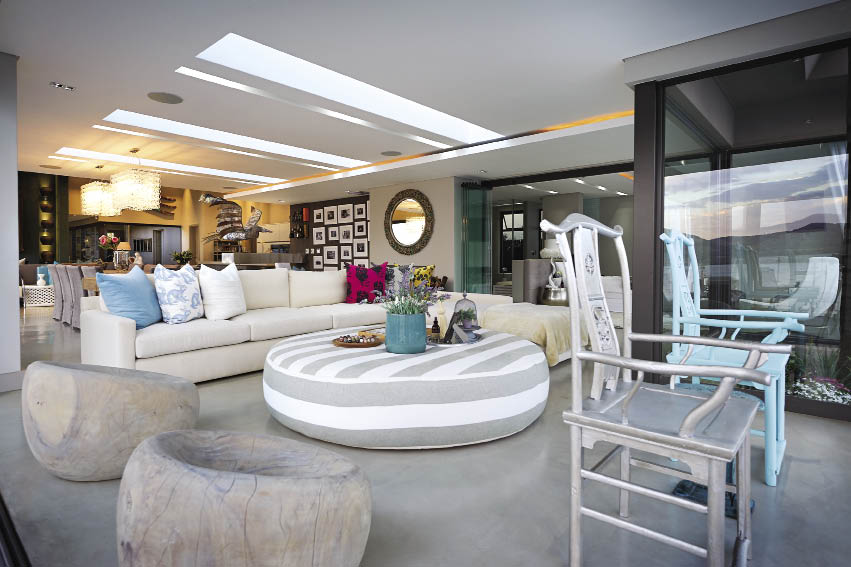 By Hasmita Amtha, Project Consultant & Property Co-ordinator Chantel Spence, Photography Nic Baleta
Situated on the Hartebeespoort Dam, this home is every city dweller's dream escape.
In search of a contemporary, easy-living family home that had views of the dam and the mountains, the home owner bought this established house and knocked it down because it was the only stand in the estate "where we could have direct water access and mountain views", adds the owner.
With this in mind, architects Aurelio Cimato and Adriano Moroldo of Cimato Moroldo Architects interpreted the brief by transforming an already existing house that was "very normal and traditionally planned, into a modern house with open places".
"The bedrooms were modified substantially into more boutique-style, open-plan rooms. We used large expanses of glass so that the dam is visible from all areas in the house," explain Aurelio and Adriano.
The stand is unique as it is at the tip of the peninsula, which adds a sense of exclusivity, as there are no neighbouring houses in sight.
With such a majestic view, this 500m² home has four bedrooms, with en suites, a large double-volume, open-plan kitchen and lounge area, that opens onto the deck, which is ideal for entertaining family and friends. As the home owner highlights: "Our kitchen is our favourite space in our home; it forms an integral part of the entertainment area, so while we are preparing food, we can still remain a part of the action."
When it came to the interiors of the home, "we used an interior designer, but ended up changing the house around to better suit what we were trying to achieve", adds the owner.
The home exudes comfortable space, and has a positive flow from one room to the next. This is also enhanced by the light grey stucco cement flooring, which complements that natural tones of the home against the glossy, stark white kitchen, and pops of colours.
Feeling very proud of their beautiful home, the home owners add: "Pecanwood is an incredible way of life compared to our previous lifestyle in Joburg; among other things, our kids go to school by bicycle, and we get woken up every morning by the ducks quacking instead of buzzing traffic." Pure bliss!