Dinnertime is an exciting event for most families and friends who enjoy gathering around the table after a long day to share a delicious homemade meal. With the growing love to prepare home-cooked meals, we see the appreciation and need for beautiful crockery and cutlery.
Bringing international flair to South Africa, Ahmed Akoob, an architect by trade who has a love for well-designed homeware, has made the dinner table as inspiring as the meal prepared with his brand, The Chairman Homeware and Furniture Company. We caught up with Akoob to chat about the latest trends in dinnerware and how to go about purchasing designer pieces, as well as food stylist and recipe developer, Claire Ferrandi, who shares some styling advice to achieve the perfect setting…
Trend alert
Akoob states: "There is definitely a great shift towards the use of more natural materials within the industry. We are seeing a lot of marble, timber, concrete and even natural gemstones making its way onto our tables. Elements of gold, whether it be gold rimming on glassware or full-on gold cutlery, gold has been in the limelight for a while now and will continue to be.
"Possibly the most striking combinations for our tables is the blend of these natural materials with elements of gold brought in. Gold, naturally, adds the extra glam factor while remaining truly elegant and timeless."
Evident in The Chairman collection, gold has been popular. Akoob says: "In particular, our Tusk cutlery collection, which features predominantly polished gold finishes, has been an absolute hit among our clients. The quality is exceptional: it's stainless steel with titanium plating, yet the price remains compatible.
"I think customers are really pleased that we prefer to offer something new and unseen into the market, each new product with its own wow factor. A perfect example of this is our Arctic dinnerware collection, which features a rather unexpected, yet elegant marble finish."
Sage advice
Purchasing dinnerware can be quite intimidating, especially with so much on the market. Akoob advises: "While we all love to have our homes filled with attractive pieces, I think 'practicality in living' should definitely be something we consider. Always look out for stainless steel cutlery, which is graded 18/8 or above. The '8' figure indicates the nickel content and the higher this number, the less prone to rust and/or tarnishing your cutlery will be. If you're looking for a more durable set of dinnerware, stoneware would be the way to go. Porcelain and bone China provide a more refined and sophisticated finish for your table."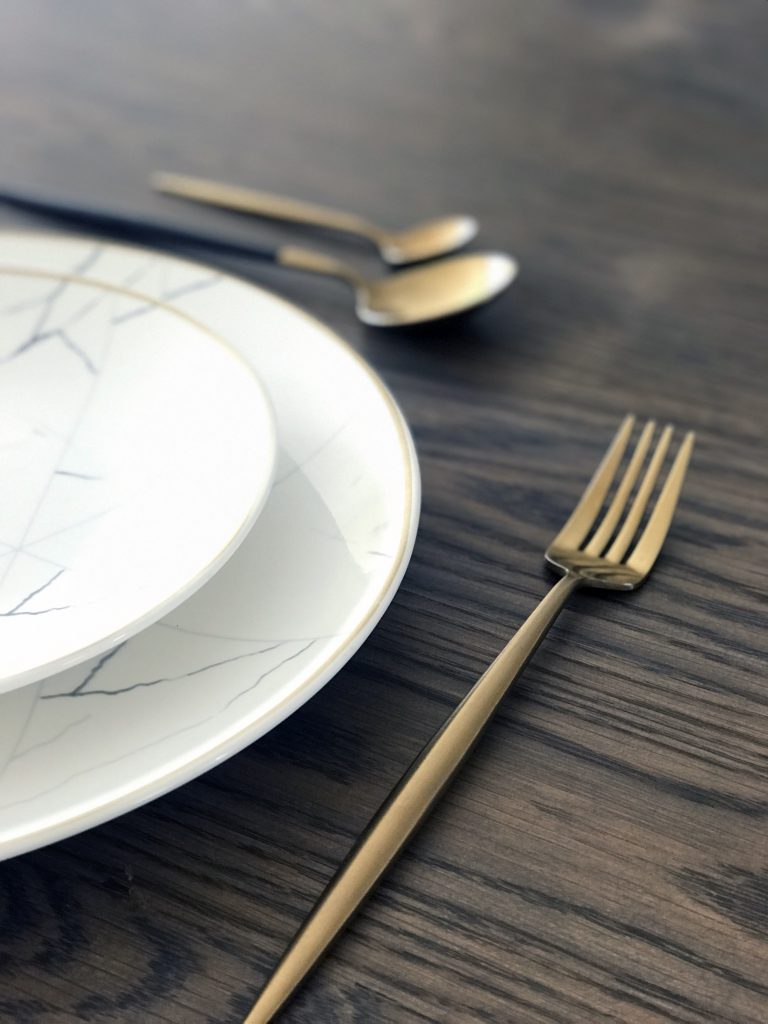 Style it up
Preparing delicious dishes and styling them beautifully, Ferrandi offers us a couple of tips on how to achieve a well-curated look that will impress our dinner guests:
• In terms of practical styling tips, I would go for a table that doesn't need a table cloth, and lay it simply with beautiful crockery and cutlery you love – the elements could even be mismatched, and napkins could be an unironed piece of raw linen torn into squares the size of napkins and simply folded and put on or alongside plates. I'd cover the table in candles of varying heights, and then instead of floral centrepieces, make your food the centrepiece. Think bold, colourful and bountiful salads, sides and desserts that hero fresh produce and allow your guests to informally help themselves.
• I love playing with a more "undone" dining look – nothing too formal, contrived or stuffy. I think my best advice on curating a dinner table would be to buy and collect beautiful pieces over time – when you see something you absolutely love, buy it if you can. The plates and cutlery I use for shoots in my food-styling business have been collected over many years, from all kinds of shops, in all kinds of places. The one thing that each piece has in common is that I absolutely adore it, and had to have it when I saw it. I think this makes for tables and spaces with character and generally your taste will mean there is a thread that connects all the elements.