Are you looking for inspiration for a new kitchen or looking to renovate your existing space? Take inspiration from these five kitchens by premium kitchen manufacturing and design company Easylife Kitchens, each with its own unique look and feel.
Born again
This classic eclectic kitchen has a distinctive country feel. It features attractive, honed Rustenburg countertops with similar floor tiles. The two-tone shabby paint technique complements the homeliness of the solid, rustic American oak chairs and built-in table with its ultra matte finish. This is a light, airy kitchen with plenty of storage shelves and drawers. With comfortable seating and an attractive set of multiple pendant lights above the preparation area, it exemplifies simple country-style living at its best.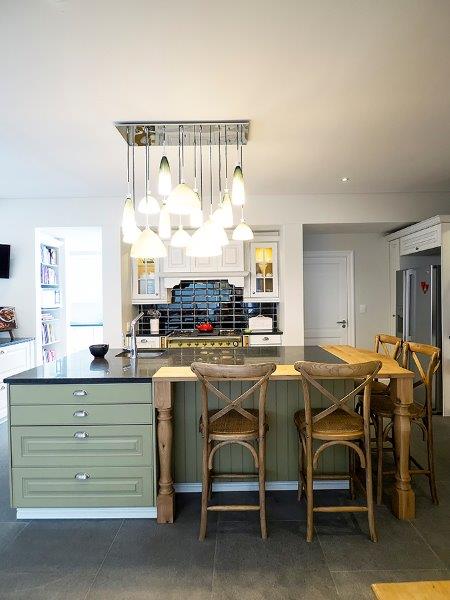 Industrial charm
The brief from the client was to design a contemporary-style kitchen with a strong industrial feel, but it still had to exude a touch of classic warmth to soften the rather hard tones of the steel finishes. To achieve the industrial style, Easylife Kitchens used a matte paint in a dark grey tone, softened by Castle Brown Monocoat wooden finishes and grip handles for the cupboards and Vanilla Noir Caesarstone top with an Ogee profile edge for the counter. The rough industrial look is further emphasised by the steel bookshelf on the front of the island, while the grey mirror splashback adds a sense of light and natural greenery to the kitchen.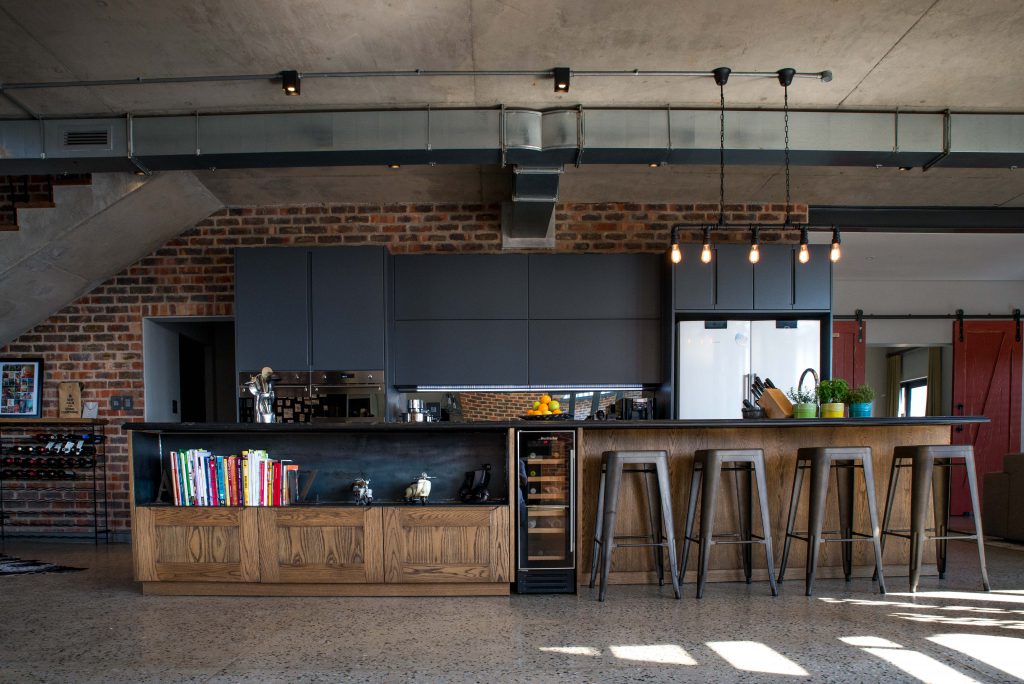 Seat my family
The client wanted a simple but modern kitchen with a large seating area for the children, making use of normal height chairs. The result is a light, airy kitchen with a modern contemporary feel. There is ample storage space, with finishes including satin Duco wall units and high-gloss units, combined with white lime-washed oak and engineered stone tops. This is a kitchen that exudes a warm welcome.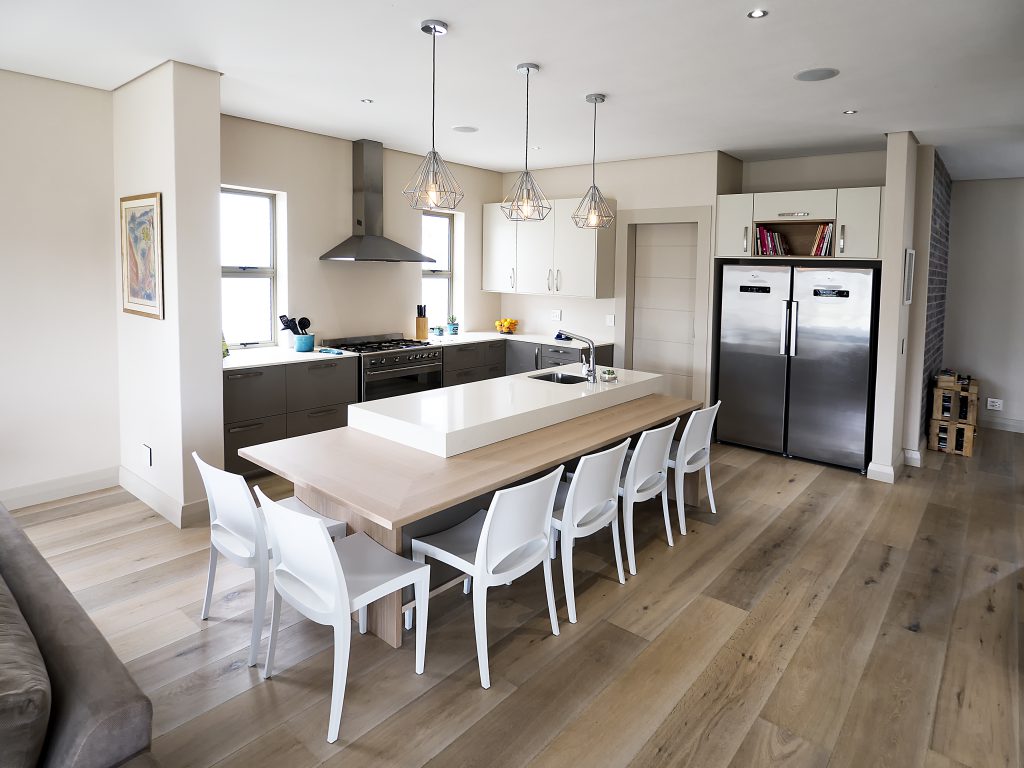 Sense of space
This kitchen was designed with an easy-going, open-plan feel that is ideal for a comfortable family home. The centre island combines a white surface with a white marble-finish top, tied together with Iceberg White MelaWood SupaGloss frontals. The highest level of the kitchen island has been bulked up, and the lower counters have a similarly slim finish. The undercounter storage has been spatially optimised so as to eliminate the need for wall units. The Easylife Kitchens Evolution carcasses increase the cupboard space to 800mm. With the option of six drawers instead of four, they offer 50% more space in the same cupboard. The result is an efficient use of space, with an overall atmosphere that is open, light and airy.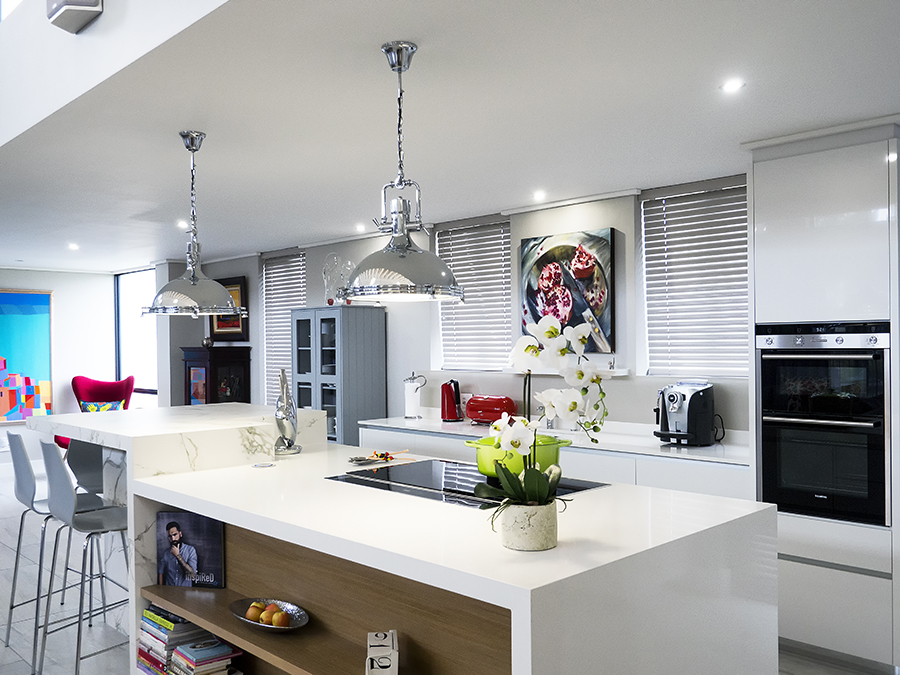 Ultra envy
In this ultra-contemporary kitchen, with its large, unique shapes, open-plan space and harmonious blending with the surroundings, Easylife Kitchens incorporated finishes that reflect the natural elements of the landscape. The ideal choice was modern Satin white grip doors and Cement Satin doors, combined with Snow White and Raw Concrete Caesarstone worktops. Comfort, minimalism and clean lines were key elements integrated into this space to give an overall look of cleanliness, openness and arctic elegance.
Visit www.easylifekitchens.co.za for more information.