First impressions count! Impress your guests with a standout front entrance to your home.
Be my guest
While entranceways set the scene for your entire home, they are often overlooked. However, this needn't be the case, says Elbe Truter, merchandise manager at Biggie Best. "Whether it's a statement wall, sleek furniture or eye-catching accessories, there's a wealth of savvy solutions to breathe light and life into these spaces, and brighten and spruce up your entrance," she says.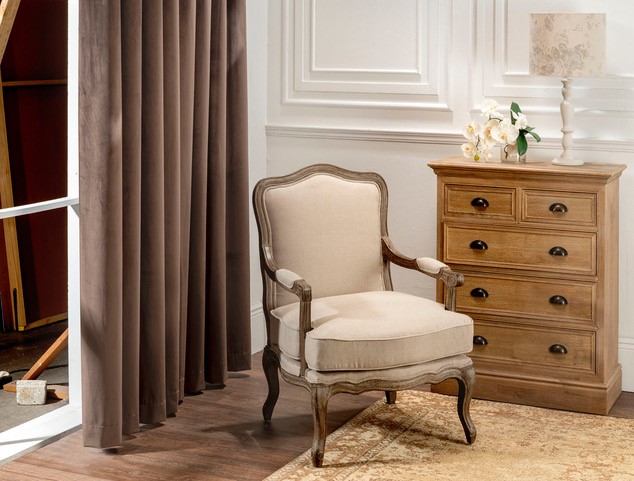 Creating a warm welcome
Sue McCoubrey from Block and Chisel believes it's all about adding that special touch. "We feel most comfortable at home, which is something that needs to resonate with visitors once we open the front door and welcome them into our living space."
A statement piece like the Sumiko wardrobe in Antique White will add rustic charm and rich texture to your front entrance.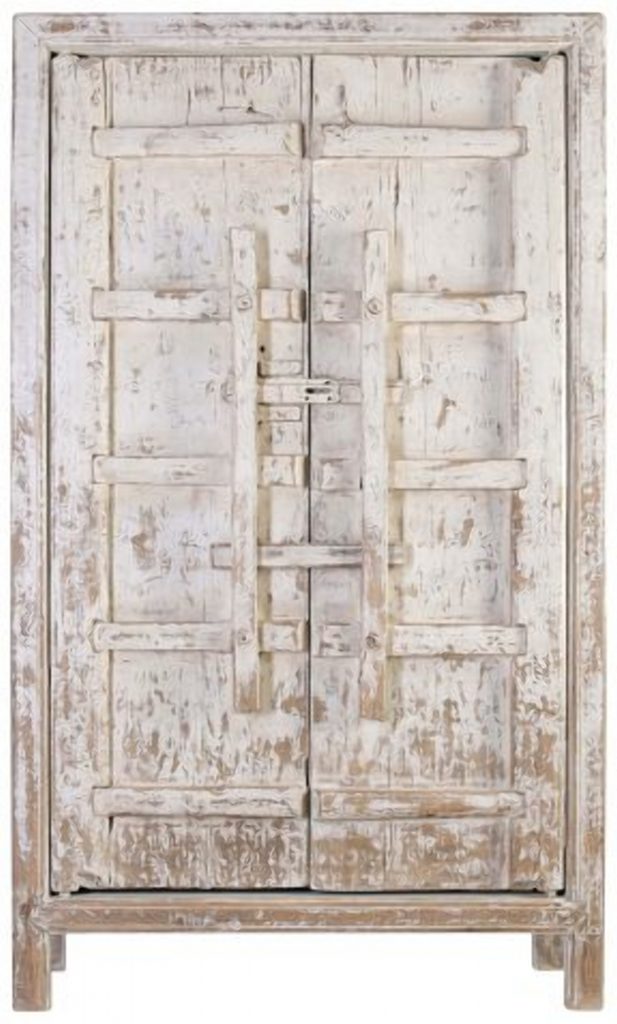 Green with envy
Planters are the easiest way to breathe life into a dull entrance. So invite the outdoors in with a selection of lush plants and unusual containers brimming with lush foliage.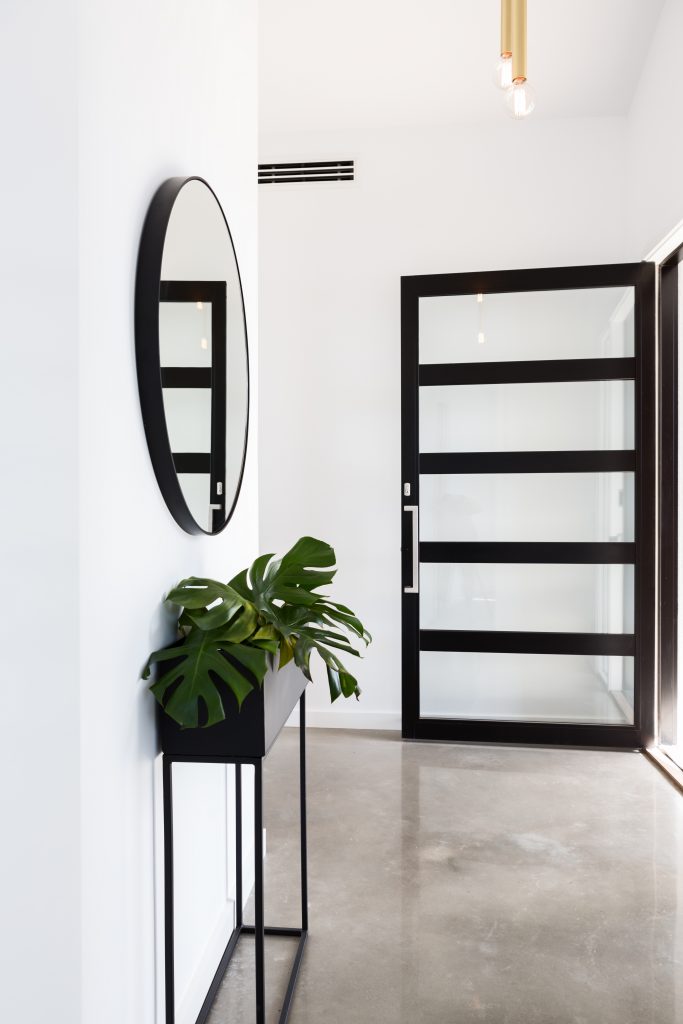 Corner unit

Create subtle interest with unusual focal points and statement colour. Juxtapose a cool, mid-tone sea green wall with a modern planter and cactus for a creative take on a desert Shangri La.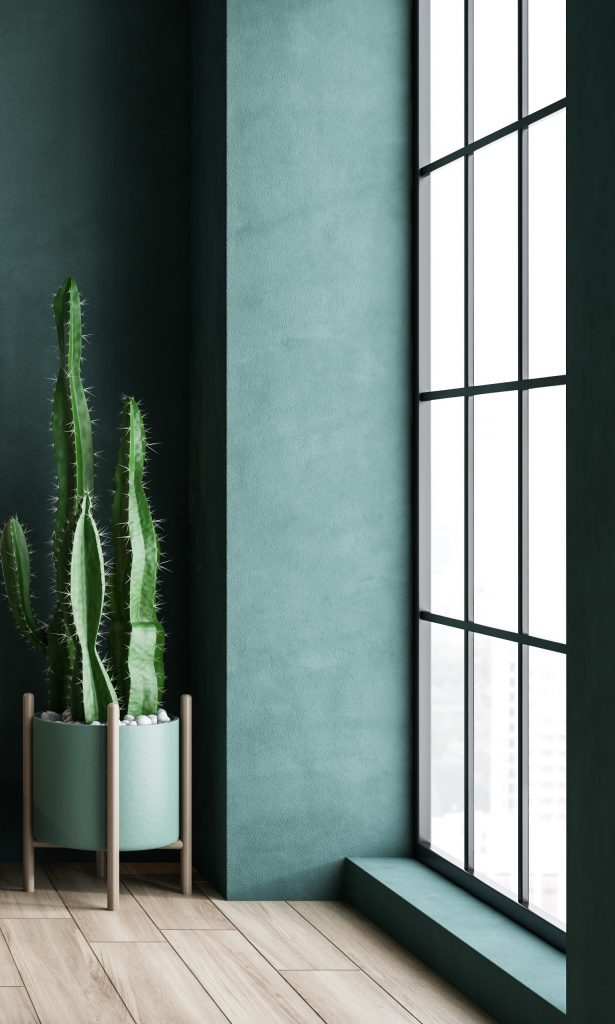 Unadorned tactility

Nothing creates a sense of serene warmth on your doorstep quite like layers of natural pattern and organic texture. Subtly chic detail like handcrafted blonde wooden furniture and accessories add sophistication to an everyday space. Add a round sisal rug to complement the tranquil environment.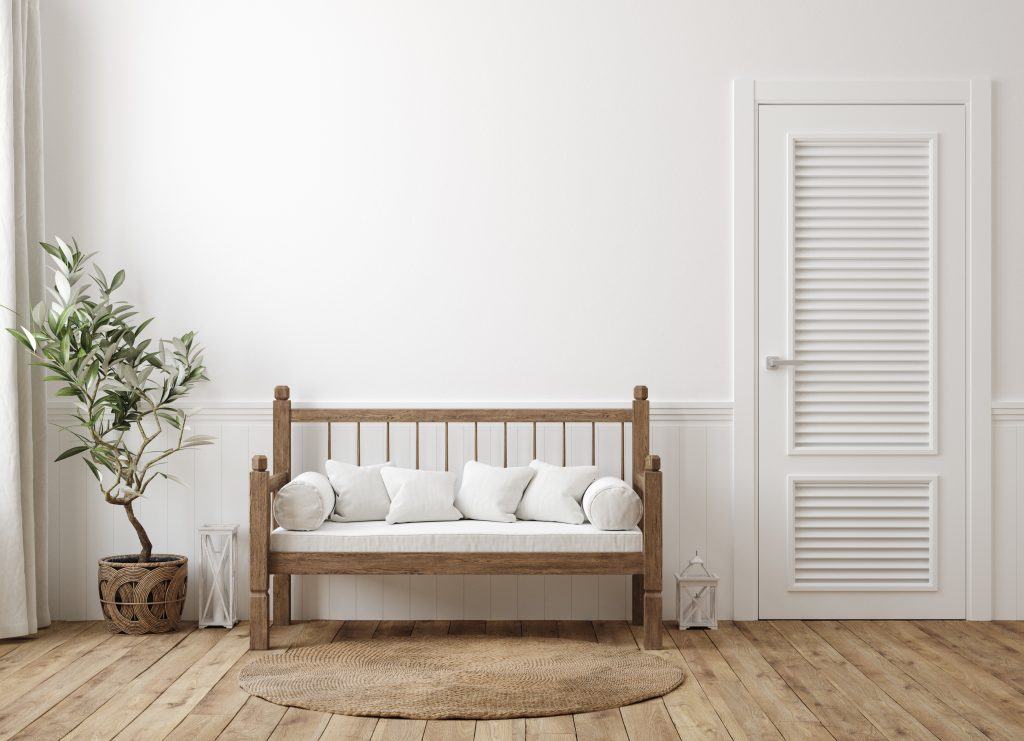 Have a seat
In open-plan designs, living areas can easily take centre stage and entranceways are forgotten about. These spaces can easily be rebooted to make your guests feel at ease by choosing relaxing natural themes with personal touches like handwoven baskets.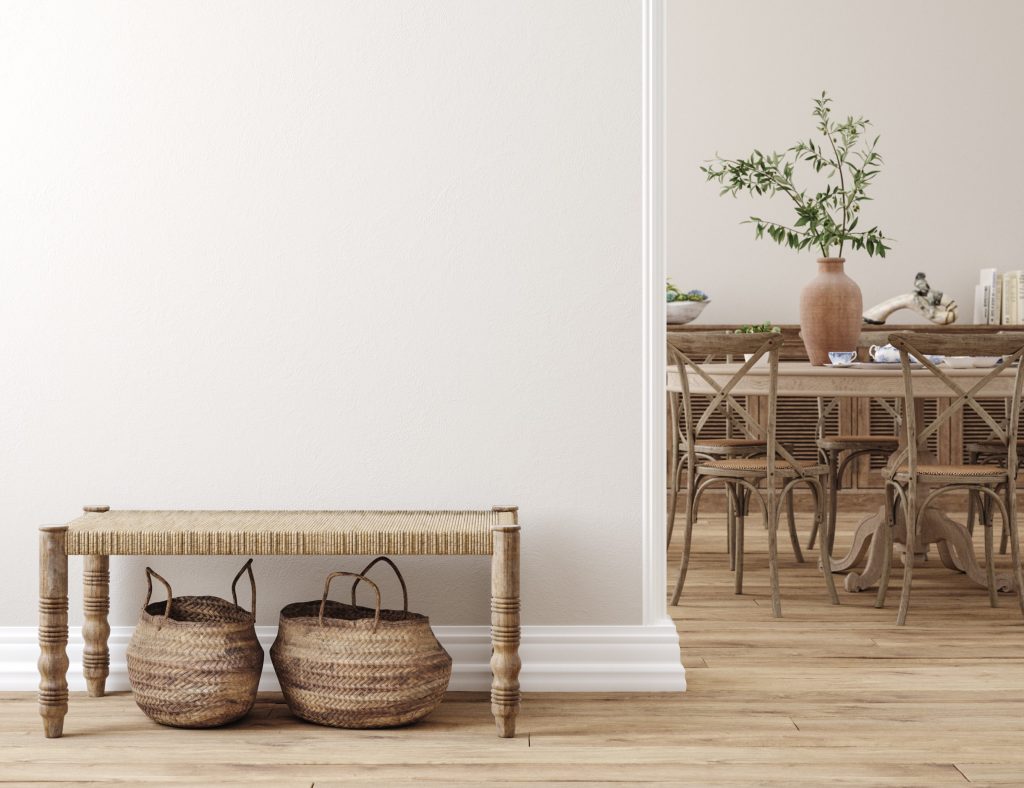 Scatter brain
Looking for an instant, fuss-free reboot? "Plush scatters are a great way to take any stool or chair from bland to grand. Plus, you can mix and match colours, designs and patterns to suit your mood," advises Truter. Visit www.biggiebest.co.za.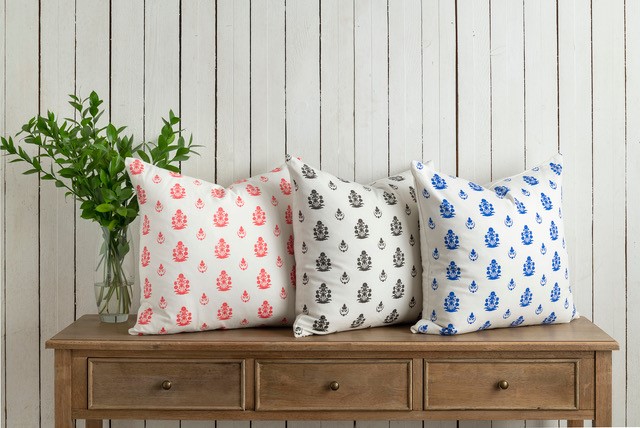 Frame it
Gallery walls are a sure way to personalise entranceways. Remember, consistency is key. Choose a dominant colour, a style of picture and prints. Also, the configuration of your gallery is really important. The spacing between pieces or the alignment of the frames can either make or break your visual ensemble. Add a splash of natural colour and mood to your space with Stormy City (paint on canvas). Find it at www.home.co.za.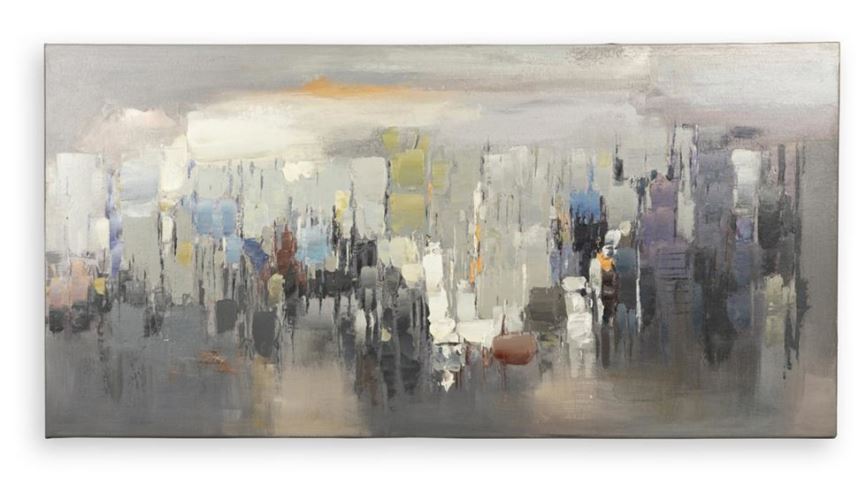 Wall and all
Whether your décor style is trendy, mid-century modern, moody, or even minimalist, wallpaper has the ability to add personality to a characterless foyer. We suggest you create a fantasy vertical garden with graphic pigmented florals and foliage that excites the senses. Reverie Floral wallpaper, available from www.sasiwallpaper.co.za.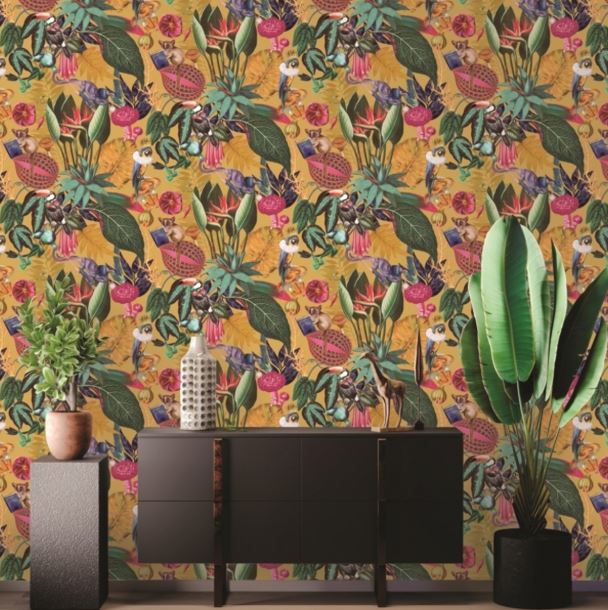 Colour connection
Trendwatchers take note. Bright, luminous colours and quirky designs are making a huge comeback this season. And they're ideal for adding a touch of funkiness and colour into your humble entrance.
The Frenchie table lamp in matt black by Rialheim will put a smile on any dog lover's face. Find it at www.home.co.za.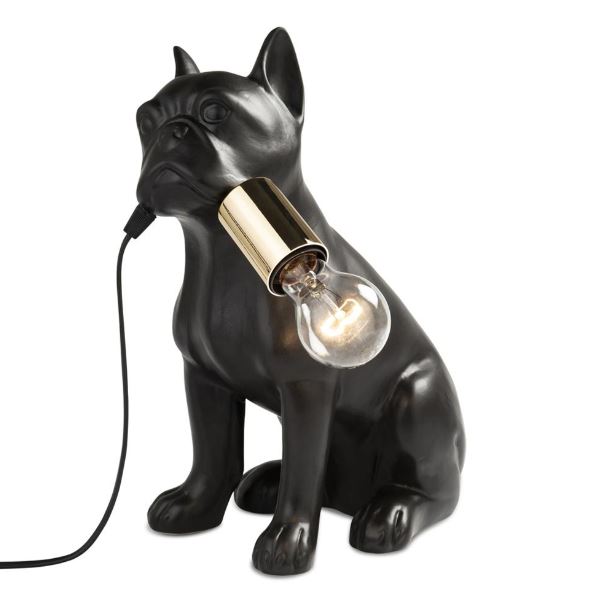 Add some Moroccan-inspired interest underfoot with the Knots Blue rug, available from www.blockandchisel.co.za.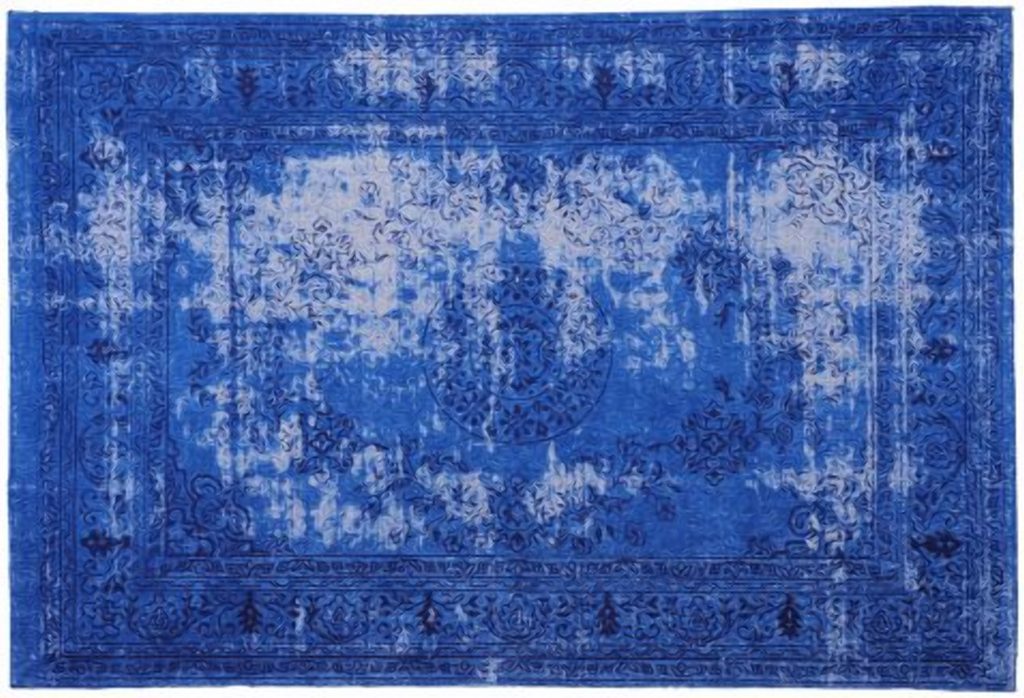 The popping pink Wedge standing lamp by Dokter and Misses and yellow Kent side table are all about illuminating any dull and dreary nook. Visit www.dokterandmisses.co.za.