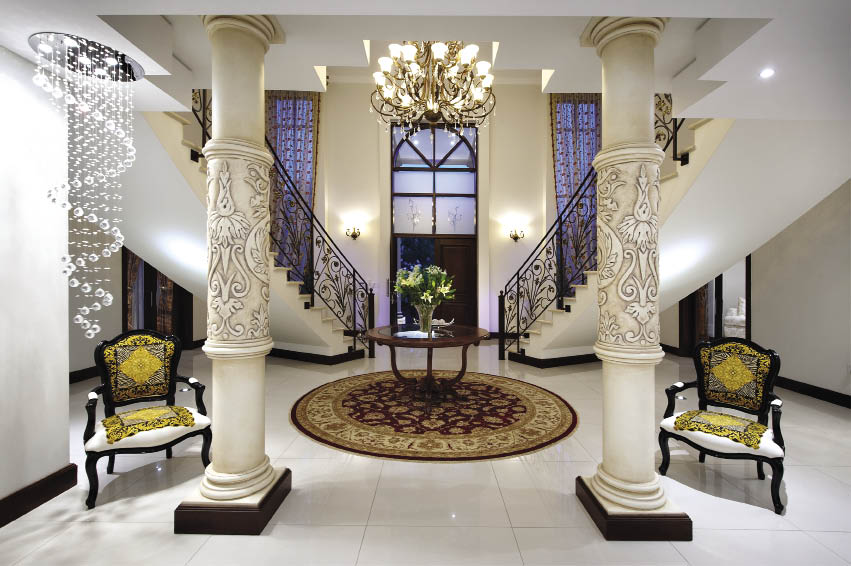 By Mari Sciarappa, Project Consultant Candice Bailey, Photography Nic Baleta
Walking through the doors of this dwelling, you are left awestruck – the breathtaking splendour of this unbelievably beautiful and luxurious home is guaranteed to leave a lasting impression. A striking symmetry meets your eyes as you walk through the entrance hall, with pillars and ornamental chairs that flank a magnificent centerpiece hanging light that illuminates the chic, crisp space to make it more intimate and homey – even in its opulence.
Structural columns of opulence, created by Grietjie Lee of GD Co Cement Carving, are just one of the magnificent aspects of this home. The home owners did not use an interior designer and created this incredible look by using past issues of SA Home Owner magazine for idea generation. The couple certainly has an impeccable eye for detail – and proves that a magnificent home can be created with the right inspiration.
With relatively simple yet fully-functional architecture, this home was created with a square design on the exterior. Long, rectangular windows are used for space and light, and these windows have a stunning effect on the interiors.
The owner says that she used neutral colours "because you can't go wrong with these, and it leaves room to change if you wish, by simply adding different coloured scatter cushions."
She says the interiors came together nicely in the end, adding that she knew what she wanted and went with what she liked. She also used old ornaments throughout this home to give spaces a touch of personality.
When creating this opulent home, the owners wished to create a living space that spoke to their tastes through grand entrances set against neutral tones – and what beautiful taste it is.