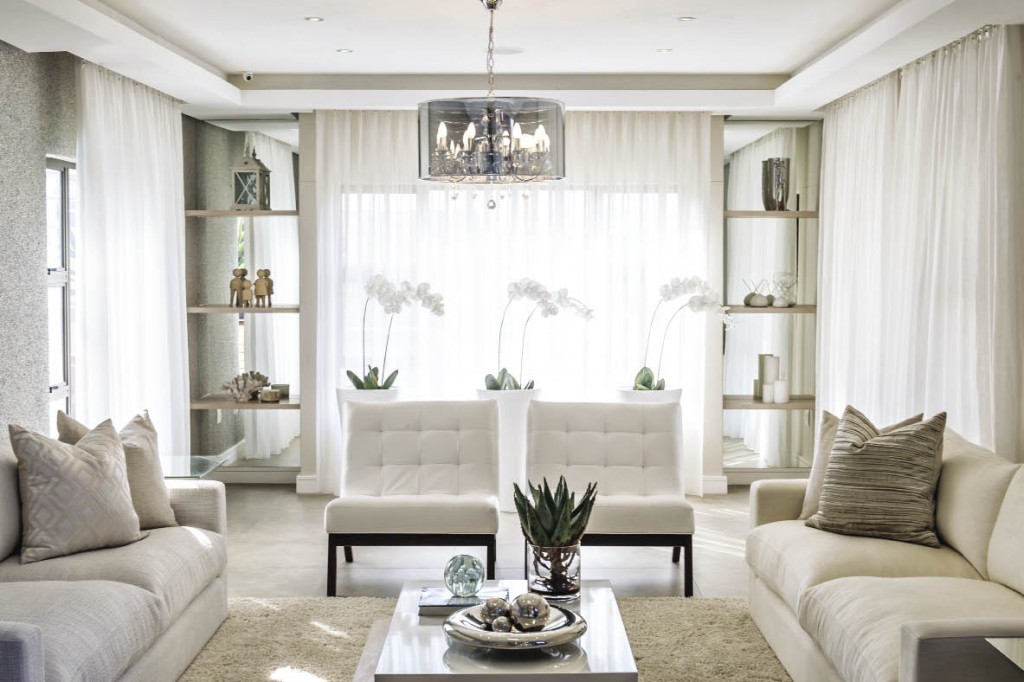 By Heidi Olivier, Project Consultant and Property Co-ordinator Avril Elias and Claudelle Knock, Photography Chris Allan
Bringing wood and stone to life was the vision behind this fabulous home. "This estate has a design code, which we were governed by. The two basic architectural styles are Tuscan and Balinese. We chose to go the Balinese route as it allowed us to bring the vision of creating this modern home with natural elements to life," explains the owner.
To help create this effect, the interior was kept modern and minimalistic – a theme that runs throughout the house. With the use of natural wood furnishings, and utilising grey, white and cream colours for the paint, tiles, flooring, textured fabrics for curtains and furniture, the home oozes soft elegance and comfort. "We were looking for a clean, simple, functional, open-plan home with large glass windows to allow more room for light," says the owner.
As a young family with a toddler, the home is perfectly situated in the booming town of Umhlanga, with its upmarket schools, pristine beaches and some of the best shopping malls in KZN.
Frans Alexander Interiors was called in to help these owners achieve the perfect home, in the perfect environment.
Using porcelain tiles imported from Italy, Victoria and Albert baths and custom-made furniture for the home, the desired effect was achieved.
"We are a young family, and both my wife and I are involved daily in our business that we started together so we wanted to create an open, modern, peaceful home that lends itself to unwinding and entertaining. We also wanted a home that offers sheer convenience through modern appliances and an integrated home automation system, which controls almost everything – from the music played in different rooms to the lighting, CCTV system, alarm system and even the electronic blinds and curtains."
With all this and more, you would think it quite hard to choose just one favourite room. However the owner explains: "My wife prefers the white formal lounge – it's a beautiful room that she uses as a sanctuary to relax. I love the cinema room with the huge 75-inch LED TV, and the home theatre system. Our two-year-old daughter also loves the cinema room because she gets to watch all her favourite cartoons on the big screen." When asked what inspired such an impressive home, the owner says that his wife's collection of SA Home Owner magazines provided all the ideas that they needed.
He also adds: "We knew we couldn't do it alone and therefore contacted Frans Alexander Interiors to bring all these ideas to life. We are extremely pleased that he helped make this dream a reality."