Bedrooms aren't always big – but that doesn't mean they can't be beautiful. With the latest interior-decorator-inspired DIY tricks, you can make your space feel larger.
The obvious place to start is with the most important piece of furniture – your bed. Choose a bed size that doesn't take up the whole room. Before shopping for your bed, measure out your bedroom.
Consider the space you need for comfortable living, factoring in clearance for doors and drawers, walking around the perimeter of your bed frame and other furnishings, and leaving enough room to rotate your mattress without hitting walls.
About 75-90cm clearance or more on two to three sides is ideal. It can be helpful to get an understanding for how a bed will fit into your room by marking out the dimensions on the floor using tape. Then you will be able to visually see which sizes will fit well.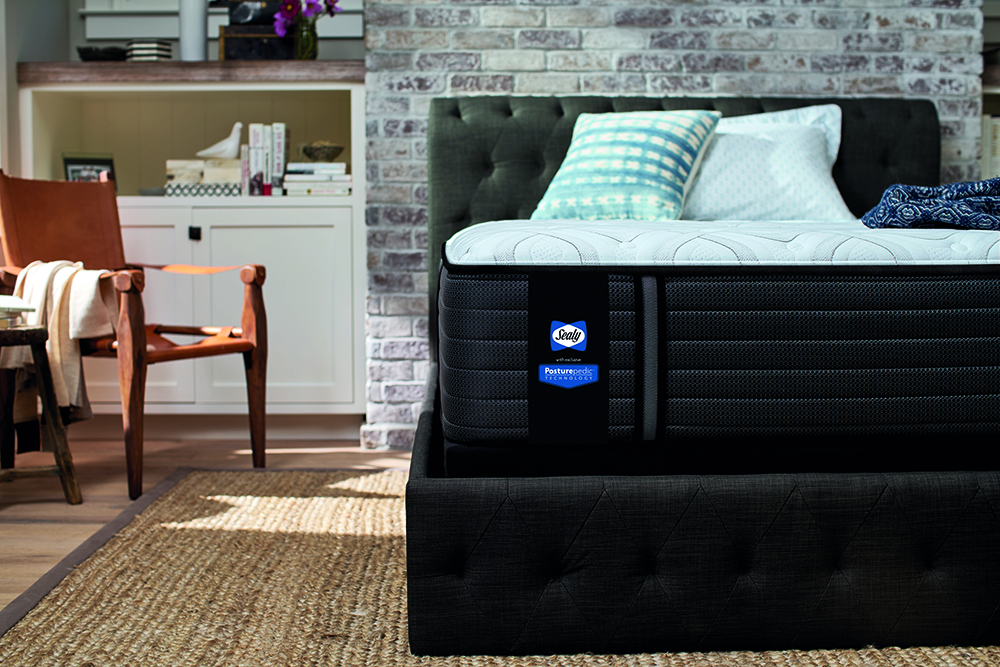 Mattress measurements for different Sealy beds:
Single – 915mm x 1 880mm
Three quarter – 1 070mm x 1 880mm
Double – 1 370mm x 1 880mm
Queen – 1 520mm x 1 880mm
King – 1 830mm x 1 880mm
Extra length – 2 000mm (available on request)
Another tip is to choose a bed that is low to the floor. This makes the room feel and look bigger. All Sealy beds come with adjustable bed legs and base heights, allowing you to choose different heights for your bed set.
A few tips on how to make the most of a small bedroom:
Play with colour
There are various options to choose from, but most of the time painting your room a lighter colour gives the space an airier feel. Paint the entire room the same colour – the floor and ceiling included – to create a more open feel.
However, if a single-coloured bedroom sounds too boring for you, there are other options. Using contrasting colours creates an illusion of depth. For example, if your walls and ceiling are white, opt to paint one wall a darker colour. Do a quick Google search for "colour schemes for small bedrooms" to get a few small bedroom ideas.
Decorate the room with a single colour scheme and avoid using too many colours in a small bedroom. A single colour scheme helps to weave the space together.
No-fuss bedding
Avoid frilly, bulky duvets, loud patterns and too many accent pillows. Rather choose simple bedding with clean lines and minimal designs. If you need more warmth, use a chunky blanket or throw.
If you feel your bed looks too bare without accent pillows, don't use more than two.
More floor space with floating shelves
The more floor you can see, the bigger the space feels, so opt for wall-mounted shelving when you can. "Floating" bedside tables can replace the more traditional bedside tables, which can be chunky. You can even replace your headboard with a floating shelf. Paint the shelves the same colour as the walls for that uniform, minimalist look and feel.
Ditch the curtains
Heavy curtains are dust collectors that dwarf a small room. Minimal window treatments like blinds help smaller spaces feel bigger, allow more natural light into the room and also draw the eye outside, creating the illusion of space.
If you really love curtains, then choose floor-to-ceiling curtains in a light-coloured fabric that matches the colour palette of your room.
Minimal furniture
Be choosy about the furniture in your room. Do you need both a dresser and a wardrobe? Maybe with some organising, you can get away with just one of these, to save space in your bedroom.
If your bedroom has turned into your home office, consider finding another space to work from. Keep your bedroom for what it's meant for – sleep.
Bold wall hangings
Be bold when it comes to pictures for your room. Rather than hanging several small pictures on the wall, select one big, eye-catching conversation piece. Mirrors will also help your bedroom look bigger. If possible, hang mirrors opposite the window to maximise the light in the bedroom.
Declutter your space
Of all the small bedroom ideas we've shared, the most important tip is to declutter the space. Try to keep clutter to a minimum by creating storage options or moving them to another room. After all, a peaceful sleep environment really does help with better sleep!
Visit www.sealy.co.za