In harmony with nature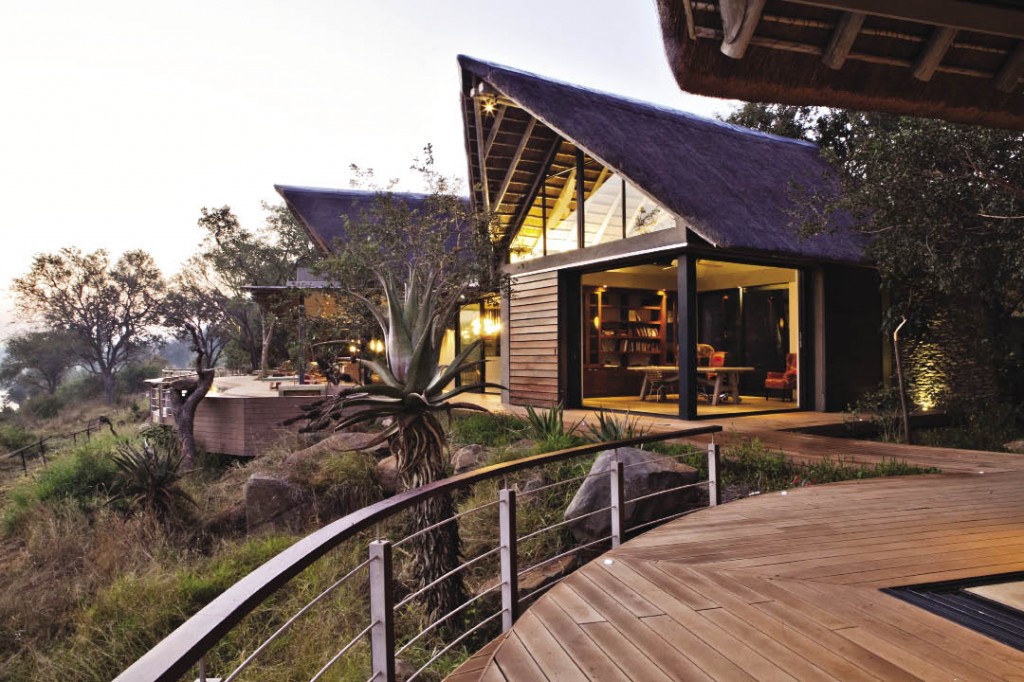 By Rami Moorosi, Project Consultant Berty van Staden, Property Co-ordinator Chantel Spence, Photography Candice Askham
Contemporary with an eclectic edge, this lodge-style home was built to interact with and complement the natural surroundings rather than compete with them. These eco-conscious owners were aware of the impact that their home would have on the environment, and with this in mind, every possible measure was taken to make the home as eco-friendly as possible.
The ingenuity of the architecture is seen in how the home was designed to mimic a tented bush camp with all the principal spaces such as the bedrooms, study and living rooms having pitched thatch roofs, creating tent-like structured spaces. The layout of the home was designed as a principal lodge housing the living, entertaining and other public spaces as well as individual bedroom suites, connected by paths of packed earth that meander through the natural grasses and rocks.
Another interesting characteristic of the home is how it was designed around the existing site features – the rocks and trees. Although this is a large home, only one tree was removed during the construction.
Traditional heavy thatched ceilings have been softened by washing the interior poles in a cool shade of white. Contemporary lighting, white paddle fans and boxed edges to the ceilings give the rooms a refreshing light and sculptural quality.
"Paying homage to the natural landscape that envelopes the house, there is no art on the walls or curtains at the windows to distract the eye. This sets a sophisticated, contemporary tone and allows the owners' striking, modern furniture to take centre stage," explains architect, Chris Sparks from JLA Architects.
Enhancing the resident's lifestyle is the swimming pool that is chemical free. Hundreds of tons of rocks were carefully placed to blend the pool into the natural rock formation that it has been built around. This pool also allows for birds to drink out of it and attracts numerous animals towards the home. The home enhances the lifestyle and well being of its residents, while showing respect for its natural surrounding.
Chris adds: "We believe that the success of the home is not in its location or the evident perfection of its finishes, or its furnishings. Rather, the triumph is the delicate blend of the bushveld chic that sits elegantly within its environment. The house is a blend of signature furniture and art pieces chosen to complement the design and location. Achieving this rare feat was possible because the house is a conversation between owner, architect and nature."