The purpose of a fridge is to refrigerate. But what else should modern appliances be capable of? How can they be made more efficient, intuitive and contemporary?
Liebherr thinks about these questions every day, because for the company, a fridge is not just an appliance. Instead, it should be a partner who supports you where it can, thinks for itself, takes over tasks and helps make work easier. Liebherr is constantly developing its appliances to ensure it succeeds in meeting these objectives.
That's why Liebherr has been working on fridges and freezers that speak for themselves. Appliances with innovative solutions that not only meet your requirements, but also inspire you, in terms of quality, freshness technology, convenience, design, efficiency and value for money. It was especially important to Liebherr to develop smart features that support you in the best possible way, so you have more time for the important things in life.
Timeless and elegant
Hidden behind the kitchen panels, a Liebherr appliance remains undiscovered at first sight and allows the kitchen design to take centre stage. But once opened it's clear: there is something very special hidden behind the door.
Traditional and timeless on the one hand, elegant and exclusive on the other. The new design language seamlessly blends into any interior. The interior features elegant glass and stainless steel elements.
Liebherr's new LightTower lighting concept evenly illuminates the interior while supporting the glass shelves. It's flexible, space-saving and unique. The precise machining, an eye for detail and the harmonious combination of materials, shapes and colours create an appealing overall appearance.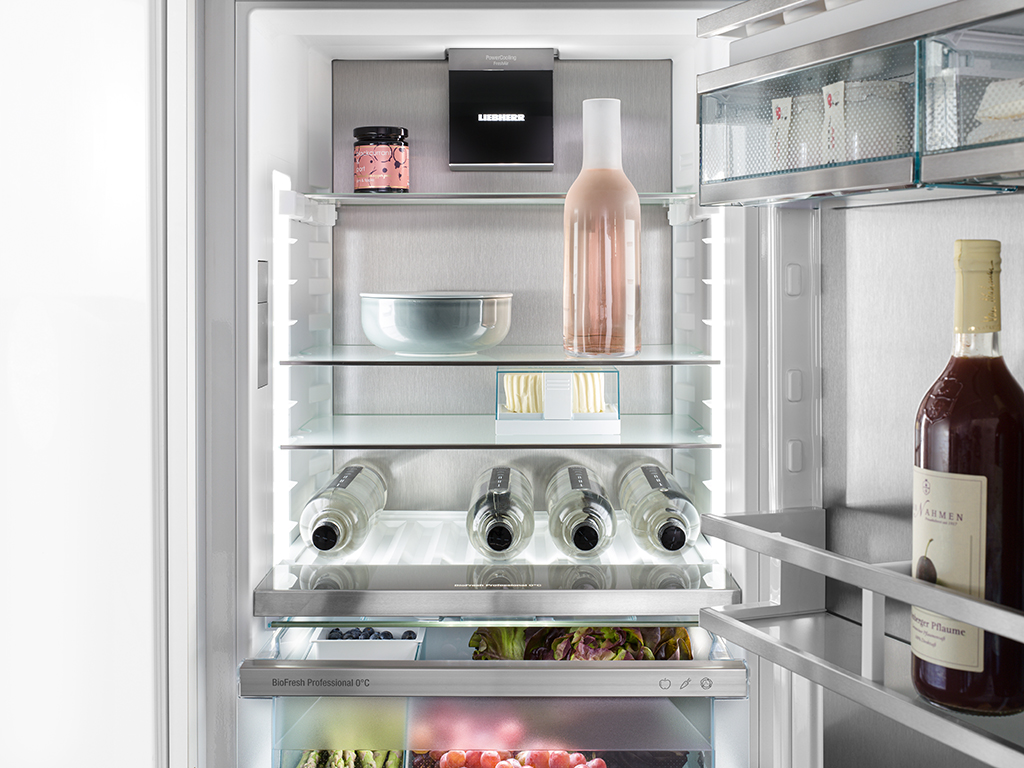 Perfectly balanced
A good fridge is a true all-rounder. In addition to low power consumption and low noise levels, it should also offer plenty of space for food and have power reserves when it really matters. For this reason, Liebherr doesn't focus on just one factor; instead it keeps all usage situations in mind at once. That's why its appliances offer a balanced, perfectly matched overall package of energy efficiency, volume, noise level and cooling capacity.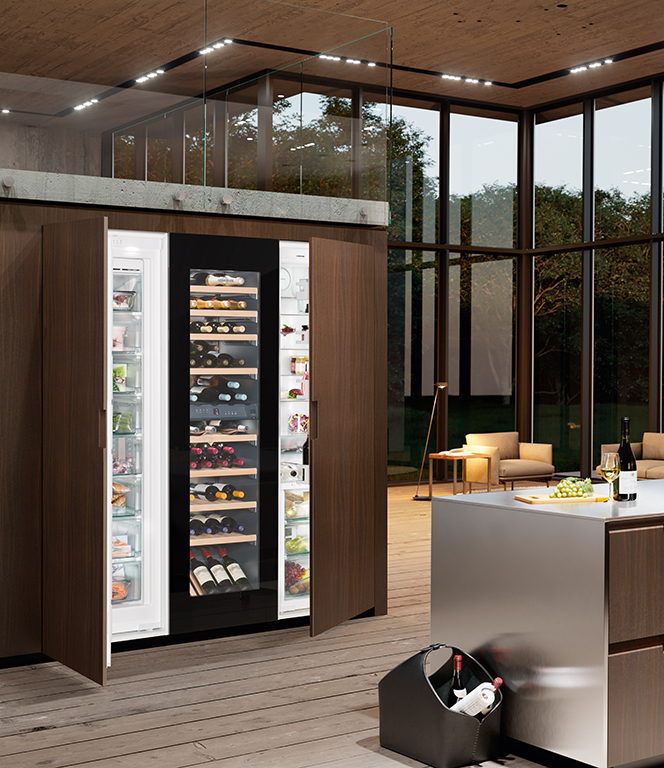 HydroBreeze
Liebherr found the inspiration for HydroBreeze in California's Salinas Valley. Due to its proximity to the cool Pacific Ocean, a fine moist mist covers the valley and its fields in summer. This prevents the crops growing here from drying out.
Liebherr has adopted this principle in its freshness features: a cold mist covers fruit and vegetables like a protective balm. It ensures crisp freshness and improves structure.
You'll be inspired by HydroBreeze. The cold mist combined with a temperature in the safe of around 0°C gives food that extra a boost for longer shelf life. HydroBreeze is activated every 90 minutes for four seconds and for eight seconds when the door is opened.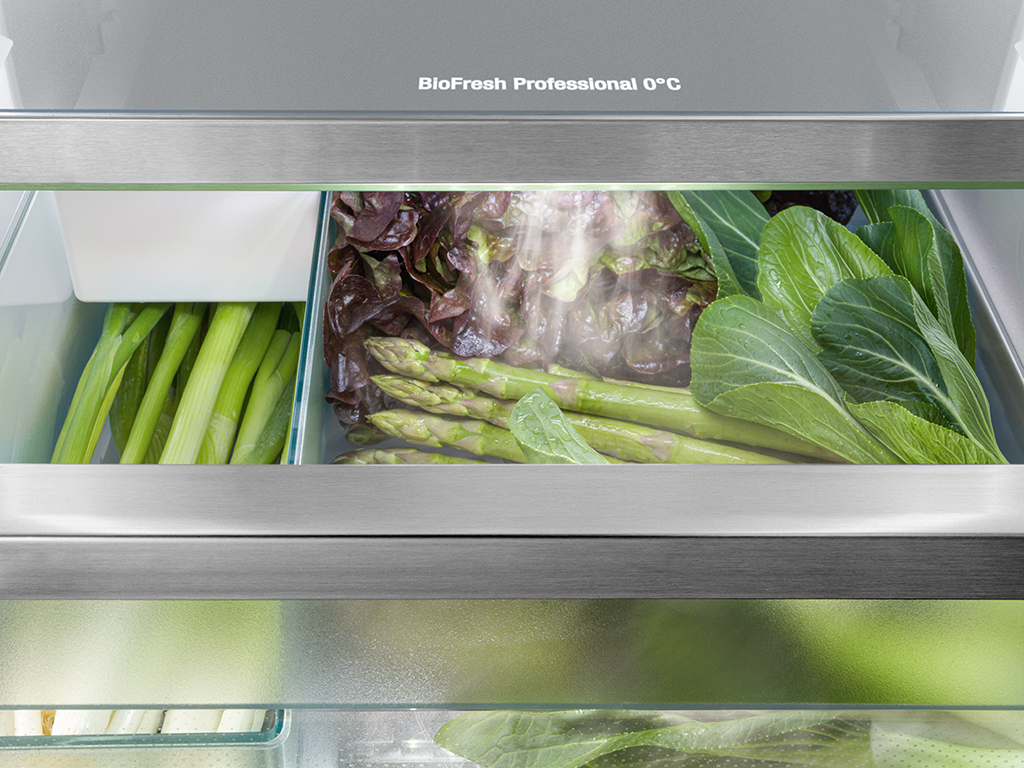 Spring to life
With the InfinitySpring, Liebherr brings a crystal-clear cold water source right into the heart of your kitchen, so lugging heavy crates and water in plastic bottles is a thing of the past. This relieves the strain on your back and on the environment. The flush-mounted integrated water dispenser is always there when it is needed and almost invisible when not. It is suitable for containers of almost any size, including carafes and bottles. The integrated filter system ensures perfect water quality.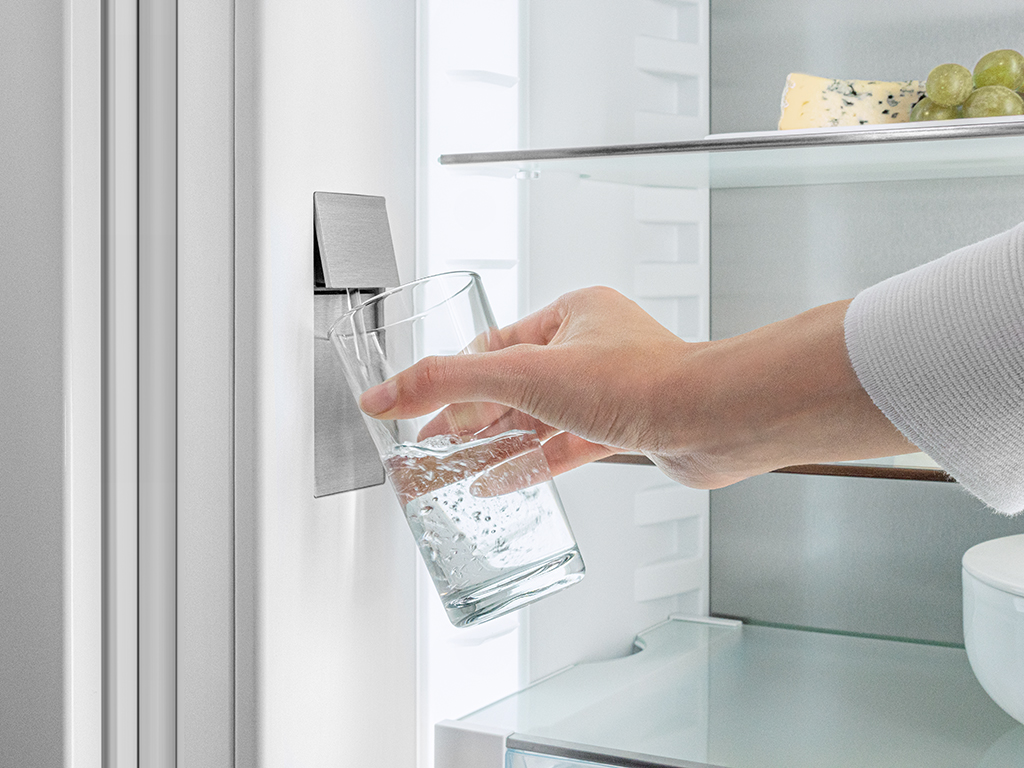 That's ice
Spontaneous party? Not a problem. The IceMaker produces up to 130 ice cubes a day, providing ample ice for chilled aperitifs, cocktails and soft drinks – the perfect complement to a successful garden party in summer. This IceMaker comes with a fixed water connection or alternatively with a water tank. With the MaxIce feature, ice cube production can be increased if more guests are invited.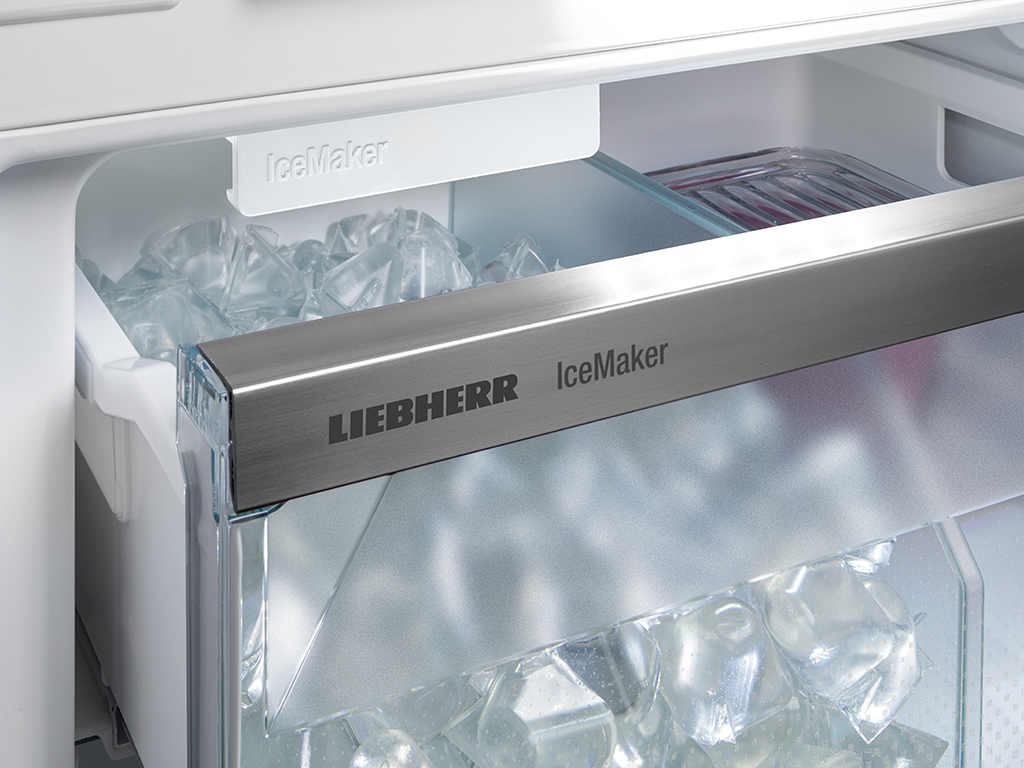 Liebherr – for the love of wine
Climate, soil, grape and vine, and gentle processing all play their part in creating a great wine. Winemakers go to great efforts to ensure that every step, from cultivation through to filling the bottles, is meticulously carried out to perfection. When it comes to storing fine wines, connoisseurs worldwide trust in Liebherr because, as they know, even excellent wines can only develop their full flavour in the bottle and under ideal storage conditions.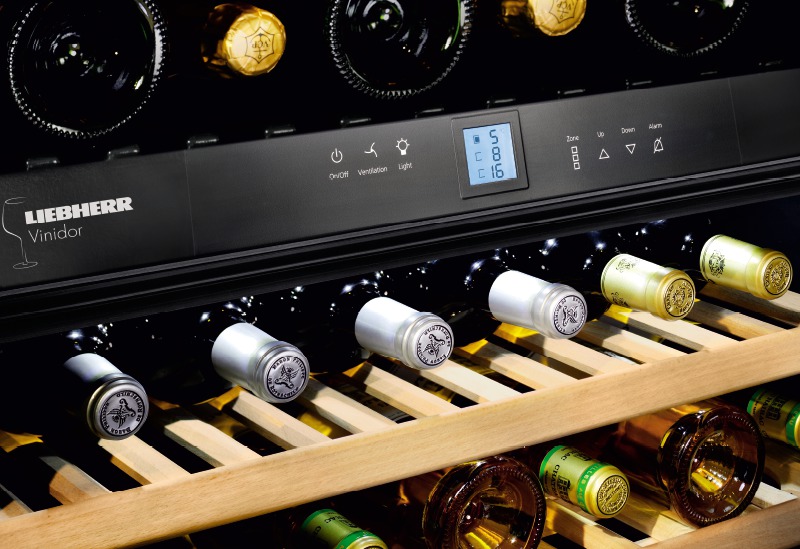 Wine – a culture for connoisseurs
A visit from family or good friends, perhaps a quiet night in – you've got the perfect excuse to open a good bottle of wine. For a lovingly cultivated, perfectly aged wine to develop its taste in all its fullness, it must be treated with great care. Such fine wines need to be stored under the most favourable conditions and at just the right temperature; then they will be a true joy to drink.
How to store and enjoy fine wines
From when the first young vine shoots appear, right through to bottling, winemakers employ great expertise, devotion and diligence to ensure that only the very best drops fill the bottles. White wines are aged in barrels or special tanks for several months, at least, before they are ready for bottling. Red wines, on the other hand, can often take several years to age, and even then many will still not have developed their full flavour. When kept under optimum storage conditions, wines can age and further improve in the bottle.
Consistently cool
Whether it's winter or summer, wine needs a consistent temperature. Your precious bottles must be protected from UV light and all kinds of fragrances and odours. Even dry air and vibration can impair the quality of the wine. In Liebherr wine cabinets, fine wines are safe in the ideal storage conditions – to guarantee pure enjoyment.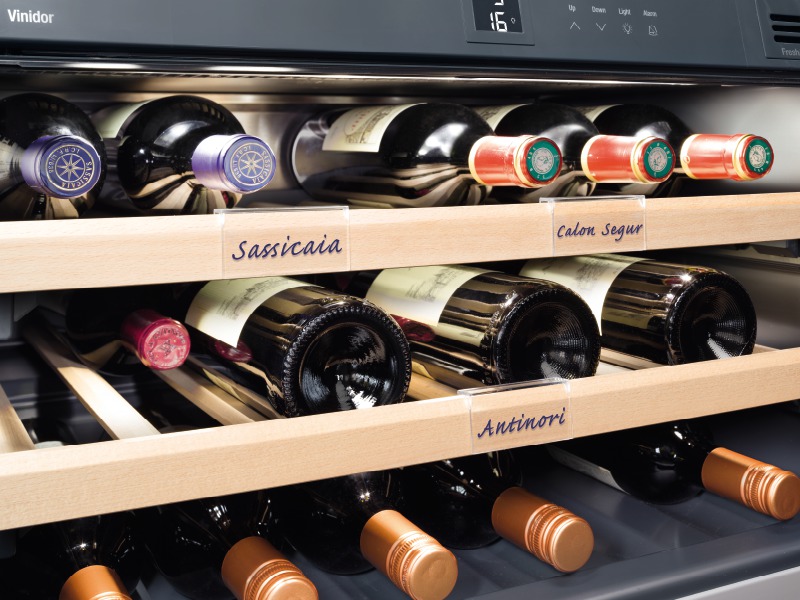 Visit www.liebherr.com