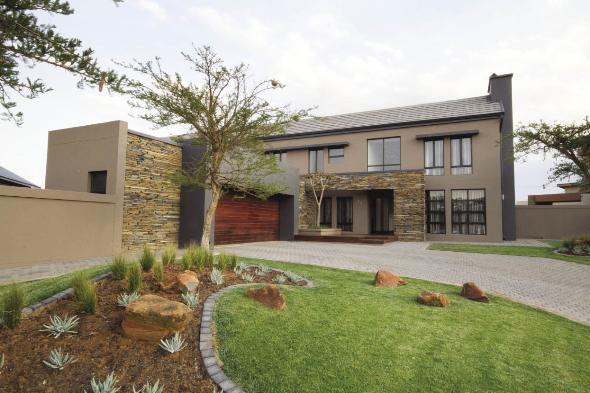 By Refilwe Boikanyo, Project Consultant Monique Rankine, Property co-ordinator Chantel Spence, Photography Irma Bosch
Nestled in the Serengeti Golf and Wildlife Estate, lies this beautifully designed home, which is a dream come true for its residents. It is indeed a happy place, one where time slows down to a peaceful pace.
With the reality of this family living in their dream home finally sinking in, the owner says that it did take some time getting used to all the space.
The tranquillity, privacy and scenic views that the estate offers, along with its proximity to the children's school sold these owners on building their dream home on this estate.
When drawing its blueprint, they envisioned creating a modern home with a farm-style feel. "We are very family orientated, and love being in the bush, so we went for this style because it creates that same feel," explains the owner. Clearly defining the look and feel that they required, and by teaming up with an architect who understood this vision, these home owners were on the way to making their dream home become an elegant and timeless reality. The home is streaked with light colours that create the impression of more space; has various earth tones; and types of wooden furniture that makes it more inviting. Bamboo flooring throughout the home generates heat without the excessive use of electricity, ultimately adding to the cosines of the home.
With features including an open-plan kitchen with scullery and separate washing area, a playroom for the kids, a closed-off braai/pizza oven area, a study, family TV room and boma area, it is no wonder these residents are in love with their entire home.
Torn between the family room and the master bedroom, the owner has this to say regarding her two favourite spaces: "The family room is spacious with a built-in fireplace so it's great for intimate gatherings around the fireplace and a glass of good wine. It also has a great view of the swimming pool. And I love the main bedroom with its en suite bathroom because this areas emits a peaceful ambience," she says.
Decorating the interiors themselves, the owners used the beautiful furniture, furnishings, artworks and much more that they collected over the years to create spaces that are warm, welcoming and striking.
You can see and feel in every corner, how much love and work has been put into their home, sweet home.