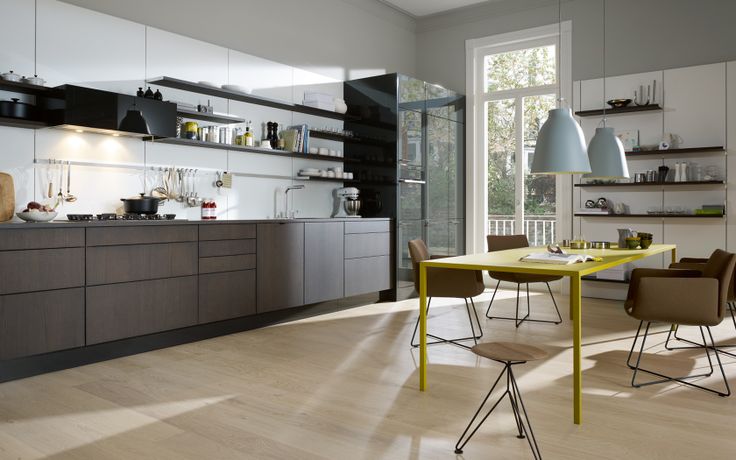 Turn your kitchen into a trendy space by introducing these five elements…
Image: SieMatic
Modern masterpiece

The modern kitchen is a popular choice at the moment – defining attributes include clean lines and simple cabinetry, with high-gloss white, grey and black considered highly attractive in terms of colour.

Image source.

Wise design

Modern kitchens are designed to maximise functional performance. Rory Donovan of Kraftmade Kitchens explains: "Kitchen design now involves a process that identifies the importance of planned consecutive and sequential workflow."

Knowing the function of the kitchen solves majority of your design and layout dilemmas – for example, a social kitchen will require a large island to accommodate cooking, prep work and dining all at the same time

Image source.


Be innovative

Being part of Generation X, we are fortunate to have the very latest innovations available to us. Technology in the kitchen comes in the form of touch-controlled interfaces that can preheat your oven before you pop in a chicken to roast, or switch on your dishwasher for the next load.

Not only is there advanced computerised technology for the kitchen, but also innovative kitchenware products including touch-sensitive drawers and mechanisms for effortless opening and closing of cabinetry.

Image: SieMatic

Cutting-edge appliances

Tech-savvy, eco-friendly…and sexy! Current kitchen appliances are not only designed to enhance our lives, but they also accentuate the modern look of the kitchen. Offering convenience, large and small kitchen appliances are now an integral part of the culinary hub.

When purchasing appliances, keep in mind your lifestyle and needs – there's no use buying an appliance with functions you don't require , as it will only end up on the counter.

Image source.

Light it up

Lighting can instantly add a modern aesthetic to your kitchen. Pair downlights with a bold, decorated extractor hood or install dainty pendant lighting – whatever you chose, you can take comfort in knowing that the current fixtures are designed to offer a contemporary visual impact.

Image source.