Luigi Bormioli glassware hamper giveaway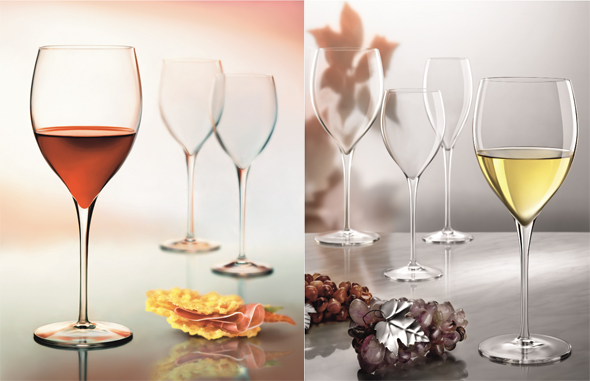 Wine Connoisseurs the world over will tell you there's much truth in the premise that the shape and size of a wine glass can influence the flavour and bouquet of the wine it holds. Renowned Italian stemware producer, Luigi Bormioli, has launched the Magnifico range of wine glasses that have been specifically designed to enhance the taste and aroma of wine.
Magnifico is produced from an innovative new type of lead-free glass that was developed in the company's laboratories over an 18-month period. Called SON.hyx®, the glass is a high performance crystal glass with a sonority index (acoustic properties) typical of precious glass.
It's totally transparent and colourless, allowing the drinker to truly appreciate the colour and clarity of the wine, much like the clarity of a vessel made of pure quartz. The cups boast large surface areas that facilitate and accelerate the oxygen saturation of the wine, while the specially curved sides reinforce the concentration of aromas, disseminating them upwards.
The Magnifico glasses also feature the correct ratio of the weight of the cup and feet, giving them greater balance and ensuring smooth rotations. Although these glasses appear very fragile, their manufacture from SON.hyx® glass means they're incredibly strong and have improved resistance to mechanical shocks, especially around the rim and with the twisting of the stem. The surfaces of these glasses have no weak points, further reducing their fragility. They have proven in trials to enhance the flavour and aroma of wine – combined with their elegant and functional design, this makes them a must for every sophisticated dining table.
To enter the giveaway:
This Valentine's month, SA Home Owner has lovingly collaborated with Luigi Bormioli and is proud to present a  giveaway, inspired by one of the most romantic and red-blooded populaces on the planet – The Italians!
Five Luigi Bormioli glassware hampers, each valued at over R1 000, can be won. Simply tell us why you would like a hamper in the comments section below.
Closing date: 8 March 2012