Located in the Sabi Sand Game Reserve, the birthplace of sustainable wildlife tourism in Southern Africa, Leopard Hills is highly acclaimed for its excellent game viewing, as all hunting in the area has been abolished for decades.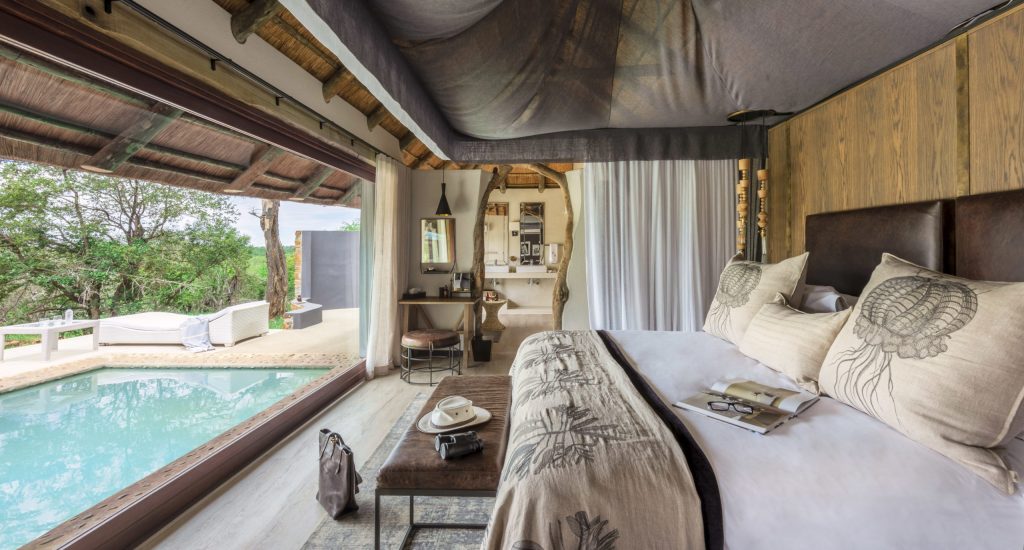 The animals have therefore grown accustomed to the presence of safari vehicles in their territory. As a result, Leopard Hills can boast some of the best opportunities to meet Africa's Big Five – the five most dangerous animals to meet on foot: buffalo, elephant, rhino, leopard and lion.
Leopard Hills' highly qualified guides and trackers ensure an unforgettable African safari by enriching the experience with their profound knowledge regarding this animal kingdom and its complex habitat.
Leopard Hills, built on a hill overlooking a natural waterhole and close to the perennial Sand River, truly lives up to its name. This exclusive lodge traverses over 10 000 hectares in the western sector of the Sabi Sand Game Reserve and offers some of the best Big Five game viewing in Southern Africa.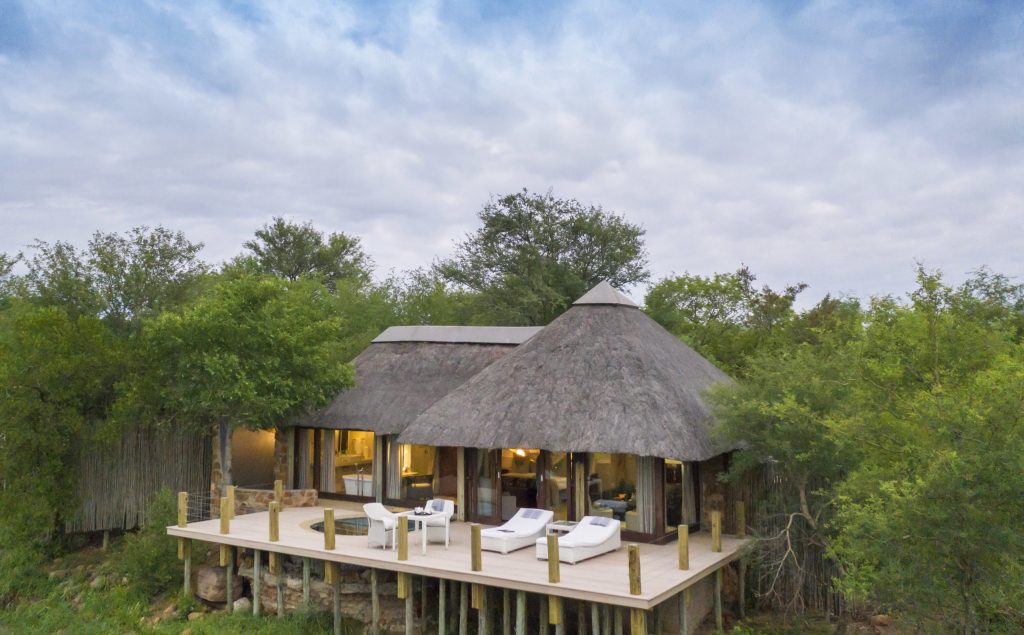 With only eight beautifully appointed suites, Leopard Hills offers as much privacy as you could wish for. Each of the luxurious glass-fronted suites has superb views of the bushveld beyond, while air conditioning and overhead fans provide added comfort against the African bush.
The private deck and rock plunge pools are perfect venues for relaxing with a drink from the fully stocked mini bar. The suites have all the comforts you could desire, including romantic bathrooms with Victorian ball-and-claw baths and double indoor and outdoor showers.
The Leopard Hills team are masters in the field of hospitality and perfecting what has become known as the luxury photographic safari experience. Beautiful accommodation, breathtaking landscapes, fine cuisine, skilled and personable guides and rangers are but a few of the aspects a visitor can enjoy.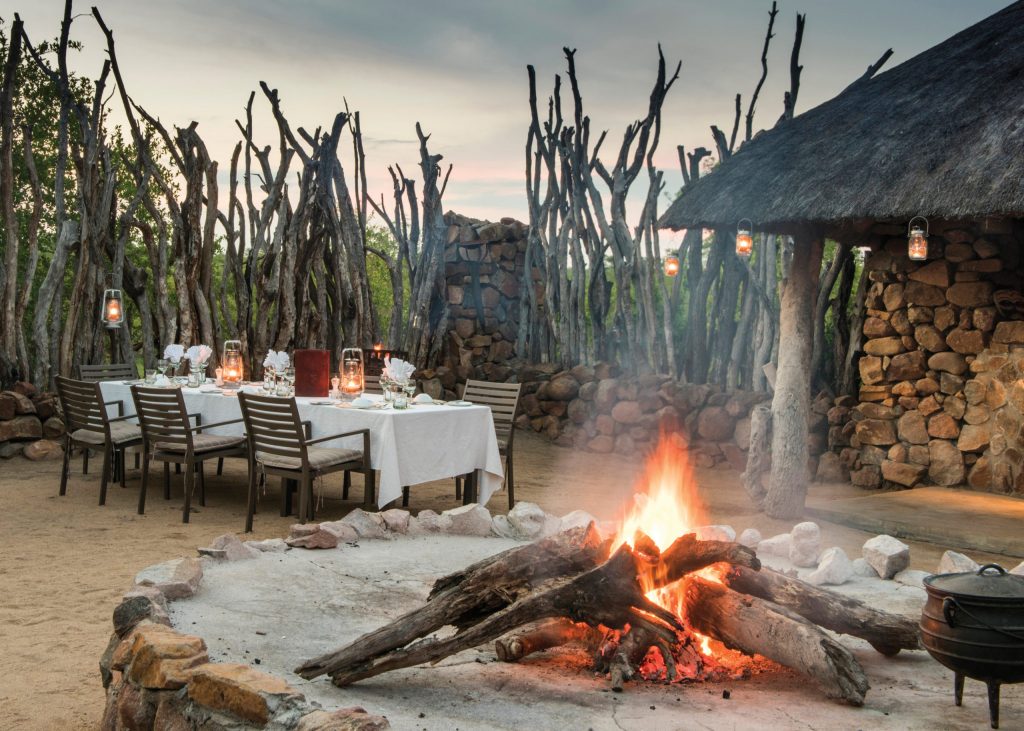 Experience the spectacular Cascades & Canyon helicopter flight over the Blyde River Canyon or enjoy an array of bush spa treatments in the privacy of your suite or in the glass-walled massage sala overlooking the tranquil ambience of the surrounding bush. You could see a herd of elephant drinking at the waterhole while you're being pampered or working out in the gym!
At Leopard Hills, Africa's big game abounds, and each day is different as you explore the endless fascination of Africa's wildlife in custom-designed deluxe open safari vehicles. Early morning and late afternoon/evening game drives are conducted by knowledgeable, professional rangers.
Two rivers supply the game reserve with a valuable water source. The Sand River flows through the reserve for 50km from north-west to south-east while the Sabie River flows on the southern boundary.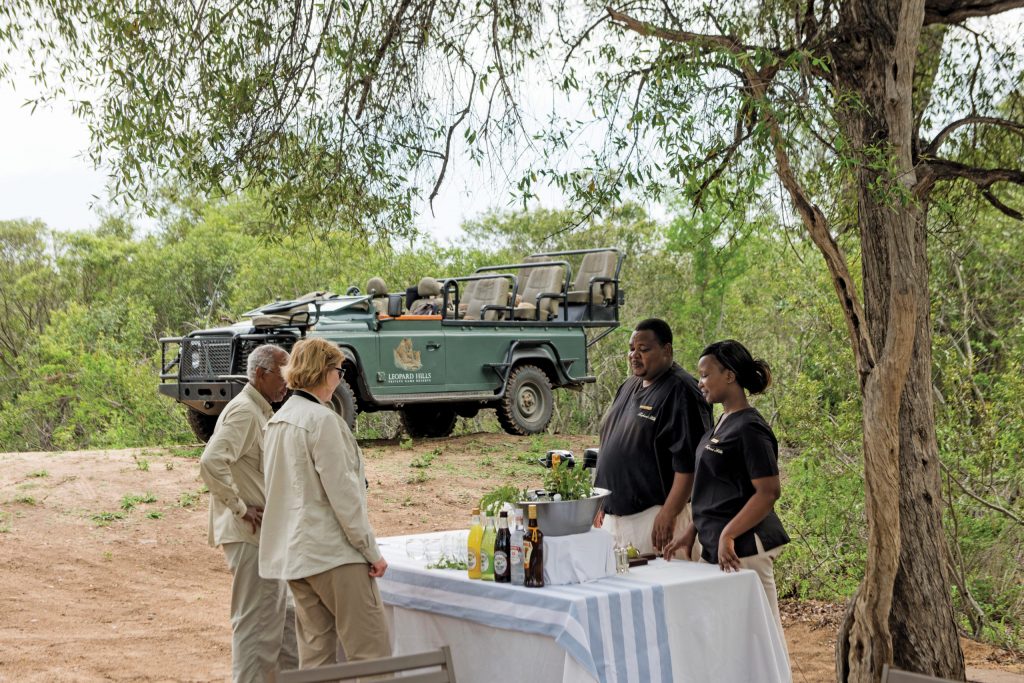 The sustenance of these rivers ensures that this area enjoys one of the highest and most bio-diverse wildlife populations of any area in Africa. Over 200 different species live in abundance, while the ever-changing birdlife provides even the most experienced ornithologist with rare finds. Such is the environment that the wildlife, save for the migratory birds, remain in their territories all year round.
A checklist of the reserve would yield no fewer than 330+ tree species, 45+ fish species, 30+ amphibian species, 110+ reptile species, 500+ bird species and 145+ mammal species. And all occurring in their own natural environment, which has been preserved in its original splendour.
Back at camp you will find the highest standards of service, delicious cuisine and a warm friendly atmosphere. The experience is further enhanced by Leopard Hills' desire to protect and sustain the local environment and improve the well-being of its resident communities.
Visit www.leopardhills.com and email reservations@leopardhills.com for details.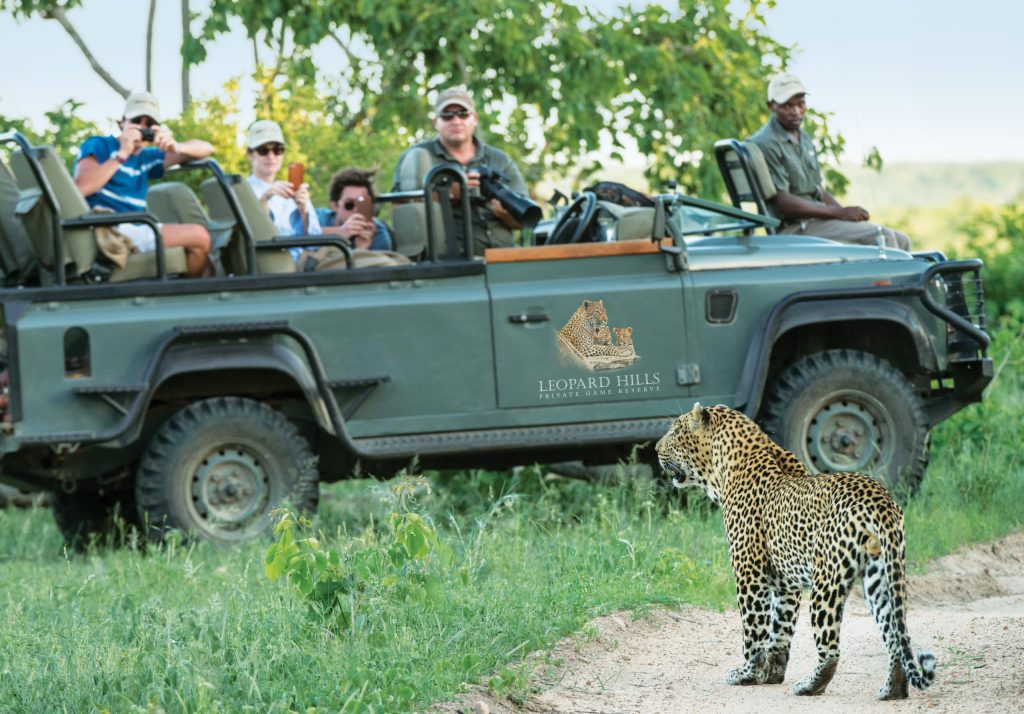 Accommodation
Eight luxurious glass-fronted suites.
Superb views.
Private rock plunge pools.
Private deck.
Air conditioning.
Overhead fans.
Heating.
Victorian ball-and-claw baths.
Double indoor showers.
Outdoor showers.
Phones.
Fully stocked mini bars.
Mosquito nets.
Facilities and special services
Main lodge swimming pool.
Open-air verandah.
Lounge.
Bar.
Dining room.
Gym.
Massage sala.
Library.
Internet facilities in the library.
Traditional Shangaan boma.
Well-stocked curio shop.
Fully stocked wine cellar.
Exclusive wedding packages available.
Children aged 10 and above are welcome at the lodge (please note that triple suites are not available).
What to take
Comfortable walking shoes.
Sun hat.
Sunglasses.
Sunblock.
Cameras and binoculars.
Anti-malaria precautions (consult your doctor/pharmacist).
Light, neutral-coloured clothing.
Swimming costume.
Warm jackets are essential in winter (May to October).