11 unique pieces of furniture to add instant sophistication to your living room.
shloomfy beanbags
"Our shloomfy beanbags are designed with real life in mind. They are always a fun favourite for families to enjoy quality time together. A shloomfy always becomes the best and comfiest spot in any household. The shloomfy beanbag covers are separate from their inners and can be easily removed via a zip, to be washed or changed for a new colour. Replacement covers can be purchased, allowing you to change your colour scheme or to keep up with seasonal trends. Featured in this image is our large SAGE corduroy shloomfy and foot rest." – Kirsty Allen, owner of shloomfy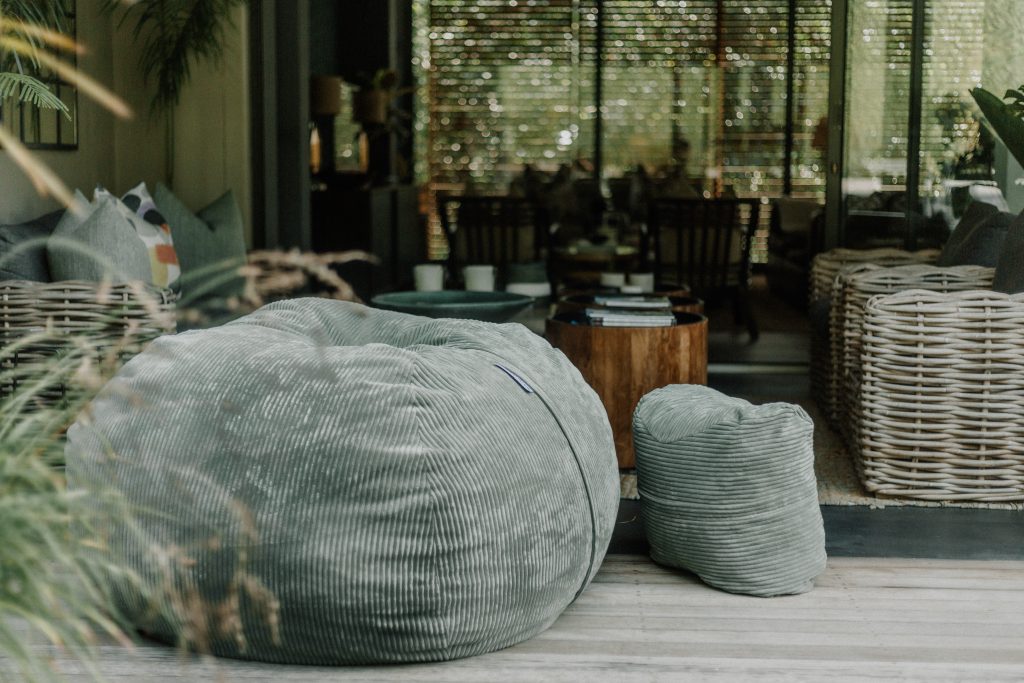 Melonwoods Hawthorne TV unit

"The Hawthorne TV unit boasts a saligna frame with herringbone solid ash door. This unit can also be made with an ash frame finished in a clear sealer if you prefer a lighter outer frame." – Carley Botha, owner of Melonwoods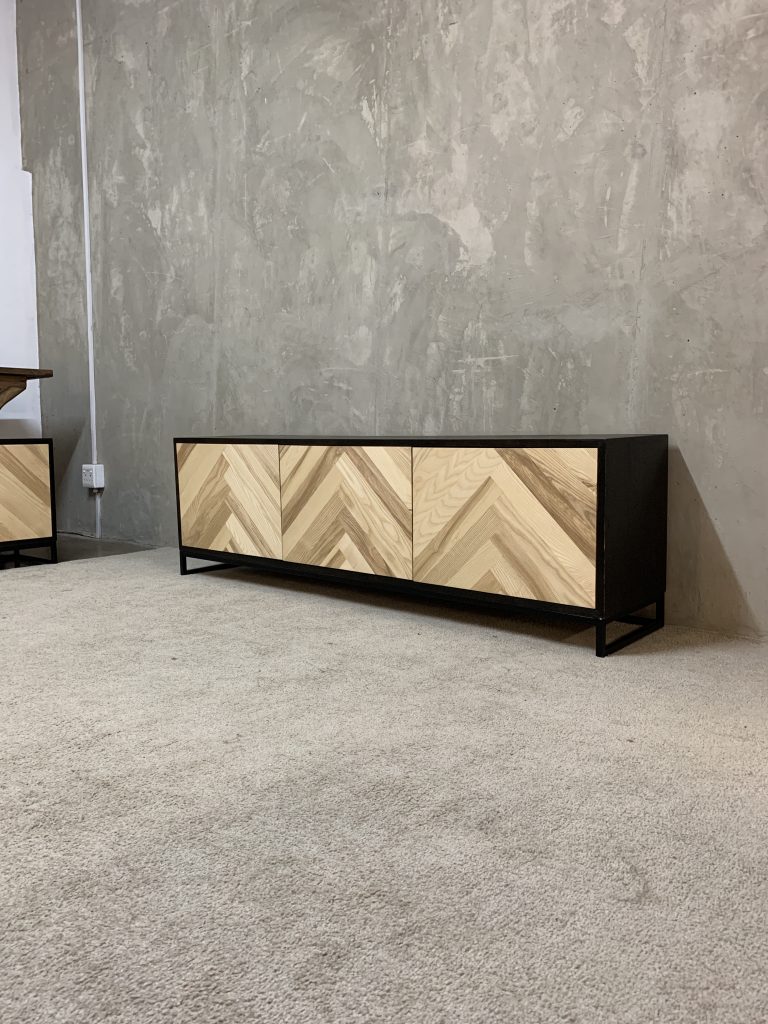 Melonwoods Mazari sideboard
"Our Mazari sideboard has rattan door units which are trending at the moment. Our version can be finished in a range of stains and also be made as a double-door unit or bedside table." – Carley Botha, owner of Melonwoods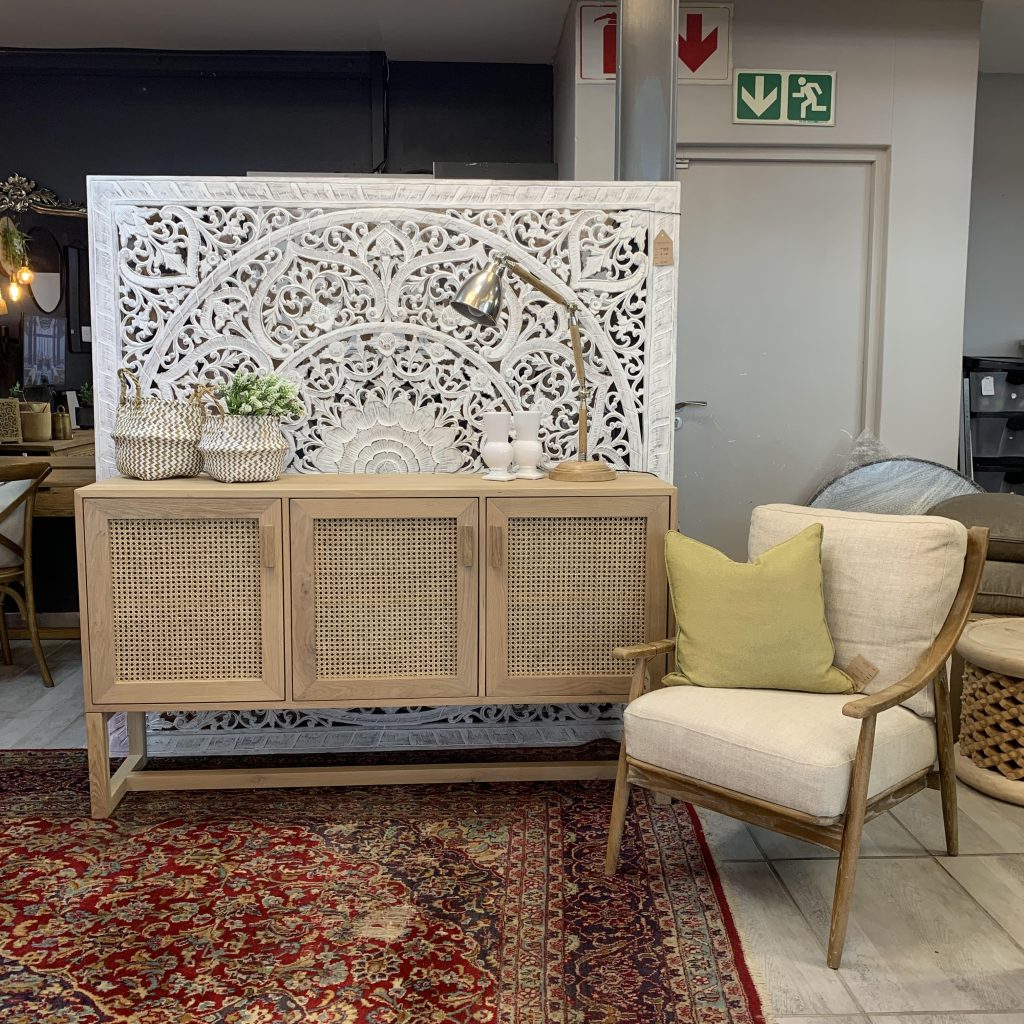 R. Kaplan Interiors Michigan console
"Among the hardest-working pieces in the furniture catalogue, console tables, also known as sofa tables, can do just about anything. Their variety of sizes and range of functions means they're highly versatile players. The Michigan console has an oak top, steel legs, and a textured finish." – Romi Becker, CEO of R. Kaplan Interiors
R. Kaplan Interiors Bronzo coffee table
"The coffee table is one of the most essential living room elements. It performs both a practical function and aesthetic function, and when styled is a show-stopping piece of furniture. Our Bronzo coffee table comes in black stained oak wood with brass legs and detail on the top." – Romi Becker, CEO of R. Kaplan Interiors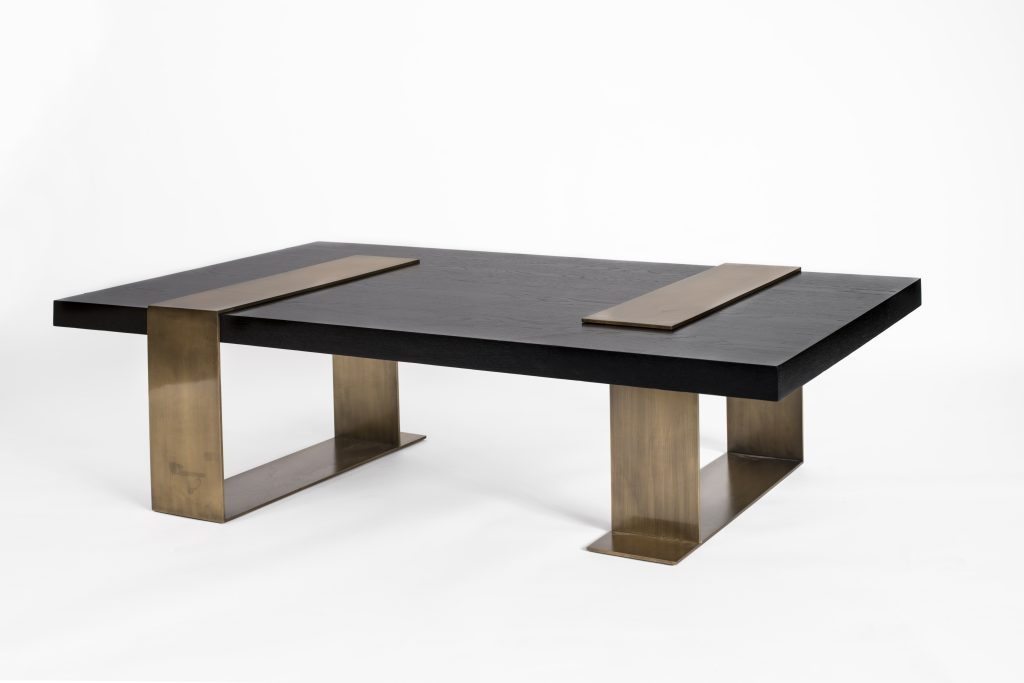 Ferm Living Rico sofa, available at Créma Design
"The Rico series welcomes curves and volumes into a classic design defined by soft lines and an embracing expression. Contrasting the sturdiness of the three-seater's frame, the Rico sofa has an upholstery of timeless, yet easeful bouclé fabric, which is woven of uneven yarn to attain the rich, loopy texture of the surface. The curvaceous nature of the series adds a modern union of comfort and elegance to any room and makes you feel drawn into its motherly embrace." – Donna-Lee Smith, marketing manager at Créma Design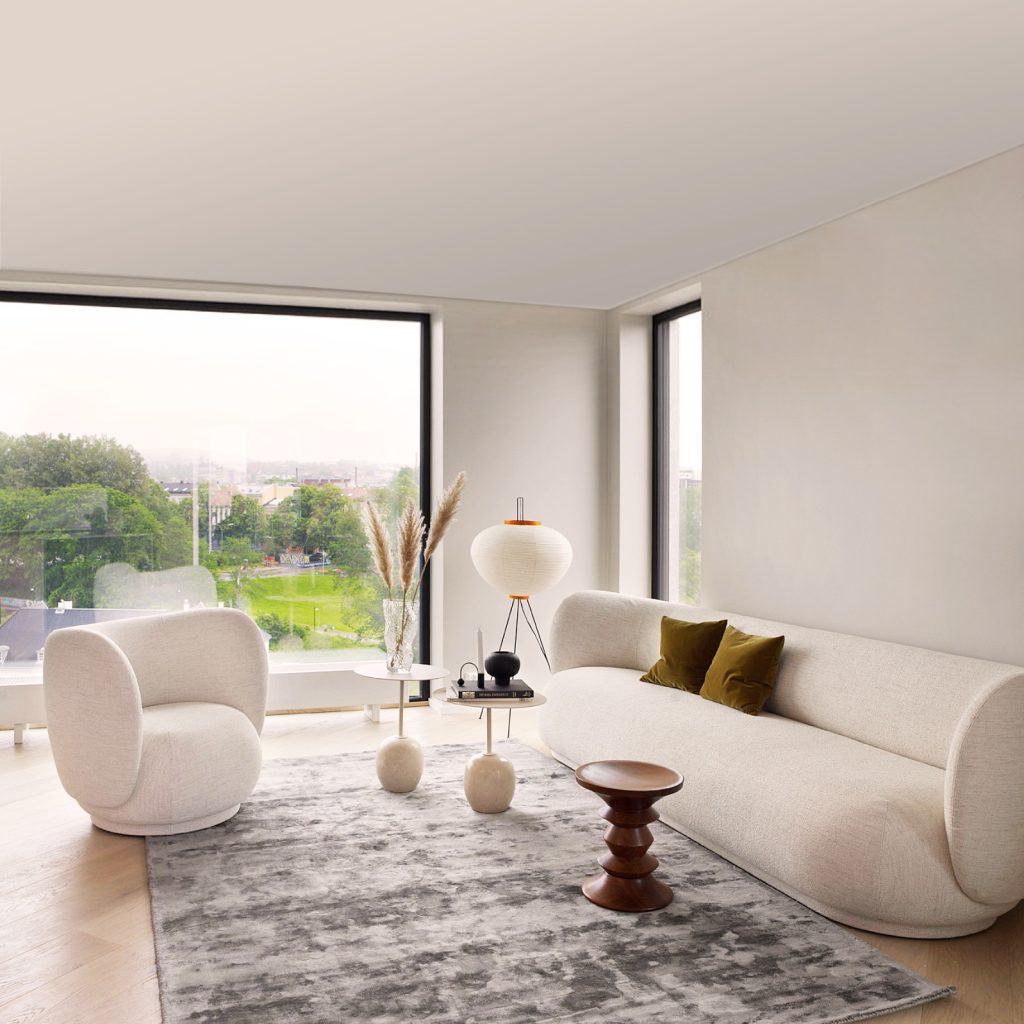 Foscarini Twiggy floor lamp, available at Créma Design
"The formal elegance and light sophistication of Twiggy is distinguished by an adequate, linear, basic style combined with strong flexibility. This table lamp is made from composite lacquered material on a fibreglass frame." – Donna-Lee Smith, marketing manager at Créma Design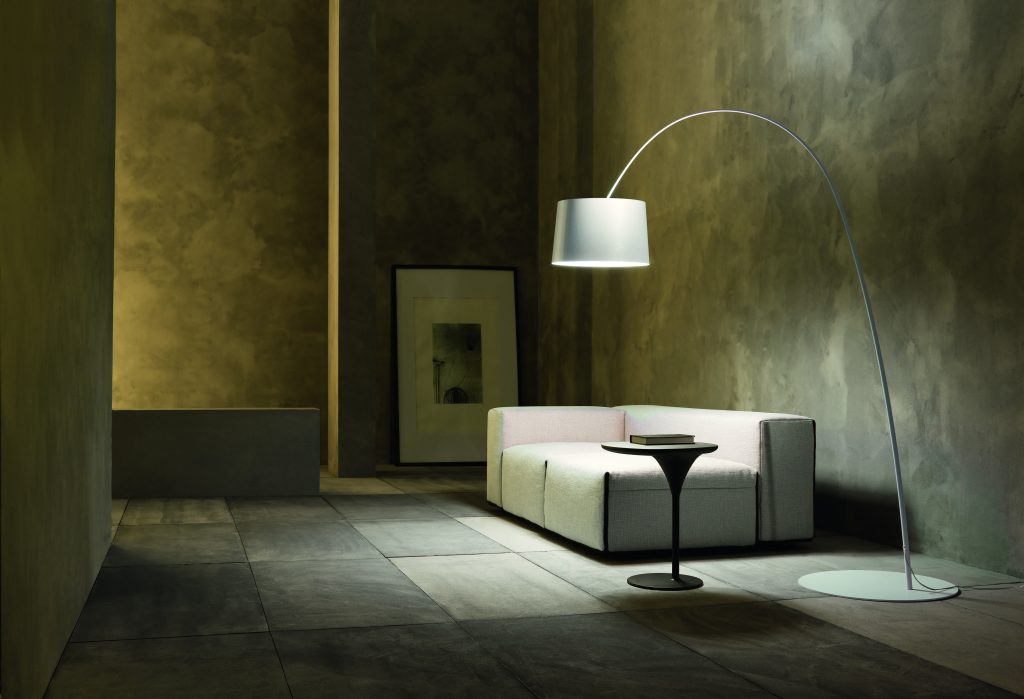 KARE three-seater velvet ecru Desire sofa
"My Desire turns the living room into a luxury lounge. As a modern homage to the legendary Chesterfield sofa with its typical details such as arm and backrests at the same height as well as the all-over studding with buttons, this sofa is a striking new representation of this familiar formal idiom. At the same time it makes an impact with its slimmer design, seductive aesthetics and a touch of real glamour. My Desire always looks irresistible, regardless of the angle from which we look at it." – Johann De Waal, marketing manager at KARE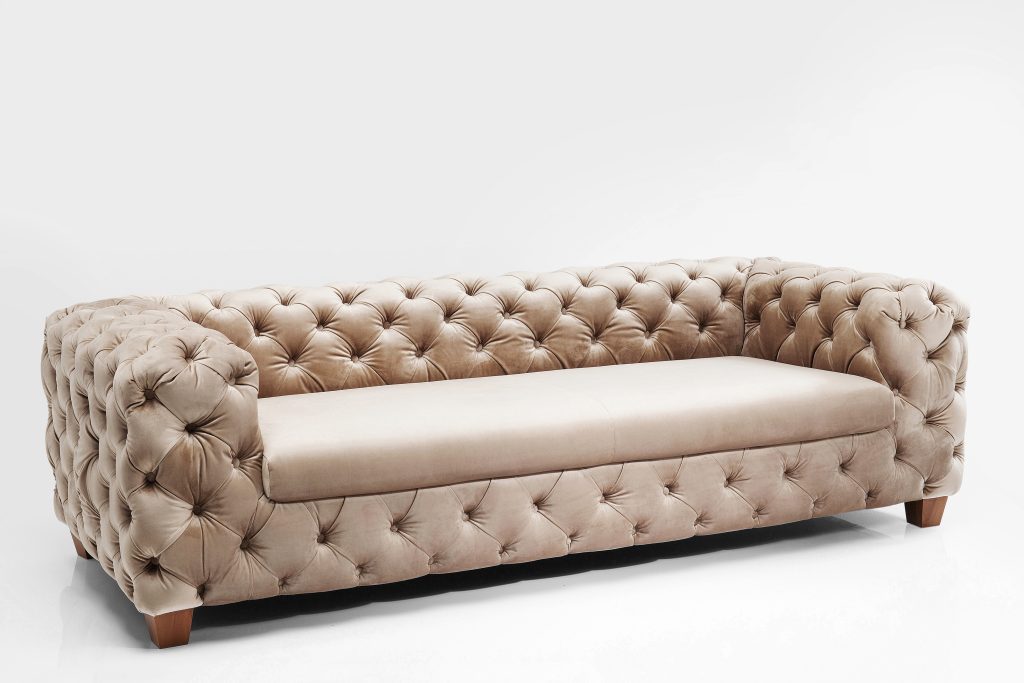 @home Martini side table and Pale four-seater bouclé
"Bring the classicism of marble to your home with this elegant and timeless side table, adding just the right amount of glamour to your living space. The Pale range of seating brings lush bouclé texture to your home. This comforting and contemporary curved four-seater couch is luxuriously upholstered in texture-rich bouclé." – Lize Barnard, furniture buying managing at @home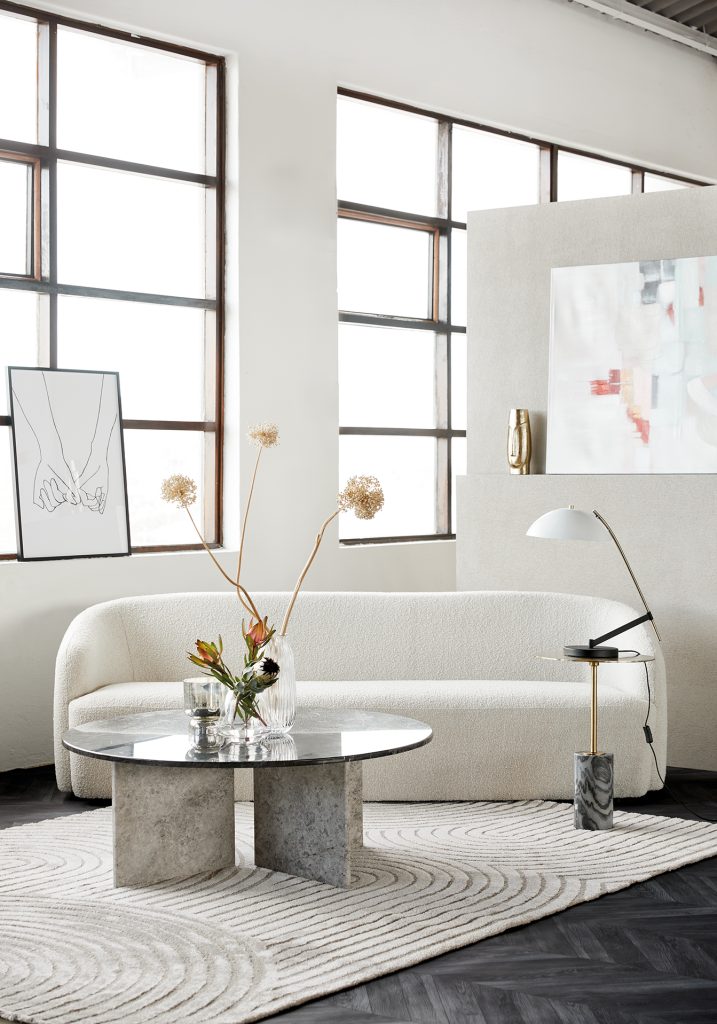 Cielo Zarrina nested coffee table set

"You never want a living room to feel too full, so it's important when making your choices to pick pieces that are really functional. Furniture that doubles up as something else, like these lovely nested coffee tables, are great for adding extra surface space when you need it but don't take up the entire room.
"The artistic Zarrina nested coffee table set presents a chic contemporary look to your space. These functional tables are beautifully crafted from aluminium and boast a distinctive design that will fill any home with charm and character. The unique graphite-enhanced finish introduces an unrivalled textural style to your space." – Cheryl du Preez, visual merchandising coordinator at Cielo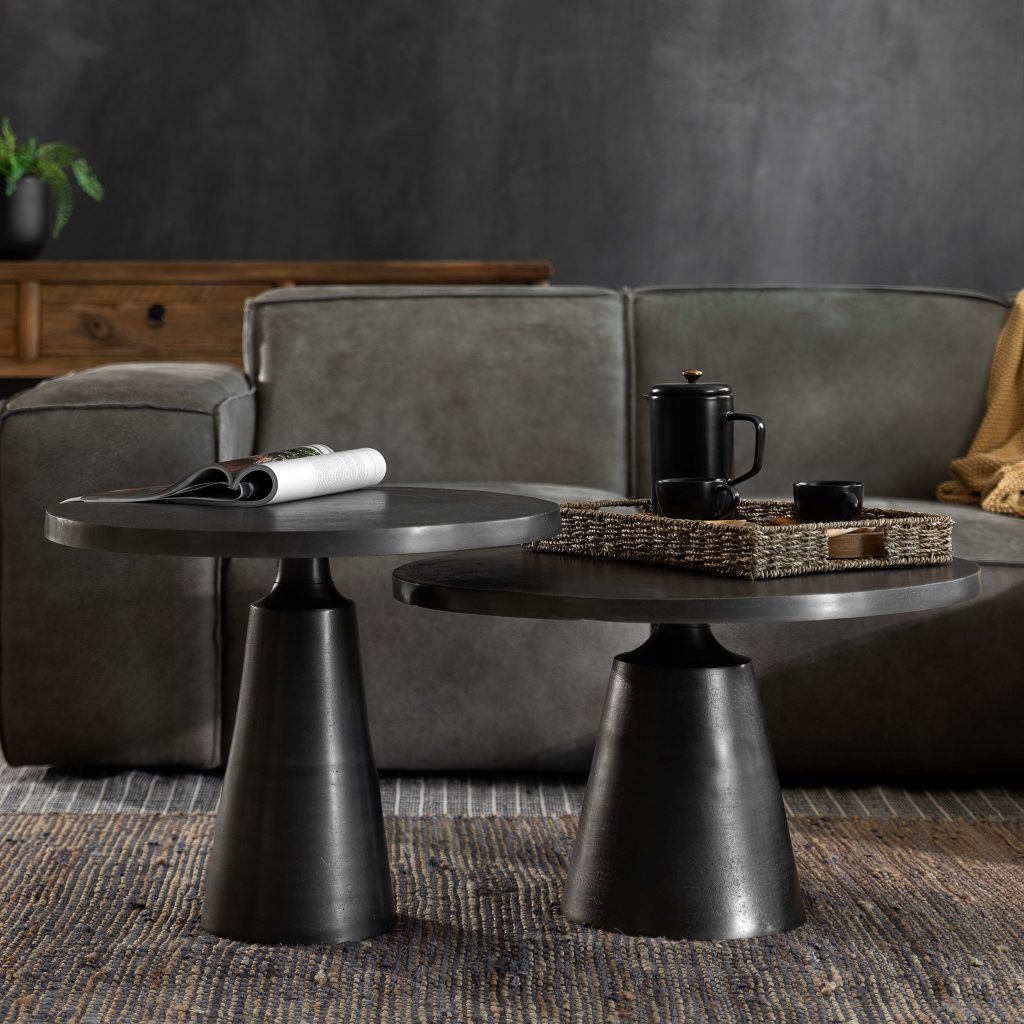 OLALA INTERIORS plasma unit
"A testament to good functional design and exceptional craftsmanship, OLALA INTERIORS is incredibly proud of the beautiful bespoke plasma unit, built-in cabinetry and special bookcase lounge suite, specifically designed and manufactured by its own factory for this particular client. The result is a world-class quality installation." – Schanè Anderson, founder and creative director of Olala Interiors