We have a total design crush on Swedish designer Cecilia Levy, who upcycles paper into amazing works of art.
What is your view on recycling?
I hate waste and like the challenge of finding new purposes for odd materials.
When did your interest in paper art start?
My experiments with three-dimensional paper objects started in 2009. Formerly a graphic designer and bookbinder, I now work full-time as an independent artist.
Tell us about your artistic process.
My working material, paper – mainly from old books – is fragile and perishable. I tear, cut and shred the pages, and use a papier-mâché technique to create artworks. The book is recreated in a way, but takes on a new form. The two-dimensional becomes three-dimensional.
Why paper?
The tactile experience is determined by the quality of the paper. Discoloration, spots and holes after binding all contribute to the special character of the material. I feel humbled by the traces of previous owners. Dedications, scribbles in the margins – all signs of the passage of time.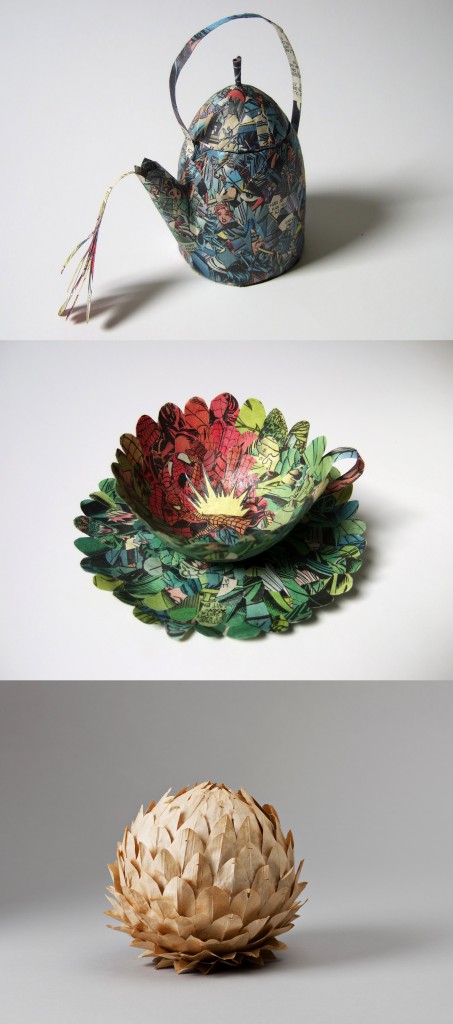 Modern craftswoman and owner of Roopip, Claire Randon, shares some insights into the move towards all things natural.
Tell us more about your products.
I create bowls from natural, unbleached, 100% cotton sash cord. The textiles are coloured using a non-toxic dye, so there's no run-off into the environment.
Why are consumers buying more small-scale, handmade items than before?
They're more focused on global issues like climate change and buying items that support local artisans. Consumers would rather buy low-impact, handcrafted items than mass-produced products.
How has this resurgence in traditional skills influenced your designs?
While I still make use of traditional skills, I'm experimenting with modern methods to come up with new, fresh ideas.
So, it's a question of making traditional products attractive to consumers.
Yes. It's all about taking traditional skills and re-inventing them to suit our modern lifestyle, which is both exciting and liberating.