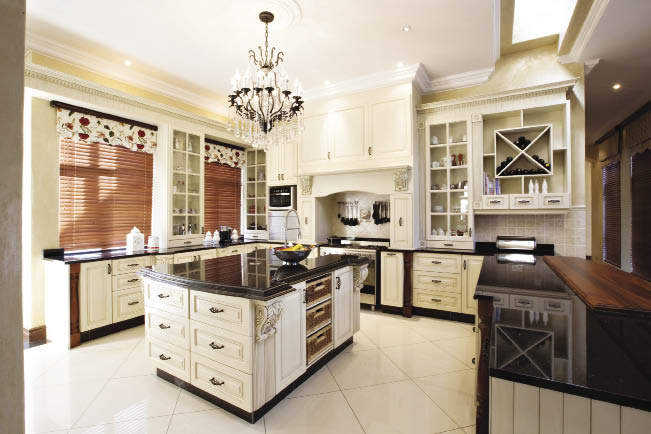 By Refiloe Serai-Mzolo, Project Consultant Monique Rankine, Property Coordinator Chantel Spence, Photography Irma Bosch
For these home owners, who are nature-lovers, a home that reflected their love for the outdoors was important, expressed through the natural colours and materials used throughout the home. "We didn't choose a particular theme. We tried and tested different ideas until we found pieces that flowed and blended in the house. We love nature and most of the wood used in the house is blackwood, from Knysna," they say.
An extravagant iron balustrade in the entrance hall, stone cladding on the exterior of the house and a cobblestone driveway add to the earthy feel of the home.
The home owners decorated the residence themselves. "My wife has decorated a number of homes that we have bought or built over the years, so with this experience and her natural talent, she did the interior decorating herself. It takes a while for everything to fit together, but in the end the results are always pleasing, and our home exudes our tastes and personalities."
However, they also enlisted the help of Marlene's Interiors – Florida. "The owner chose her own materials and designs, as she wanted to put her personal stamp on the home. She has good taste and we therefore didn't have to give her any ideas. We made everything according to her taste and style," says Genéke van den Berg from Marlene's Interiors.
The house has three beautifully decorated en suite bedrooms, each fully contained with a stylish lounge and a kitchen.
All of the bedrooms also have private balconies. To bridge the gap between the outdoors and the indoors, one of the two spacious lounges leads out on to the garden through large sliding doors.
Although the home is very traditional, modern and contemporary, conveniences can be found in the cream-toned, country-style kitchen. There is also a walk-in pantry and cooler room, and a fully equipped gym has found pride of place in the home.
The home owners' love of adventure can be seen in the outside buildings, which are home to family boats, caravans, jet skis, quad bikes and a full-sized workshop.
This home is a true reflection of how the great outdoors can tastefully be incorporated indoors.
"We designed a home that would not only be practical to live in, but also a space that emphasised our love for outdoor living and entertaining, because that's our lifestyle," say the proud home owners.