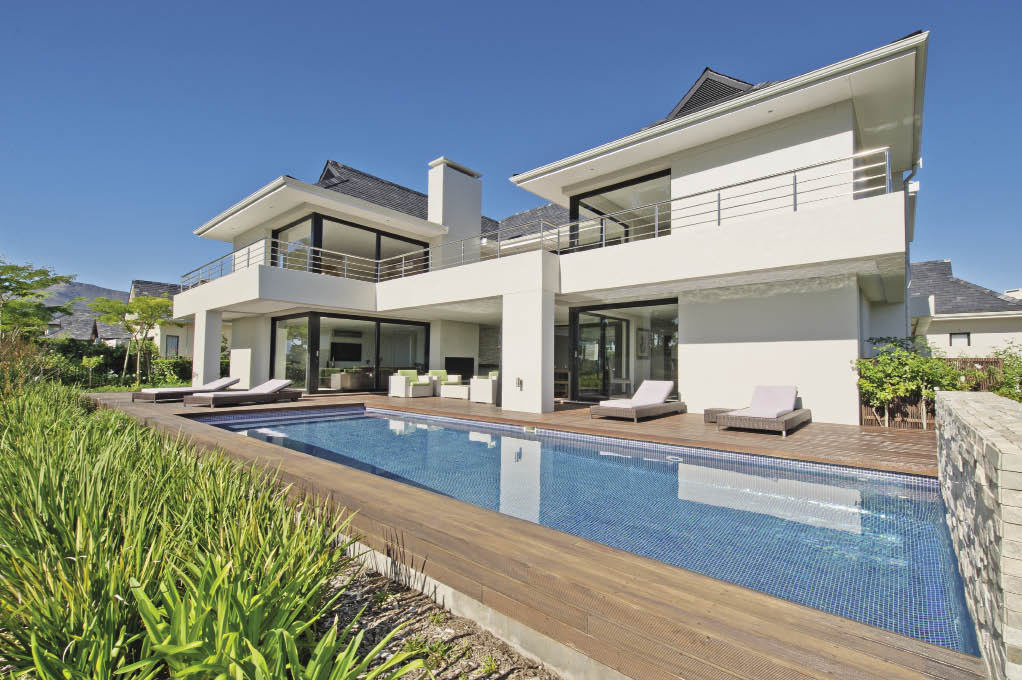 By Anna-Marie Smith, Project ConsultantAthena Poulos, Photography Ilan Godfrey
This Cape-country home is located in PearlValley Golf Estate, near the small Boland town of Paarl, where the look-alike pearl mountain known as Paarl Rock, is a sight not easily missed when driving through.
Well known for its abundant lifestyle offerings, Pearl Valley Golf Estate is particularly celebrated for its Jack Nicklaus master golf course, and unique architectural estate design.
Considering the mountain and vineyard surroundings, a state of the art clubhouse with restaurant, bars, pool terrace and spa, owners can rightly assume to have it all. In addition to golf, residents are able to cycle and run along dedicated tracks on the estate, as well as stable and ride their horses, or simply make their way to the indoor fitness centre, without having to travel anywhere for daily exercise.
The architectural elegance of this home is inspired by the mountainous surroundings, with strong elements derived from natural materials including pale sandstone that occurs naturally in the area, along with oversized doors and windows that frame spectacular views. A favourite design element of the owners is the luxurious open-plan interior design, which is complemented by the double-volume living areas, where natural light and air flow enhance the relaxed ambience. Glass and stainless steel balustrades along the walkway on the first level maintain the uninterrupted interior flow, drawing outdoor views inward through wide window spaces.
The combination of fireplaces, and sufficient glazing to optimise the favourable orientation of the house, provide additional comfort during the cold Cape winter months.This home, with magnificent views across the Drakenstein Mountain, offers every comfort, from spacious indoor living with a convenient flow, to outdoor entertainment areas and a luxurious lap pool in frequent use by the owners.
Undercover patios on each level of this house make for comfortable outdoor enjoyment, either from the master bedroom upstairs or from the interior lounge and living spaces.
This lifestyle affords residents the luxury of living in true Boland style, within close proximity to SA's prime wine region and some of the Cape's world-class beaches.