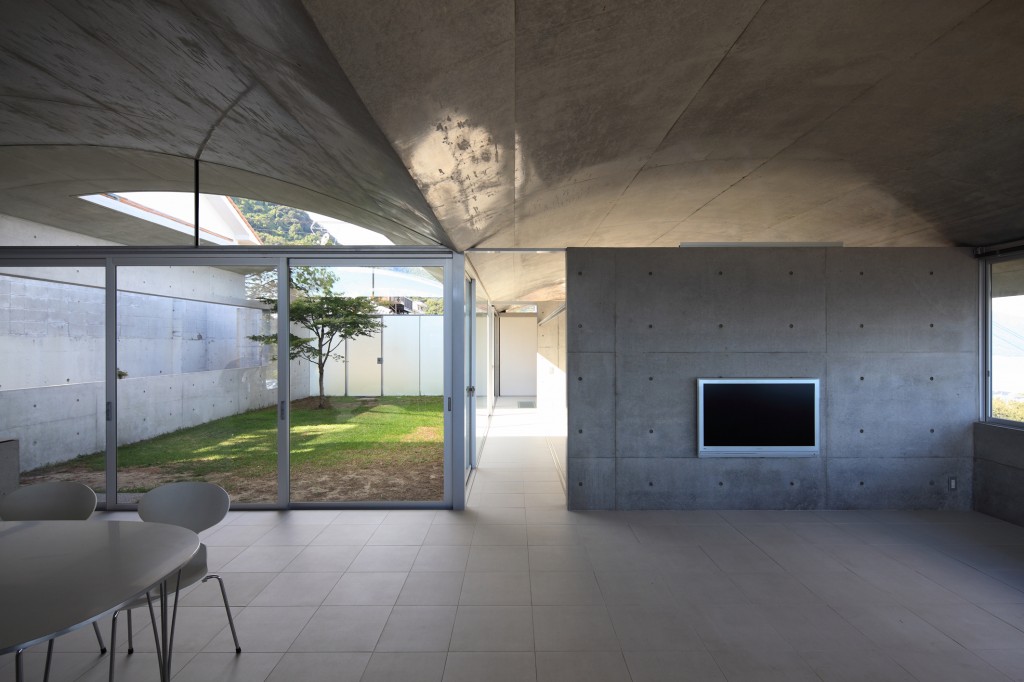 Pine-tree studded hillsides and countless islands surrounded by deep blue water – the Seto Inland Sea in southern Japan is renowned for the unadulterated beauty of its scenery. This scenery inspired Kazunori Fujimoto Architect & Associates to design a property where the panoramic landscape would be an integral part of the architecture. The result is a single family villa exhibiting an unusual style which has been consistently implemented even in the smallest details, including in the kitchen where the architects specified Minta.
The generous proportions of the single-storey building hugging a Mihara hillside become fully obvious only once you walk through the door. Virtually all sides open towards the surrounding landscape. This is ensured not only by large glass elements in all rooms but also by a central green courtyard lined with sliding glass doors to afford additional daylight for the rooms. Aside from lots of glass, the architects made extensive use of concrete, whose raw beauty bestows a modern-minimalist look which helps to focus attention on the surrounding sea, the islands and the hills.
The roof is a particularly striking element of the overall design. Shaped like two waves it rests on the entire building, forming an exciting contrast to its otherwise sober lines. The resulting vaulted ceilings add to the generous sense of space created by the large glass surfaces in the rooms. A rectangular cut-out in the roof section spanning the central courtyard makes for intriguing interplays of light and shadow during the course of the day. The architects realised this unusual roof by means of a shell construction using a steel frame and reinforced concrete. This allowed doing without major beams or columns, resulting in a roof of amazing visual lightness.
The glazed courtyard connects the individual areas of what is largely an open plan space. The kitchen is integrated with the living area, with the kitchen design echoing the minimalist style of the overall property. Even while doing their kitchen chores the residents enjoy a direct view of the inland sea. Cupboards and appliances are concealed in a block of exposed concrete covered with a metal worktop. The faucet specified for the kitchen sink is a Minta single-lever mixer with an L-shaped spout from GROHE. Viewed from any angle, its strictly symmetrical lines make for an elegant silhouette. The tall spout not only emphasises Minta's sleek architectural lines but also enhances its functionality by facilitating the filling of larger pots and vases. In addition, Minta benefits from two time-tested GROHE technologies. While GROHE SilkMove® safeguards the silky smooth action of the ergonomic lever over the long term; GROHE StarLight® protects the chrome surface against scratching and soiling.
The villa nestled in the Mihara hillside impressively demonstrates the approach taken by Kazunori Fujimoto Architect & Associates to integrate the surrounding landscape into the overall design of a house, thereby creating exciting contrasts to an otherwise pared down architectural style.