Whirlpool dishwashers take the pain out of washing dishes. From cleaning your fragile glassware to burnt-on casserole dishes and pots, Whirlpool has the solution for you.
The top-of-the-range Whirlpool dishwasher (WFO3T133) has 11 different programmes to choose from, ranging from eco to intensive with a low water consumption of only 9.5 L of non-recycled water.
Three main features stand out in this Whirlpool dishwasher – 6th SENSE, PowerDry and PowerClean. The 6th SENSE programme uses special technology to detect the amount of dirt in the water, and changes and adapts the resources according to how dirty your dishes are. This allows you to save up to 50% on time and resources.
A dishwasher is an important asset for large families and essential for the family who loves to entertain at home. Dishes can be washed and dried in just one hour while using the PowerDry function. Dishes will be clean and ready for the next meal in no time.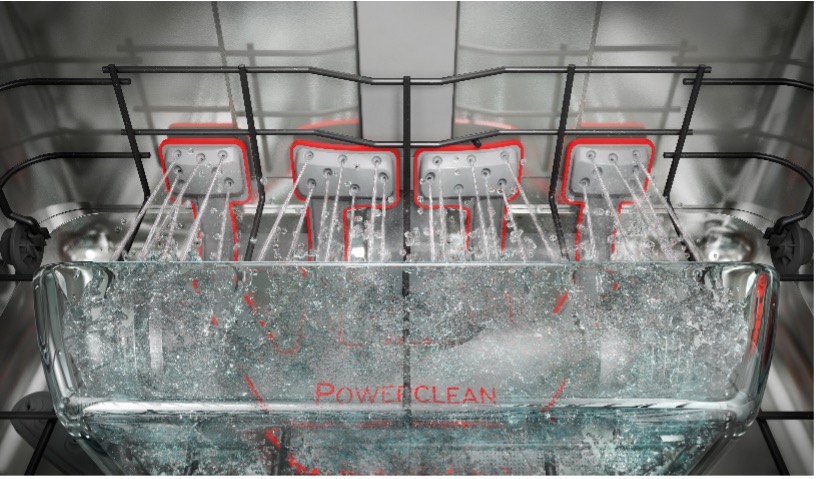 Nobody enjoys washing pots and casserole dishes. Use the PowerClean option and you will no longer have to soak or scrub your pots by hand.
The 28 high-pressure jet situated at the back of the dishwasher will remove stubborn dirt with ease. The 14 place settings and the third cutlery rack make the Whirlpool dishwasher a highly desirable appliance.
How can you best use your dishwasher?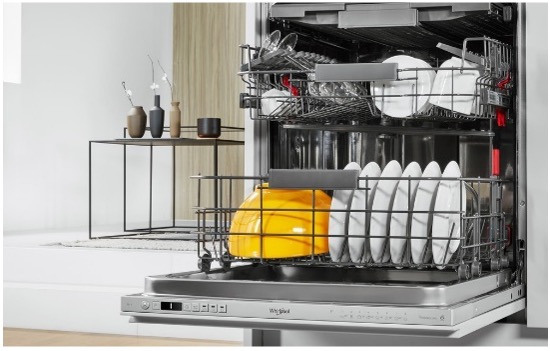 The correct positioning of the dishes is crucial to get the best cleaning results from the dishwasher. One of the most important rules is to place the plates, cutlery and glasses in order and leave enough space between the dishes. On the top rack glasses and small items must be placed upside down in order to not be filled with water. On the bottom rack you can put plates and pots paying attention not to create lots of overlap.

Choose the right programme for the load you want to wash. If you have plenty of heavily soiled items, use an intensive higher temperature load, using PowerClean, or if you just have some light items, use the quick 30-minute wash to save time and resources.

Clean your dishwasher regularly, both the filter and the entire body. Would you wash your dishes in a dirty sink? Definitely not. Thoroughly eliminating the grease and food particles is crucial to having clean dishes and to prolong the dishwasher's lifespan.
Whirlpool dishwashers cater for various needs and budgets, from freestanding to integrated dishwashers for the sleek and modern kitchen. Find out more on www.whirlpool.co.za