A bathroom is not just a place for personal hygiene, it can also serve as an area to indulge the senses. Here are a selection of bathrooms that impressed the team at SA Home Owner with their unique design features and top quality craftsmanship.
1. Bold and bright
Colour matching is on-trend at the moment and the Napoli bath from Victoria + Albert Baths beautifully accentuates this bathroom with elegance and comfort. In addition to the six standard colour finishes available, V+A Baths now offers a spectrum of 194 RAL colours in both gloss and matt finishes.
As seen in the SA Home Owner April 2020 issue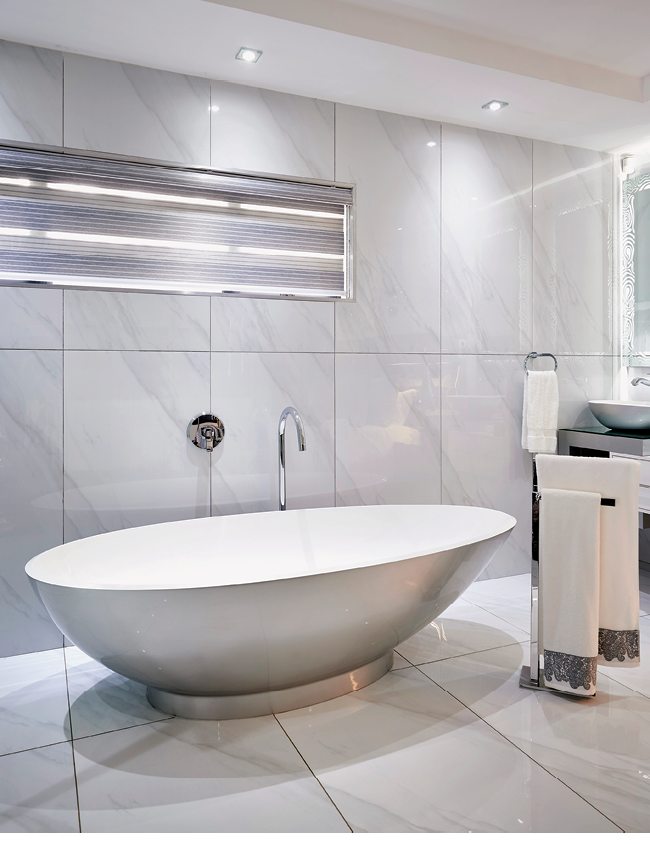 2. Elegantly at ease
A leading supplier of premium luxury tiles, Classic Luxury is responsible for supplying the showstopping bathroom tiles and sanitaryware in this home. The company offers a selection of high-end international brands and is the exclusive South African supplier of Porcelanosa tiles and Catalano sanitaryware. Classic Luxury is committed to providing the latest trends and most iconic bathroom designs sourced directly from Europe's most prestigious design capitals, including high-impact marble-look porcelain tiles and statement bronze tapware. The company also offers a unique customer experience, with branches in Johannesburg, Durban and Cape Town.
As seen in the SA Home Owner April 2020 issue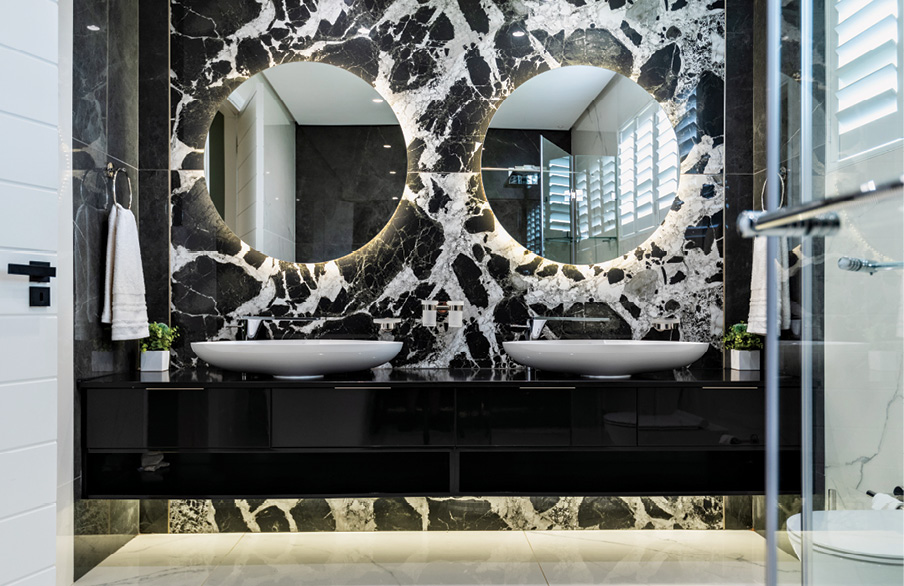 3. Superbly stylish

''Simple luxury" is how these owners would describe their home, and it is without a doubt nothing short of luxurious. When they embarked on the process of renovating the property, they knew that they wanted a modern farm- style home with big, open living spaces and a natural feel.
As seen in the SA Home Owner June 2020 issue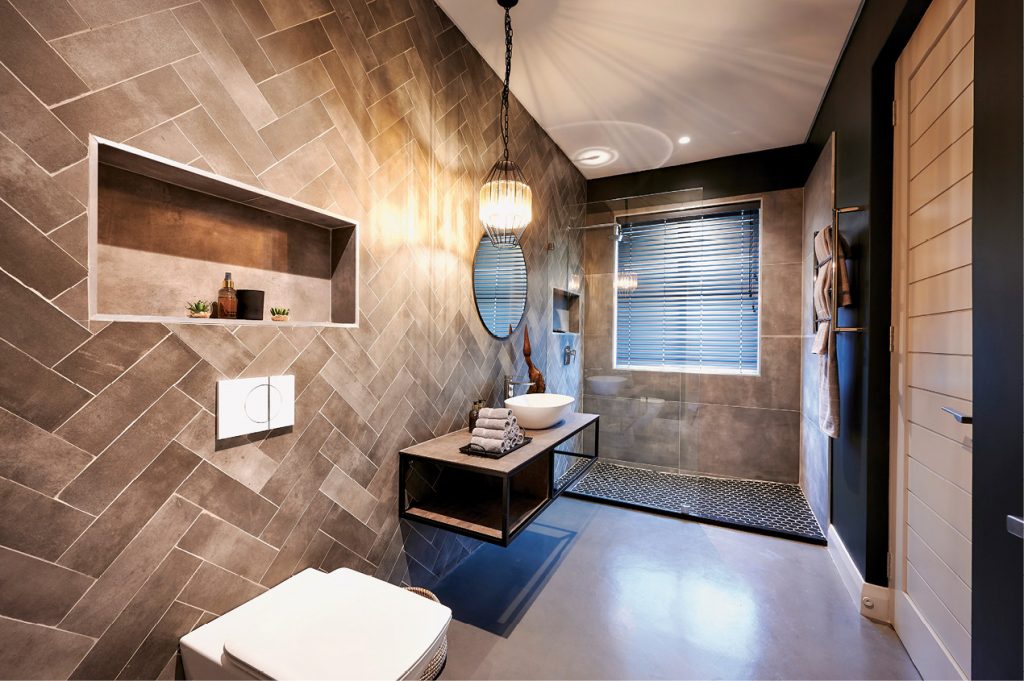 4. Modern classic
The Waterstone name has been synonymous with excellence and professionalism for more than a decade. Specialising in sanitaryware from reputable international brands, Waterstone supplied the Duravit Starck 3 underslung basins and wall-mounted toilets. Designed by world-renowned Philippe Starck, the toilets offer a simplistic look. In an ever-changing market, Waterstone is constantly evolving and adapting to bring you cutting-edge products. Waterstone takes pride in sourcing only the best local and international brands to perfectly furnish your dream space.
As seen in the SA Home Owner May 2020 issue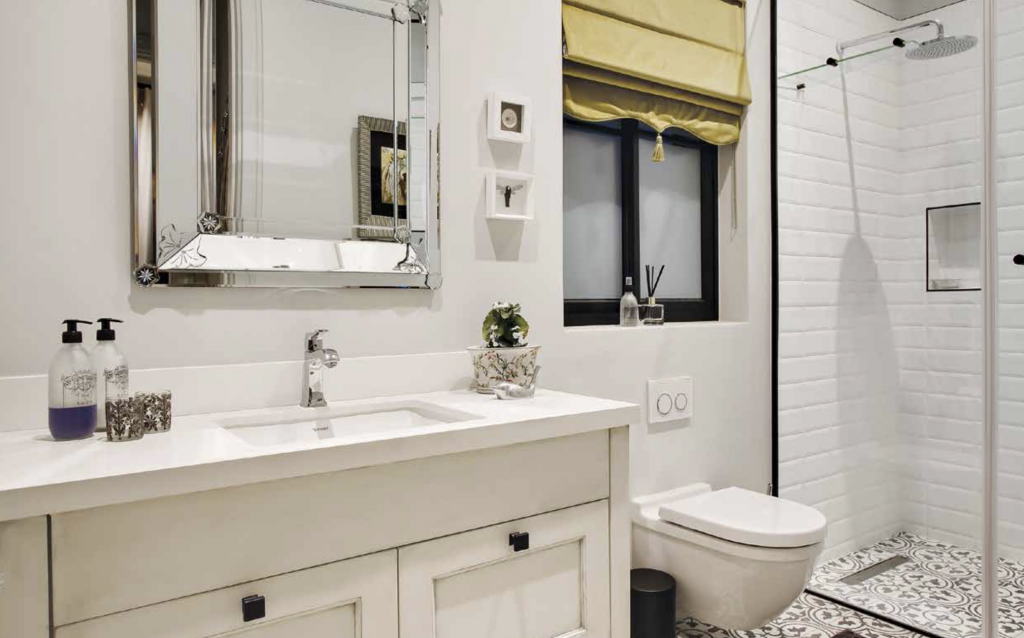 5. Refined sophistication
Oggie Hardwood Flooring is a specialist in real wood flooring, decking and cladding. In this exceptional home Oggie European Oak planks were used on the floors throughout. The wood products chosen were planks of 220mm wide and 2 200mm long. The finished Oggie Crudo Rustic with a WOCA Denmark Castle Grey oil was added to complete the look. Oggie has showrooms in Paarden Eiland, Kramerville and Umhlanga Village.
As seen in the SA Home Owner February 2020 issue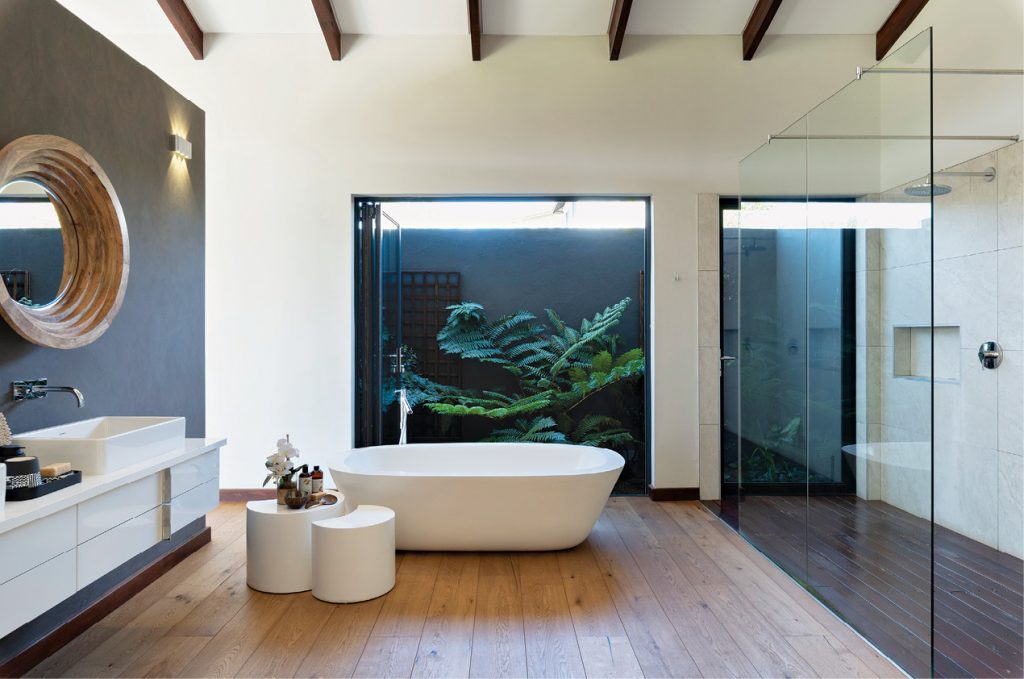 6. Gracious living
A fully functional and beautiful bathroom can greatly improve a home's overall appeal and value. Carné Interiors ensured that every detail for the bathroom remodel was on point. Form and function were both imperative in creating this bathroom, resulting in a space that's open and airy, and conducive to relaxation.

As seen in the SA Home Owner February 2020 issue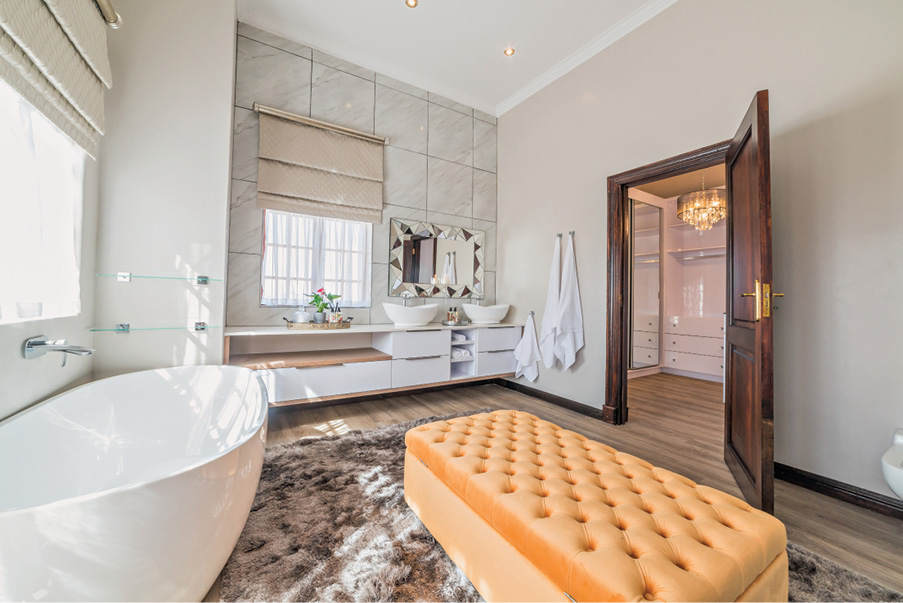 7. View from the top
This stunning bathroom suite was fitted with contemporary products from Cape Plumbing & Bathrooms that are both timeless and of the utmost quality. Cape Plumbing & Bathrooms has 12 showrooms throughout the Western Cape that stock local and international brands, with highly trained staff committed to delivering excellent service.
As seen in the SA Home Owner February 2020 issue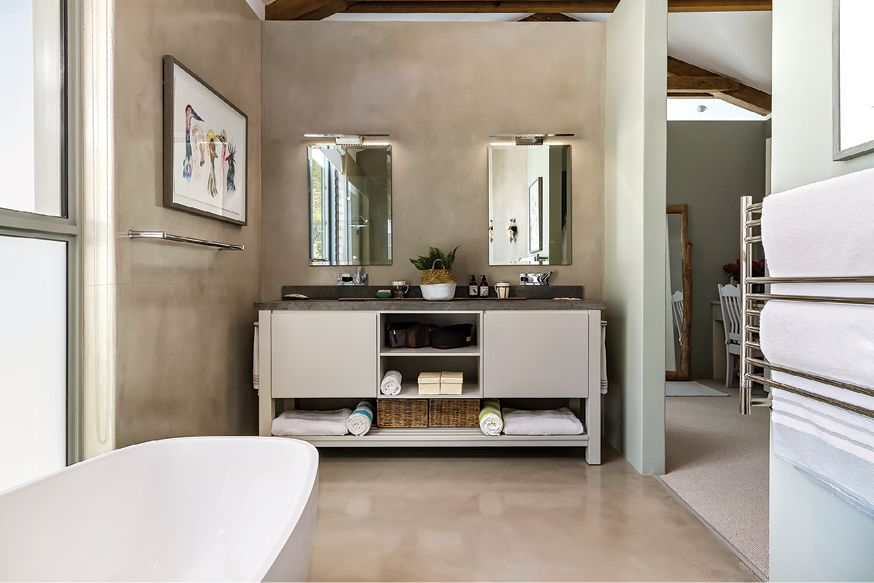 8. Shades of neutral
A-Z Design Boutique's client wanted to be involved in the planning of this bathroom, saying she wanted to feel like she was in the best bathroom in the world. To make this happen, A-Z decided to elevate the bath platform, adding beautiful LED strip lights for extra effect. The company used a dramatic tile accompanied with gold fittings to accentuate the colour in the tile, creating a space that would be talked about for years to come. You can't not feel like a million dollars when you're in this space.
As seen in the SA Home Owner September 2020 issue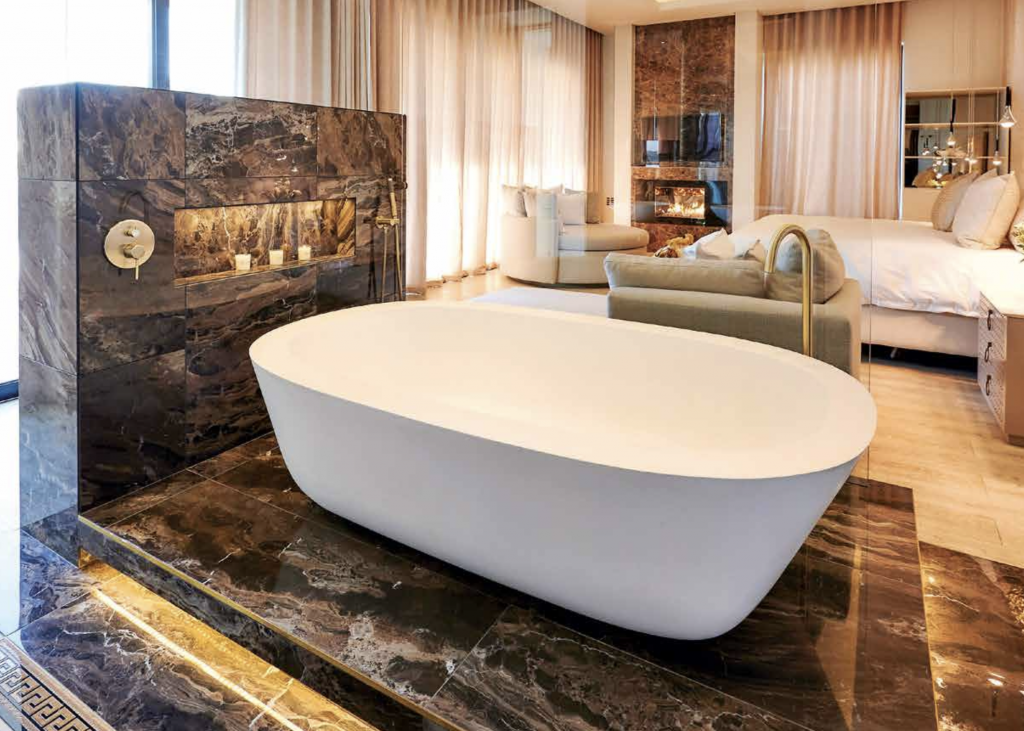 9. Parisian chic
As a whole, the décor is a tranquil monochrome, with pops of colour coming through in the whispers of blues, pinks, oysters, greys and shades of white. "I wanted to create a calming, Parisian chic vibe with both modern and vintage elements," the owner says.
As seen in the SA Home Owner October 2020 issue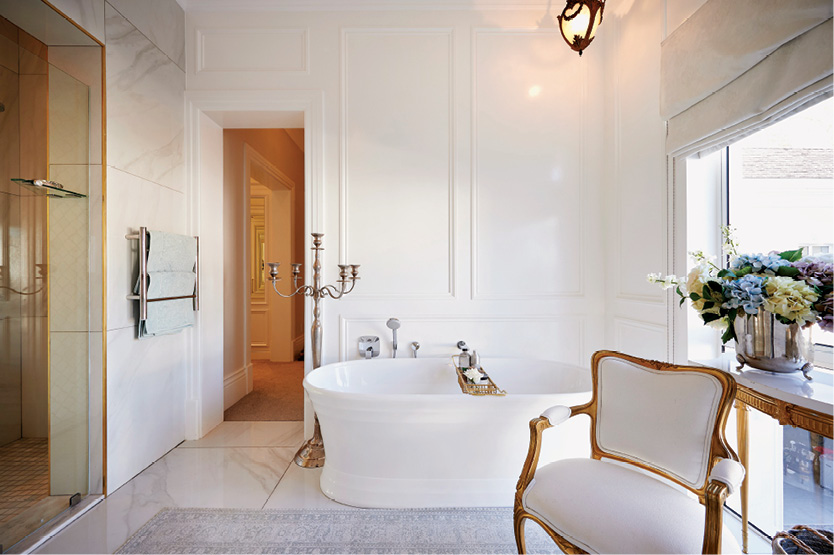 10. Contemporary cool
For the interiors, this aesthetic is carried throughout. "Understated luxury with minimal styling. You will see a strong presence of cladding on some of the walls. In the main bathroom, we've opted for a blend of cladding, marble, granite and Caesarstone," says the owner.
As seen in the SA Home Owner December 2020 / January 2021 issue