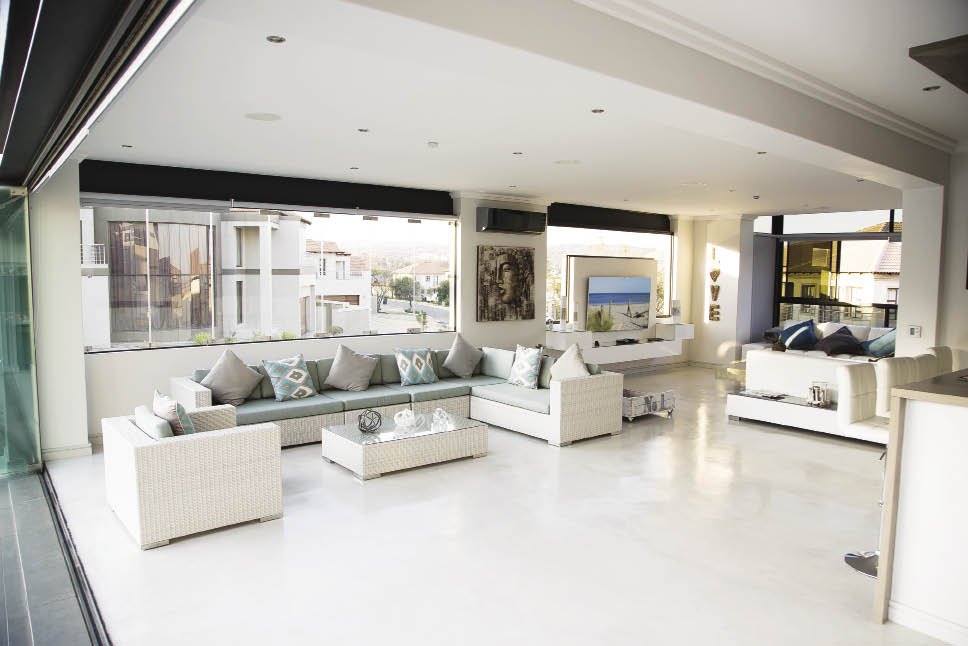 By Refiloe Serai-Mzolo, Project Consultant Anthea Verster, Property Coordinator Chantel Spence, Photography Jurgen Marx-Badenhorst
With calming tones of white and grey throughout this open-plan house, it is the perfect place to unwind after a long day at the office and a difficult commute home. "I wanted a modern home with lots of glass to allow in natural light," says the home owner. "I also wanted the style of the house to be one that would not date quickly and would still be on trend in years to come."
For Michael Rebolo, the project manager who was given the responsibility of making this dream home a reality, the most difficult challenge was building a 600m² home on a 600m² stand, while also adhering to the building specifications and restrictions set out by the estate. "It forced us to be creative," he says. "We eventually decided to include a basement in the home, so that we would have extra space to work with."
Situated in an exclusive estate in the south of Johannesburg, this home is not only beautiful to look at, but also eco-friendly. "We tried to make the home as energy-efficient as possible. The home is designed in a way that ensures it is naturally warmed by the sun; it uses gas for cooking and heating, and it also has a borehole from which the fish pond and the garden are serviced. The rooms have sensors, to prevent wasting electricity," explains Michael.
As the house is near the back of the estate, the home owners have a scenic view of the entire estate and the neighbouring area.
Although an interior decorator was not consulted in this home, the owners knew they wanted natural features such as wooden elements and concrete floors, to create a homely feel.
One of the favourite spaces in the house is the indoor entertainment area, which houses a bar and TV room. "It is a great area for us to get together as a family or host our friends; it has plenty of room for us to socialise in," they say.
Another popular room is the exclusive home cinema, which is situated in the basement. "When we go down there and watch movies, it doesn't even feel as if we are in our home; it is as if we are in a totally different place," they say.