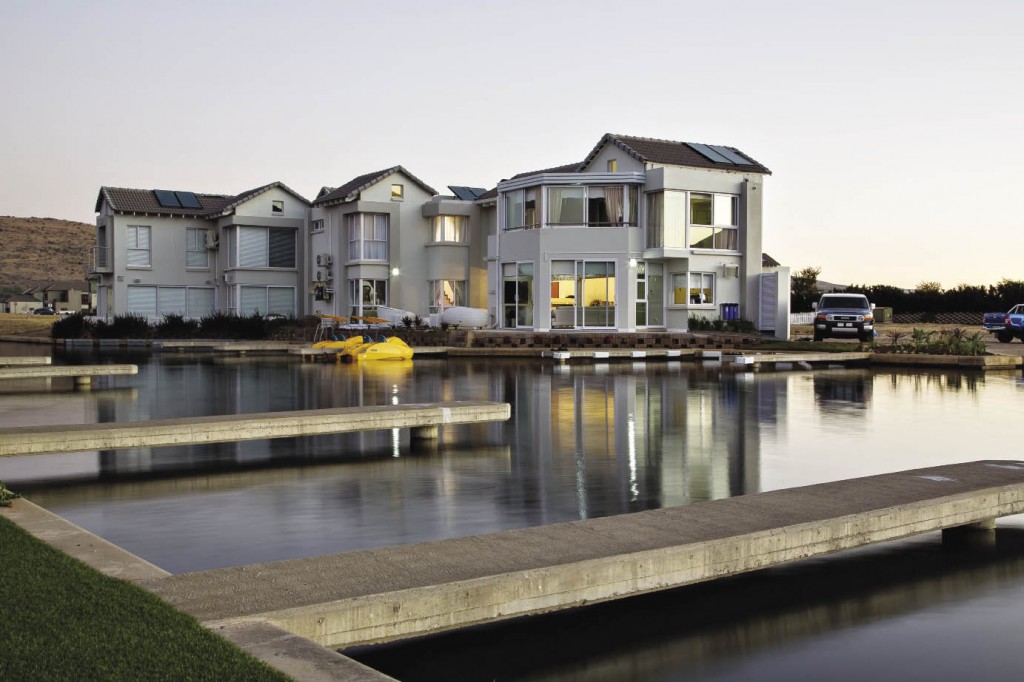 By Sungula Nkabinde, Project Consultant Lorna Ioakim, Property Coordinator Chantel Spence, Photography Jurgen Marx-Badenhorst
Situated on Baybridge Canal, an exclusive development within the Islands Estate in Hartbeespoort, this lovely home has been designed to capitalise on the natural beauty of the surrounding area.
Boasting captivating views of the Magaliesberg mountains and direct access to Hartbeespoort Dam via a state-of-the-art water system, the Baybridge Canal Waterfront Villas seemed the perfect place for the home owners, who had been looking for a holiday home that wasn't too far from their house in the city. Attracted to the indoor-outdoor blending of style, as well as the sandy hues and sail-like canopies, they, like many other buyers in the market, decided against buying a holiday home on the coast that they would be able to visit only on occasion, opting rather for a place they could escape to as often as they pleased.
"One short week and, before we know it, we are driving out to the dam for the weekend again," say the home owners, who credited SA Home Owner as their sole source of inspiration for furnishing and decorating their villa.
The villa requires very little maintenance or fuss, allowing the owners to lock up and go, or similarly to simply arrive, drop their bags and head out onto the water.
"Our enclosed entertainment area leads out to the swimming pool and the private jetties with the boat and water equipment… we can take a boat ride or even a paddle boat through the navigable 6km of canals or exit into the dam," they say.
The estate itself is situated on 102ha of land, with walkways, wetlands, abundant birdlife and a small population of springbok that took residence there after the completion of the canals, which meander among the homes.
The water in the canal is continuously circulated through an artificial wetland system, consisting of a series of interconnecting dams covered with water-loving plants and reeds to ensure that the water is of a high standard.
The estate also has a village sports oval for cricket and hosting functions, a mashie golf course and a kids play centre, and is in fair proximity to amenities and shopping centres.
The home owners are thrilled with their new getaway home, which they say has been good for their souls, and are grateful to Iris Venter from Chas Everitt, who made it all possible.
"She has a wealth of knowledge and introduced us to all the delights of this area, while helping us to settle into this true lifestyle estate…we have never felt so relaxed and carefree," they say.