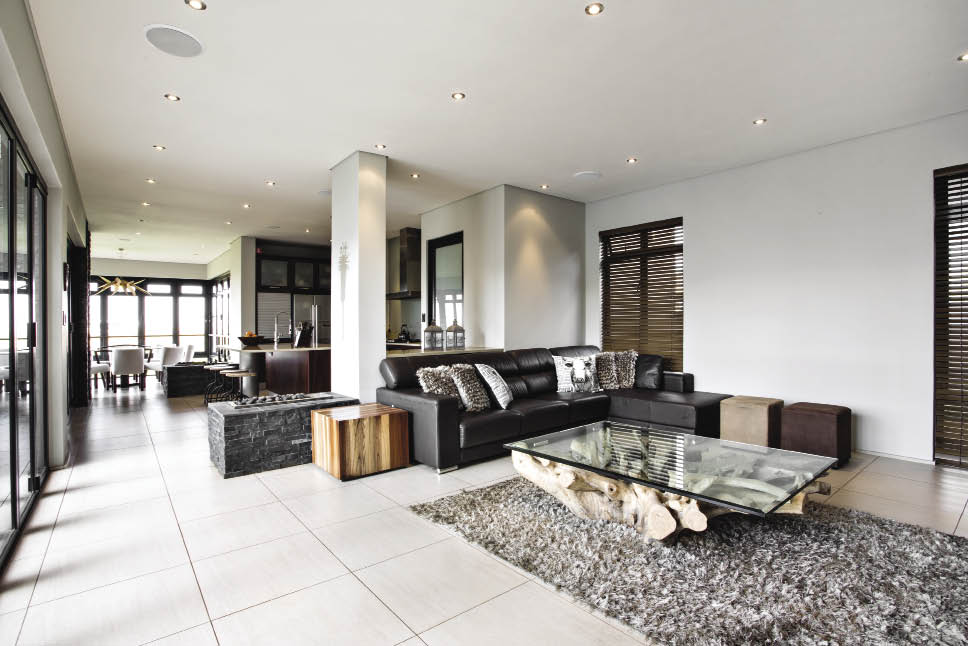 By Refiloe Serai-Mzolo, Project Consultant Monique Rankine, Property Coordinator Chantel Spence, Photography Karl Rogers
The owners of this spacious home were not sure what kind of house they wanted, so their architect suggested that they create a scrapbook of pictures of objects and items that inspired and appealed to them. "Using those images as a starting point, our architect designed a house that reflected our personality, and is unique in its appearance and design," they say.
The first time they walked into their completed home, the family felt comfortable, relaxed and at home. The house includes modern conveniences, such as underfloor and in-wall heating, a heated infinity swimming pool stylishly decorated with mosaic tiles, and a home entertainment system throughout the house.
The owners' favourite room is the dining room, designed with folding and stacking windows on three sides out on to an expansive lawn.
"Its unique design makes it seem as if you are outside, while being able to enjoy the warmth of the indoors."
The house is located on an exclusive estate, with a school within the grounds. "We wanted to build a house within a safe, secure environment, where our children could play safely outside and ride their bicycles to school," say the owners.
The result is a contemporary home, decorated in soothing, earthy tones. "We have managed to create a home that is an escape from the hustle and bustle of the city, and is a joy to come home to," they happily say.