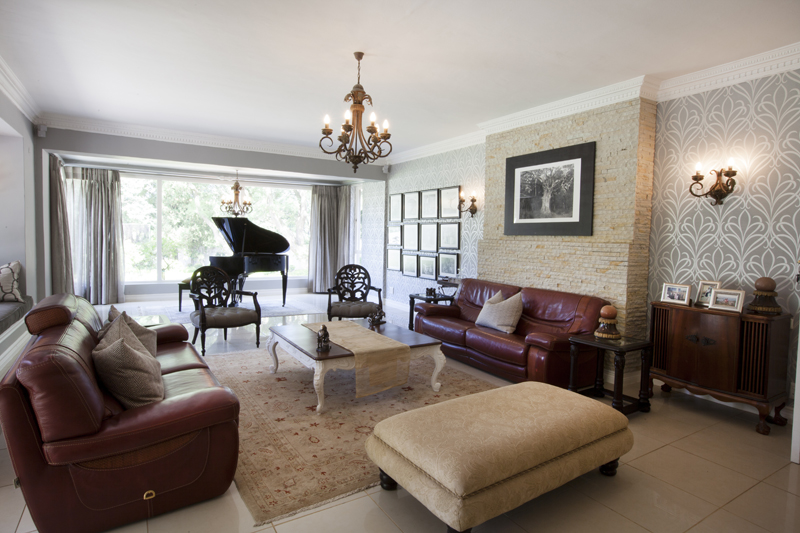 By Refilwe Boikanyo, Project Consultant Candice Jin, Property Coordinator Chantel Spence, Photography Irma Bosch
A house may be fully furnished and decorated with the finest fixtures money can buy, but still feel cold and uninviting. That is because a house is just four walls until some love, thought, memories and other priceless and intangible things are poured into it. Once this is done, it becomes home sweet home.
This classic home, which is surrounded by perfectly manicured lawns, beautifully illustrates that sentiment. It was built in 1936, and over the years, its owners have maintained and updated it without altering the original architectural design. Now it is occupied by a couple, along with their two daughters, two dogs and a cat, and has been decorated with the intention of expressing their collective and individual styles and interests, while being comfortable enough to accommodate their needs, and host and entertain guests.
The home owners successfully pulled this off by approaching an interior designer, who worked closely with them to create what they describe as "a warm, comfortable interior that reflects our 'we live here' ethos". Together they created a classic French-inspired decor style that has a contemporary flair. With grand sliding doors leading into the home, the entrance area is light and airy, and instills a feeling of calm and serenity. Its neutral palette of gentle whites, cool greys and chic touches of black, with subtle pops of colour, is continued throughout the house. Despite having a unifying theme, each room has its own distinct personality.
In the formal living area, the family's love of music and history is reflected through a grand piano, which is used as a statement piece that anchors the room. It is also evident in a gallery wall in the room, which is full of black-and-white photographs from the Sophiatown era.
In their French country-style kitchen, there are colourful modern appliances that add freshness to the room, and an open shelf that adds quirkiness, while displaying a collection of plates.
It is this unique approach to decorating that has made this house a warm and well-dressed place to call home.