All about stacking doors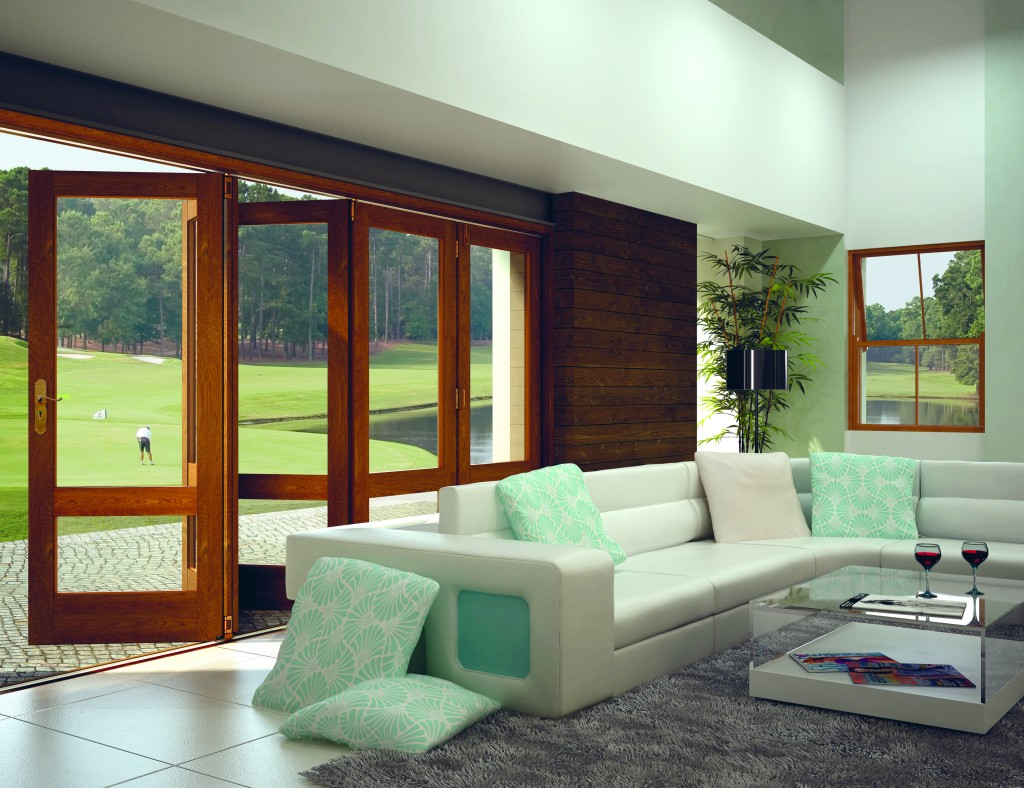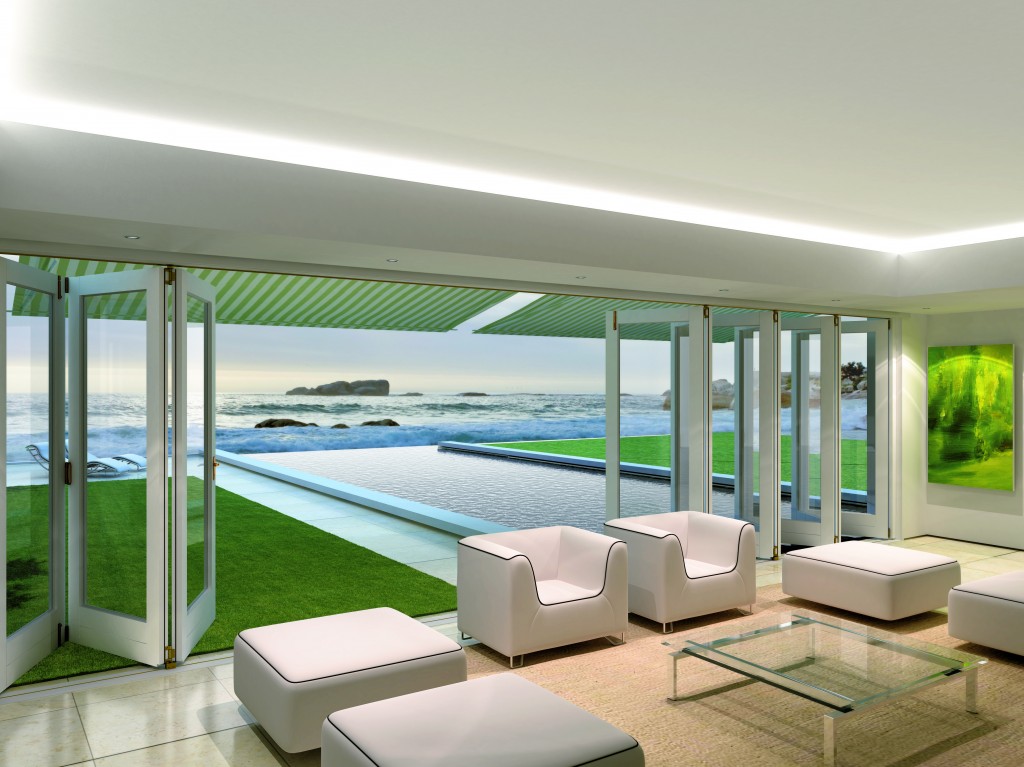 Bringing the outdoors in is an enormously popular trend – one that has been around for quite some time and seems, will be here for a long time to come. One of the easiest ways of opening up your home to the outdoors is by installing fold-a-side doors. Charl Jacobz, from Swartland Wooden Windows and Doors, offers some pointers on what to look for when investing in these beautiful fixtures.
"Sunny days call for long, lazy lunches in the garden and late-night entertaining under the stars, and by installing fold-a side doors in your home, entertaining outside couldn't be easier.  Otherwise known as stacking or concertina doors, fold-a-side doors allow you to open the interior of your home to its outdoor surrounds – creating a seamless indoor-outdoor flow. Furthermore, their floor-to-ceiling composition will make the most of your home's outdoor views and let in an abundance of natural light into your interior spaces," explains Charl.
What are fold-a–side doors?
Fold-a-side doors, such as those available from Swartland, are a kind of folding door that comprise various "sections" or hinged doors that can be opened and pushed aside so that they stack in a concertina-style on either one or two sides of the opening. The fact that they can be opened and neatly stacked away to the side makes them a great option for maximising the free-flow of space and creating a feeling of openness that marries the outdoors with the indoors.
"The seamlessness between this marriage is further enhanced by the fact that the configurations of doors run on tracks that are flush with the floor underfoot and the frame overhead, so there is no visual divide between indoor and outdoor spaces. These doors are also a great option as a room divider, allowing you to create a wide-open interior space when required, or alternatively, two smaller spaces the rest of the time," explains Charl.
What to look out for
As beautiful as these doors may be, Charl notes that they also require a sizeable investment to install them and as such, great care needs to be taken to choose only the best quality fold-a-side doors possible: "There are a lot of inferior-quality fold-a-side doors out there and it is important to know how to tell good quality apart from bad." He offers the following pointers on what consumers should look out for when buying fold-a-side doors for their homes:
Effortless functionality: You should be able to test how the doors work by opening and closing sample doors in the retail outlet you are visiting. The doors should be perfectly weighted and balanced, making functionality smooth and effortless and offering a uniform, easy-opening action. The doors should not be too heavy to open and ought to flow effortlessly along their tracks.
Frame power: Stacking doors should come fully assembled in a frame, ready to be installed (glass excluded). It is crucial to check the frame – it should be thick enough to ensure stability. Swartland's Fold-a-Side Doors for example boast a 90mm x 70mm frame for added strength. The frame should also boast adjustable doorframe stiles to accommodate the inevitable movement of the wood, thereby minimising the wood's standard swelling and shrinkage action.
Standard or custom-made: You should be able to buy standard fold-a-side doors, or if the aperture in which you want to install them is very large or boasts an unusual measurement, you should be able to have these custom-made to fit these particular measurements. Swartland's Fold-a-Side Doors for example, come in a wide range of configuration and sizes – they are available in 813mm door widths, and come in 3-door, 4-door, 5-door and 6-door configurations. Alternatively, Swartland can manufacture customised doors in specified sizes. One of Swartland's most recent innovations is the launch of its Fold-Side Slim Fit Doors, which have been custom-designed to easily replace any existing sliding doors, with a minimum of effort. These new 611mm x 2 032mm size doors come in 3-door (to replace a single sliding door) and 5-door configurations.
Check out the hardware: Have a good look at the tracks, locks and bolts that come standard with these doors. Swartland's Fold-a-Side Doors for example, boast only the highest quality brass hardware, cylinder locks and bolts for optimum security and longevity.
Able to withstand the elements: Like standard windows and doors, stacking doors should be able to withstand the elements and as such, it is essential that wooden stacking doors are properly sealed. The bottom of the door and sill of Swartland's Fold-a-Side Doors for example, are well sealed with waterproof PVA. These doors also boast rubber seals for exceptional insulation – maintaining the desired temperature indoors, and keeping the wind and the cold out when necessary.
Made for South African conditions: Good quality wooden stacking doors should be made from kiln-dried timber, as it allows the moisture content to be controlled more easily than if timber is air-dried. It also helps to maintain the properties of the timber within various climatic conditions. The ideal moisture content for the South African climate is 8%, and as such, Swartland kiln-dries all its wood in its own kilns.
Choose a green material: It is important to do your bit for the environment and ensure that the doors you choose are made from sustainable materials. Swartland for example, boasts a commitment to the environment that is deeply engrained in the company's ethos. As such, it only procures the wood it uses for its products from strictly monitored sources, giving preference to responsible loggers. Its policies ensure that it keep forests thriving, making sure that logging is sustainable and guaranteeing that only the best eco-friendly materials are used for its range of products
Will they stand the test of time: Find out what kind of guarantee the doors come with. For example, Swartland's Fold-a-Side Doors are available in its Cape Culture range, which come with a 10-year guarantee, and in its Winsters range, which come with a 5-year guarantee. The company also offers its customers access to a full service back-up team comprising specially trained and highly qualified artisans to help you with anything you may need assistance with.
For more info contact Swartland Wooden Windows and Doors