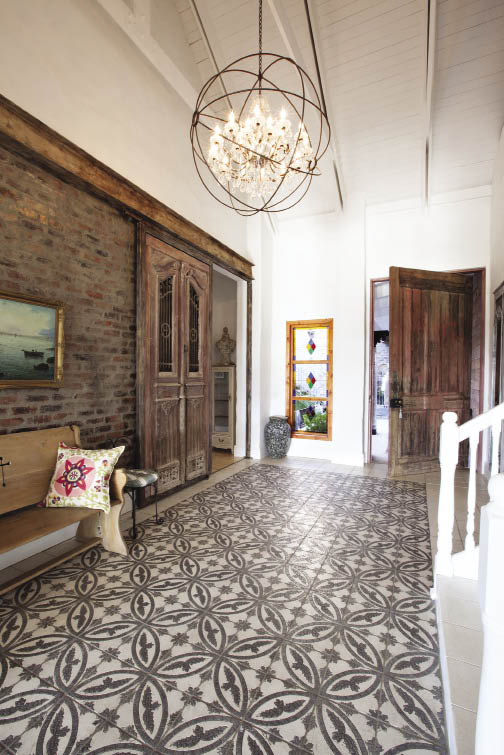 By Refilwe Boikanyo, Project Consultant Lorna Ioakim, Property Coordinator Chantel Spence, Photography Irma Bosch
Set in a peaceful location with beautiful views, this home is inspired by the French farmhouse style, where family and friends are welcome.
It consists of different parts: a main house with a large entrance hall, and a lofty cottage positioned above the garage. The property also boasts fully equipped domestic quarters, and a beautiful outdoor area with a swimming pool and vegetable garden.
The owners were inspired by old historical buildings such as cathedrals and churches in Europe, so with the help from their architectural designer, Julian van der Linde, they managed to give their home a timeless quality, despite it being newly built.
Van der Linde explains: "Only true materials where used – no fake rock or wood. We used natural raw materials that would age and add grace to the home over time."
Dressed in these natural materials and boasting features such as metal roofs, exposed trusses and big stained windows, the house was also designed to embrace its natural surroundings.
"We are very fortunate to have a stand that is higher up and has the most stunning views, especially of the sunset in the evenings. So we positioned the house in such a way that pretty much every room has some form of view – whether it be towards Magaliesburg in one direction or over Monaghan Farm in the other," says one of the owners.
"We also set the house further back on the stand, so that we would be able to use all of the land and have the bigger garden area in front of our entertainment area. We made sure that the entire house is surrounded by the garden.
"I had always dreamed of having a stately driveway with plenty of room to manoeuvre easily, and for guests to be able to park their cars without any problems. Our architect managed to achieve this without taking up too much of the garden space, and the driveway is one of the main features to our home."
Inside, the house has a classic comfort and style that has been paired with personal touches. "We didn't really have a set style in mind, but knew that we wanted to keep to the more traditional styles," says the owner. "I think you could say that the house is more of a 'French farmhouse', with a couple of European influences. We are also very fond of the Victorian, Classic, Art Deco and Art Nouveau periods, and a lot of our decor is inspired by these periods," she elaborates.
With so many style influences meshed together, it's clear that the home exudes personality. Most of the rooms have white or raw brick walls washed with concrete, and light, genuine wood floating floors, creating a neutral backdrop that lets the furnishings and accents shine through.
According to the home owners, thanks to their clearly defined vision, a skilled and helpful architectural designer, and lots of patience, creating their dream home wasn't very challenging.
"I would say that the most challenging aspect was getting the more modern aspects of our house (whether it be the stove, taps, furniture or fittings) to blend in and complement the older aspects of the house." The result is an artfully arranged home that cleverly combines old and modern pieces, setting a pace of life that allows for simple pleasures, such as basking in the sun, farming your own produce, taking in the scenery, and reconnecting with yourself and others.