BEAM Central Vacuum Systems use specifically designed tubing installed inside the walls of a home to carry 100% of the contacted dirt, dust and allergens away from the living area to the central power unit commonly located in the garage, utility room or basement.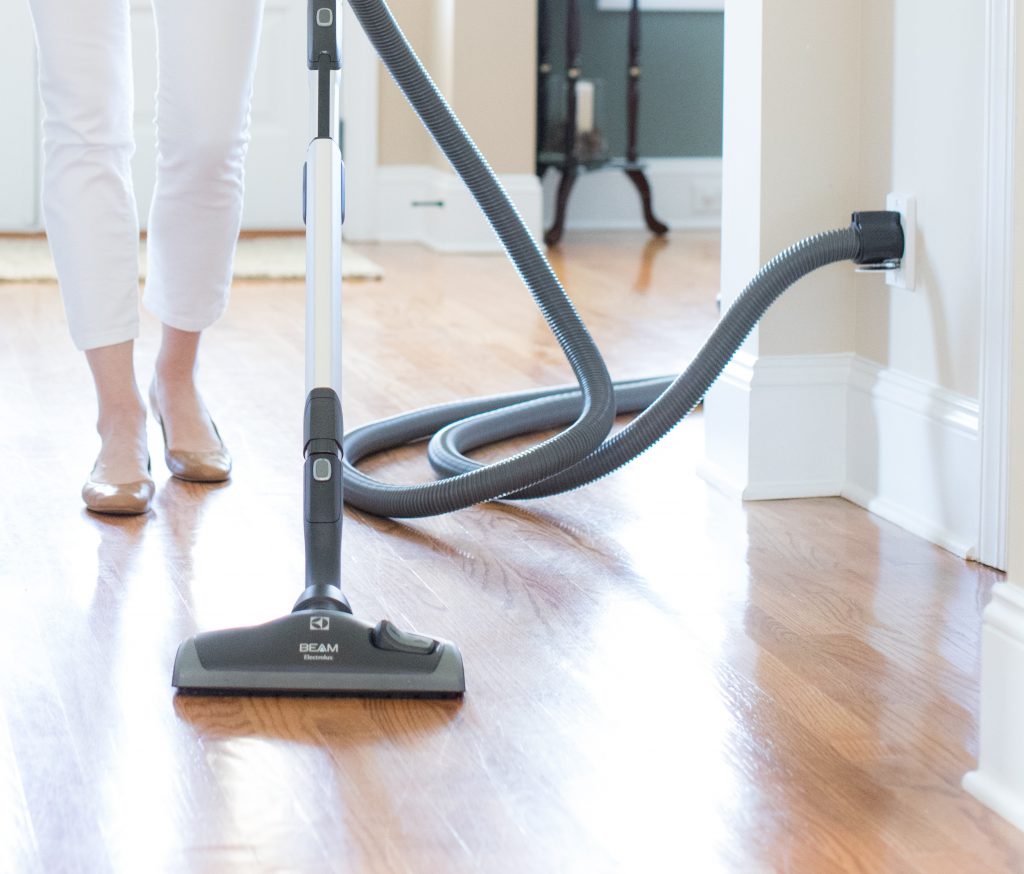 A lightweight hose and ergonomic tools let you move easily from task to task, level to level, floor to ceiling, and upstairs, without getting a sweaty workout from dragging around a heavy portable vacuum. The average portable vacuum weighs 7kg while a BEAM hose and handle is only 3kg. Say goodbye to lugging a heavy vacuum cleaner around the house!
Visit www.beamcentralvacuum.co.za to explore what a difference a Beam central vacuum system will make to your life!
How does it work?
To activate the system, the home owner will simply insert the lightweight hose into a central vacuum wall inlet valve. Most homes will typically have one central vacuum inlet valve per floor, averaging three per house.
The flexible lightweight hose and inlet system allow you to easily move from room to room without having to push a heavy upright vacuum or pull a canister vacuum behind, bumping into walls or valuable furniture.
BEAM Central Vacuum Systems are much quieter than portable vacuums as the power unit of a central vacuum is located outside of the living area, where the motor of a portable vacuum is in the same room you clean. Tubing that is installed inside interior walls, the attic, basement and crawlspaces connects vacuum inlets to the power unit.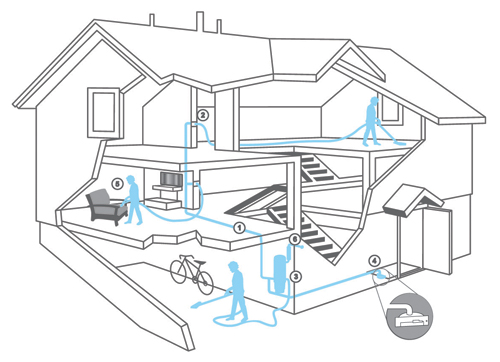 1. Each strategically located inlet valve lets you vacuum approximately 65-75ft2 at a time.
2. The power unit is located away from the living are, usually in a basement, garage or ventilated utility room.
3. Innovative accessories like the VacPan can be incorporated into the system for additional cleaning ease.
4. A variety of cleaning attachments such as a crevice tool, dusting tool and fabric tool allows you to vacuum any type of surface.
5. Exhausted to the outside or through a HEPA filter system, you are left with nothing but clean indoor air.
The health benefits of using BEAM
BEAM Central Vacuum System dusting attachments allow you to put more power into dusting. A BEAM system removes 100% of contacted dust, mites, dander, pollen and other allergens and carries them away from the living environment to a canister usually located in the garage or basement. Regular deep cleaning with a BEAM system means you'll breathe easier and dust less often.
A BEAM Central Vacuum System can help improve your indoor environment. Up to five times more powerful than upright vacuums, a BEAM system completely removes contacted dirt, dust and allergens from living areas. BEAM Pet Grooming Tools remove pet hair and dander as you groom/comb small or large pets.
With a BEAM Central Vacuum System, there are no filters and screens to clean and replace. BEAM power units use an exclusive permanent self-cleaning filtration material from the makers of GORE-TEX fabric. By using cyclonic forces to separate larger dirt particles and allergens from vacuumed air the permanent filter removes tiny particles at a stunning 98% efficiency at 0.3 microns.
Dust particles do not stick to the BEAM self-cleaning filter surface like conventional filter media. And most importantly, power is not lost as the bucket fills up, allowing the BEAM Central Vacuum System to sustain a high level of performance time after time.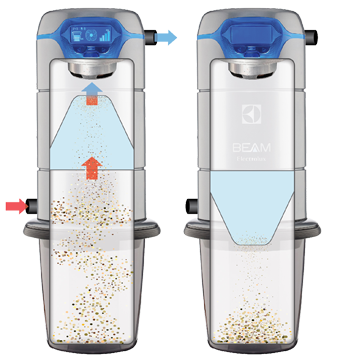 How quiet is a Beam Central Vacuum System?
A BEAM Central Vacuum System is quieter than most household noises that you are used to hearing every day. What does this mean for you? It means you can easily vacuum your home while other activities are taking place in the room without disturbing anyone. You won't miss that important call when the phone rings. You can even talk on the phone while you are vacuuming.
• Unlike conventional vacuums that can recirculate dusty air, a BEAM Central Vacuum System removes 100% of contacted dirt, dust, mites, pollen, animal dander and other allergens from the home.
• No need to lift heavy vacuums, trip over cords or drag a portable canister around furniture causing damage. There's only a lightweight hose that gets in all the hard to reach places – even under furniture!
• A larger motor allows BEAM central vacuums to provide up to 50% more suction power than a portable vacuum.
• Less hassle. BEAM central vacuums have a self-cleaning filter that never needs to be replaced and a large capacity dirt bucket that only needs to be emptied about twice a year. Portable vacuums have filters that need to be replaced and bags that need to be emptied regularly.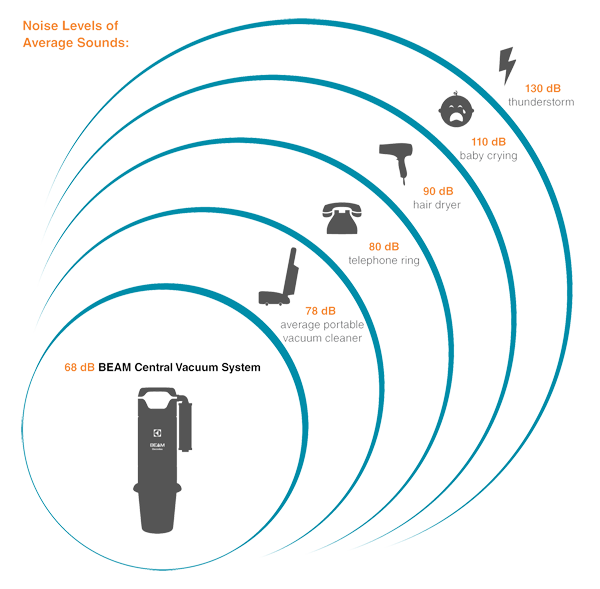 BEAM accessories
Vacpan
The Vacpan is a must-have in any home. No more stooping to use a dustpan in the kitchen, mudroom or foyer. Just sweep debris into the inlet mouth, touch the toe switch and dirt is whisked away. Contemporary styling leaves no gaps when not in use. *Professional installation required.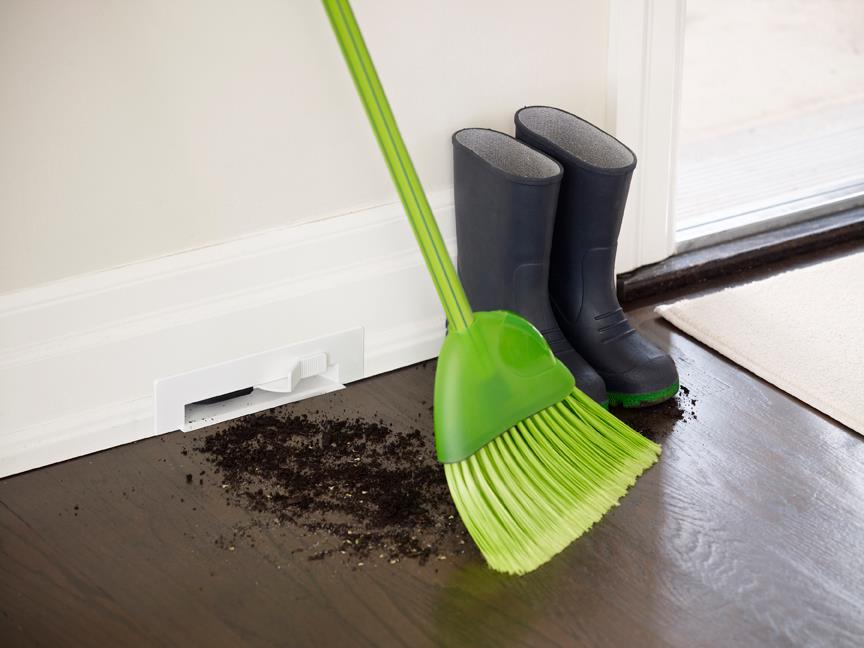 Car Care Kit
When you use the BEAM Car Care Kit you lift dust, dirt and debris from the carpet, hard surfaces and upholstery, making it a great tool to clean your car or truck. Versatile attachments including an upholstery nozzle, round dusting brush, crevice tool, and a 9m hose with 360° full-swivel handle to eliminate kinking, make cleaning even remote corners easy.
Visit http://beamcentralvacuum.co.za/ for more information