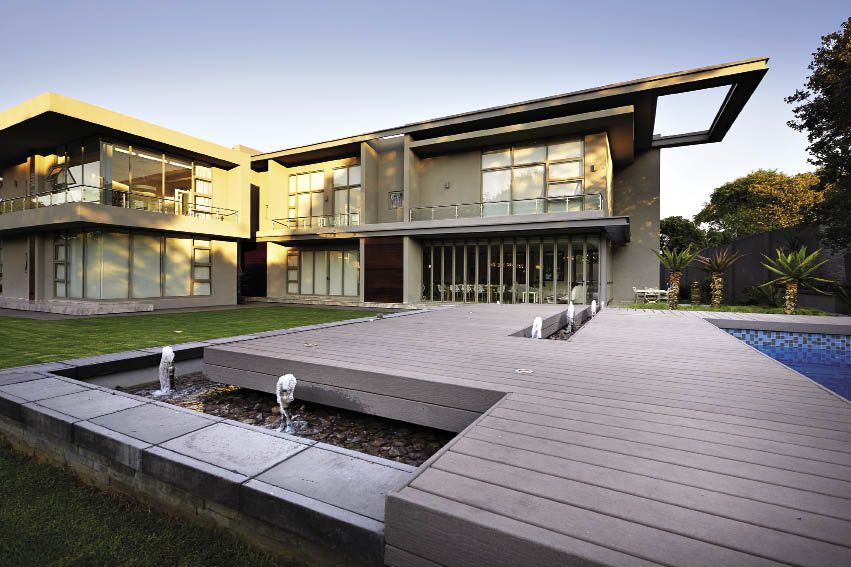 By Sungula Nkabinde, Project Consultant Monique Rankine, Property Co-ordinator Chantel Spence, Photography Nic Baleta
Building a house is one of the biggest financial and lifestyle decisions you will make. Because, when one builds a house, it must not only be solid and on good foundations, it must also be a home. Therefore you have to take into consideration all its occupants' preferences, lifestyles, and needs. For this spacious, modern family home, the brief to the architect was to ensure it was warm with as little as possible effect on the environment. The home owners wanted a home that was full of light, had vast space but still maintained a homely sense of warmth.
Looking at the home, it becomes obvious that the architect delivered quite precisely on what was asked. The interior and exterior are seamlessly designed to accentuate the contemporary architecture of the home, which is surrounded by a blooming indigenous garden. South Africa is home to one of the richest floral kingdoms in the world and is renowned for its vast treasure chest of flowering plants.
And, after looking at the garden surrounding this home, the above-mentioned fact comes as no surprise. The entire interior was done by Anne York, one of the country's most celebrated and respected interior designers, with over 30 years experience both at home and abroad. The main area is a huge open-plan living room and kitchen with a seating ensemble to match. The sofa alone could seat the starting 11 of an entire rugby team, and the size of the kitchen seems fit for a local diner rather than a family of three.
While each of the rooms in the house has its own special appeal, nothing captivates the home owners like the adventure room upstairs. The room carries the family's rich memories and appreciation for travel, and stands as a reminder of all the fun they have had together.
"It is full of old artefacts and books, and there are framed pictures of places we have visited. There is an old Cape kist made of stinkwood that creates a nostalgic look to the room, and the leather couches are frayed and show some ageing.
In a nutshell the room looks like an adventurer's treasure chest," say the owners.
Exquisite woodwork enamours the entire upstairs area enhancing the fine features of the modern furniture, artwork and ornaments. Perfectly situated behind the house is the pool, subtended by a maze-like deck, that leads to an elevated entertainment area overlooking the garden.
One thing is for sure – this is a home that is to be enjoyed. Its beauty is personified by the structure's timeless grandeur, which is complemented by the touch of simplicity in its decor and furnishing.