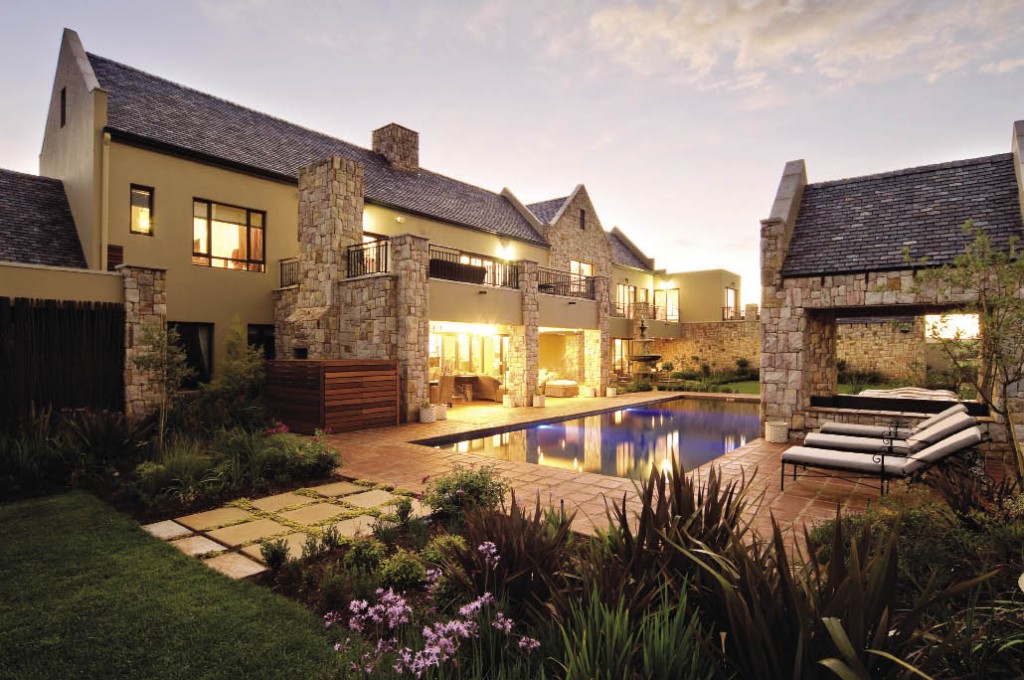 This home was born in celebration of its beautiful surroundings and the close-knit family living within its walls.
Designed around the clients' brief to achieve elegant, gracious, old-world charm, planning was the key to success, and Edmonds and Erasmus Design Consultancy dedicated significant time to analysing the clients' lifestyle before slowly building up the plans for the home, from sketch flow plans to final construction.
The home owners wished for a home that would radiate warmth and intimacy without being pretentious, and had very specific requirements for safety, indoor and outdoor entertainment, thermal insulation, kitchen functionality and elegant bathrooms. The home had to accommodate the extraordinary lifestyle of family togetherness, delivering a "manor house" appeal that, at the same time, fits in with the estate's building regulations. A lot for the appointed suppliers to consider.
Good planning and professional execution were key in the creation of this home.
From a site perspective, the ideal north orientation, beautifully contoured golf course and breathtaking vista created a superb backdrop for the construction of this home. Balancing these aspects with estate architectural guidelines including height restrictions, a 45° boundary envelope to allow for open sky space between homes, and a number of prescribed architectural finishes, the home took shape from the outside in.
The interior layouts, fittings and finishes were guided by the multi-disciplinary Edmonds and Erasmus Design Consultancy, with the result being an ideal marriage between architecture and interior design flowing over into the garden design. Beneath the stone facade and traditional grandeur of the slate roof, lie some very practical and sensible applications to make the home more comfortable and liveable. The use of double-glazed windows and folding doors, cavity walls with polystyrene insulation, and wall heating combined with gas vent-free fireplaces (central and double-sided to extend the warmth across two rooms), makes this home a dream house in which to live, in both summer and winter.
Beautiful solid wooden flooring, and the delicate craftsmanship of a classical, turned wooden balustrade, among other finishes, lend a consistent elegance to the interiors; while outside a hot tub pavilion overlooks a large, mosaic-clad swimming pool – a favourite escape area where intimate conversations and quality life away from the frantic day to day dramas allow for complete relaxation.
This home is a celebration not only of its surroundings and ensconced family, but of the talent, skill and sensitivity that went into creating it. It is a celebration of dreams come true.