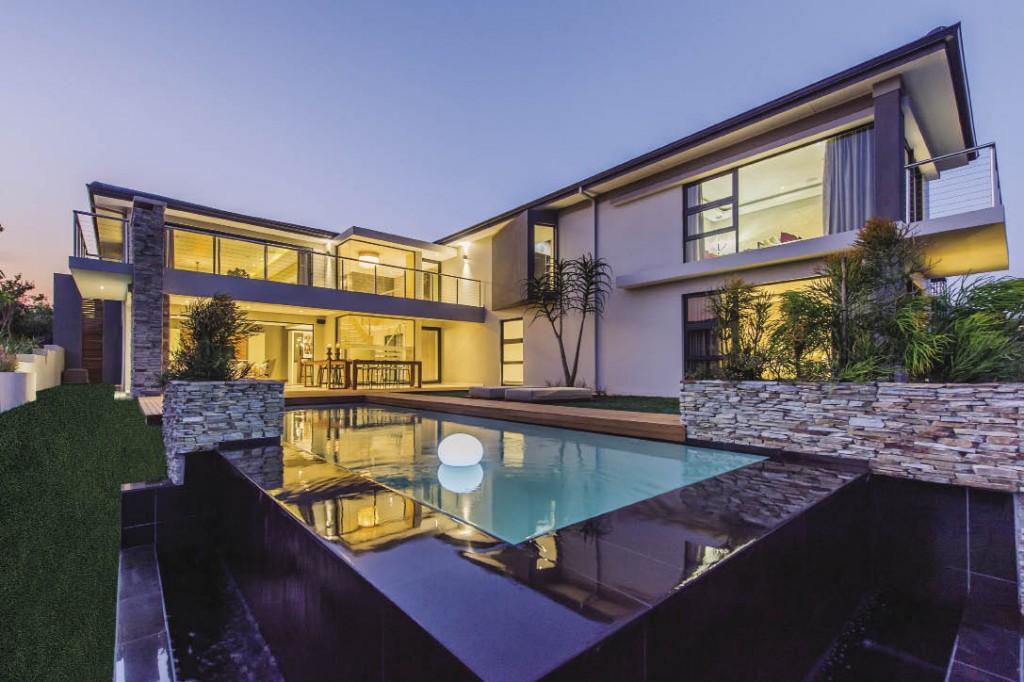 By Jess Binns, Project Consultants & Property Coordinators, Avril Elias & Claudelle Knock, Photography Chris Allan
On a quiet Sunday afternoon, a drive into Brettenwood Coastal Estate on the KwaZulu-Natal coast became the turning point for the owners of this prestigious home. Within half an hour, the family decided that this is where they belong.
"We drove up to the ridge of Brettenwood, only to discover the most breathtaking views," the owner says. "The decision was made in an instant: this is where we would build our home."
Having grown up close by, in Chaka's Cove, the owner holds this area close to his heart. "I always planned to return to live here one day."
Once the site was carefully chosen, architect Peter Whitehouse worked closely with the owner to bring his detailed vision of a "modern" home to reality. The brief was to create two wings to separate the living quarters from the bedrooms, with a request to have the best view from the master bedroom. The architectural outcome is one of living areas flowing seamlessly from the indoors out, all the while directing your eye to the horizon.
The heart of this home is the kitchen, a well thought-out design that enables the family to congregate there. The glossy surfaces contrast with the cosy, warm textures of the entertainment space close by. The bedrooms have been lovingly designed for each family member, to suit and reflect their own tastes. Soft lighting, large statement mirrors and fitted carpets add glamour and sophistication.
When flicking through past issues of SA Home Owner, the owner came across a house situated in a neighbouring estate, which was undertaken by Ballito-based Olàlà Interiors. "I remember seeing the interiors Schane had worked on and, although they were not to my taste, I warmed to her on our first meeting and felt comfortable that she could bring my ideas and thoughts for the interiors to life. I'm glad to say I was not disappointed." From the built-in fixtures to the finishing decor touches, Schane focused on the client's wish to stay predominantly neutral with splashes of colour. The feel is very much that of a high-end boutique hotel, sleek finishes and textures portraying luxurious quality, with rich rugs, artwork and soft furnishings adding soul to each space.
"It was an absolute pleasure to work with this couple and create a space that will hopefully, in time, create fabulous memories. They truly are kind, amazing people," says Schane. The feeling is mutual. "Schane has become a friend. As I was often working away, she dutifully checked on progress regularly. She probably still knows more about this house than I do!" the owner muses.