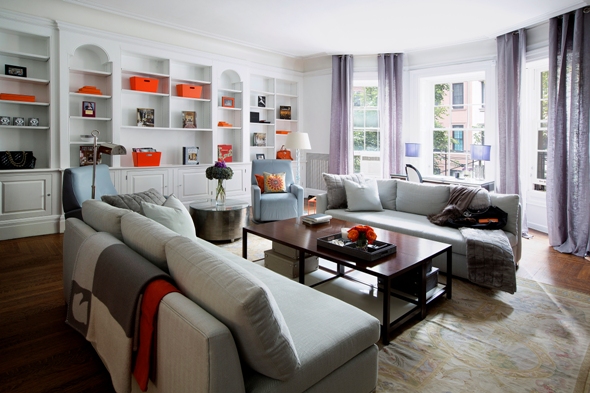 Dee Dee Eustace is an acclaimed architect, interior designer, furniture fabricator and principal of Taylor Hannah Architect Inc. She has worked on hundreds of notable upscale residential and commercial projects all over the world. Here, we take a peek into her stylish NYC Upper East Side apartment.
The apartment Dee Dee created is spacious, elegant and contemporary with ten-foot ceilings and three working fireplaces. It is stylish and sophisticated, but not fussy – perfect for entertaining, even on a large scale. Chic yet comfortable – for her daughter, friends, family and even their two dogs – the apartment looks out over a beautiful and picturesque Upper East Side street with Central Park just up the road. The bedrooms on the second floor face a quiet, leafy Zen courtyard.
Filled with a mix of contemporary and traditional furniture, much of it designed and fabricated by Dee Dee herself, this is  an apartment where colourful and unique accessories coexist in harmony with family heirlooms and vintage pieces picked up on travels around the world. You will also find an eclectic art collection, bright textile accents, and some fun decor pieces from a neighbourhood shop on Madison Avenue. The dining room features black-lacquered pieces that play off against soft grey furniture and accents; and clear-glass chandeliers provide the lighting throughout most of the apartment.
A grey, pearl and black-lacquer accent theme is carried throughout the master bedroom, with Dee Dee's selection of custom pieces. In her daughter Rachel's room, colourful pillows, throws and fun pieces make it the perfect room for a teenage girl. The bathrooms and powder rooms throughout the home have been transformed from run-of-the-mill New York apartment bathrooms. With touches of whimsy decor pieces that delight and surprise, they are distinctive and attractive as they are practical.
VISIT: