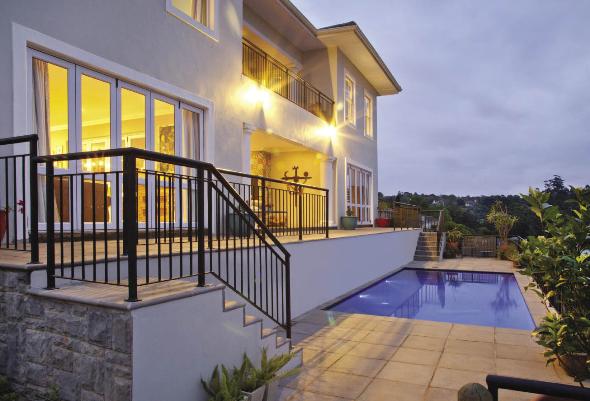 By Heidi Olivier, Property Co-ordinator Avril Elias and Claudelle Knock, Photography Sally Chance
Living in a tranquil and safe environment is what these parents wanted for their children and so they created the perfect family home. "We wanted to be on an estate and let our kids enjoy the lifestyle that we experienced while growing up."
The owners "inherited" the house at an auction. What they got was an unwanted shell on a neglected site. The advantage was that the house had huge potential.
The owners weren't that involved in the external design of the house as the style was determined by the estate they live in, which is based on a Georgian architectural style. They did however have a word or two to say on the internal decor. Having an eclectic and somewhat slightly quirky taste, the interior of the home is fashionable, inviting and certainly not boring.
"My favourite room in the house is the guest toilet. An odd choice I know, but the green walls and my favourite artist Freda Kahlo invading the room, with a crystal chandelier just makes me smile," says the owner.
The next on the favourite hit-list is the library. "This is our quiet area. I love the Italian server, Chinese doors and retro chairs. The books are stacked on the floor and tell the story of our travels, experiences and memories."
The family didn't use the services of an interior designer; instead they stuck by their belief that if you love it, it'll have a place in the home. This belief has resulted in a home full of personality and a collection of treasures that the family holds dear.
Building this fantastic home didn't come without its headaches. Being on a slope required major earthworks and logistics, but the position of the home is perfect and the view of the valley even more so – making it all worthwhile.
The owners visited the site more and more as the construction progressed. When they saw the paint finally on the walls and the light fittings installed, they knew they were nearly home. "We were so proud and excited to move in – it was everything we wanted."
When asked what advice the owners would give potential home builders, this owner says: "Let the architects know exactly how you function in your home. They are clever people but it's very easy to get caught up in design and forget the actual living side of things. When choosing contractors, take referrals seriously."