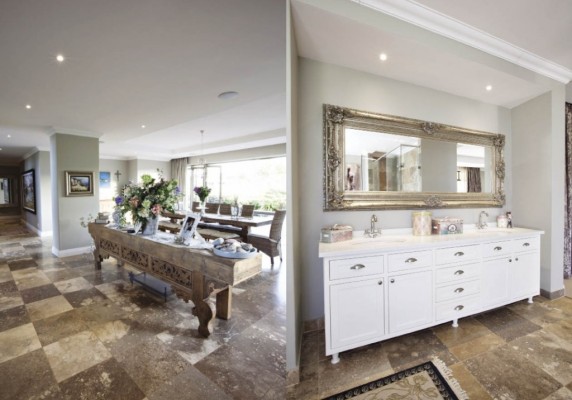 By Sungula Nkabinde, Project Consultant Lorna Ioakim, Property Coordinator Chantel Spence, Photography Irma Bosch
It was both the style and the strict architectural guidelines and specifications that every building has to abide by that drove these home owners towards Lombardy Estate.
"It protects your investment by making sure that the overall look of the estate is of a high quality and good architecture, no matter what each individual's budget is," they say. The home owners planned their home from the inside out, with duck-egg green walls combined with wooden furniture and subtle greys and creams, while loose Persian carpets laid over natural stone tiles give the house a light, earthy feel, wrapped in elegance.
"I just love the French country-style… it invites you to exhale and relax. It has a calming effect on any person entering," says the lady of the house, adding that the kitchen is her favourite part of their home. She is passionate about cooking and baking, and although she has no control over how her family's day goes at school or work, the kitchen allows her some control over how it will end.
"I make sure we have a hearty meal around our dining-room table every night, with good, healthy family time, sharing our day's adventures. And it all starts in my stunning kitchen. I love the little details, like the heart-shaped tiles at the back of my stove, and the 'love', 'hope' and 'peace' engravings on my spice racks. Also, the layout makes everything reachable, but it's still big enough to move freely."
Her husband's favourite space is the wine cellar – a place where they create wonderful memories with their extended family and friends.
The owners wanted this house, first and foremost, to be a family home – a safe place and an escape from the world. It has large open-plan spaces, but also private areas, such as the office, where they can work, and a playroom for the kids. So, whether the family is together, bonding during a game night, or separately enjoying the own spaces, this home is a perfect fit.