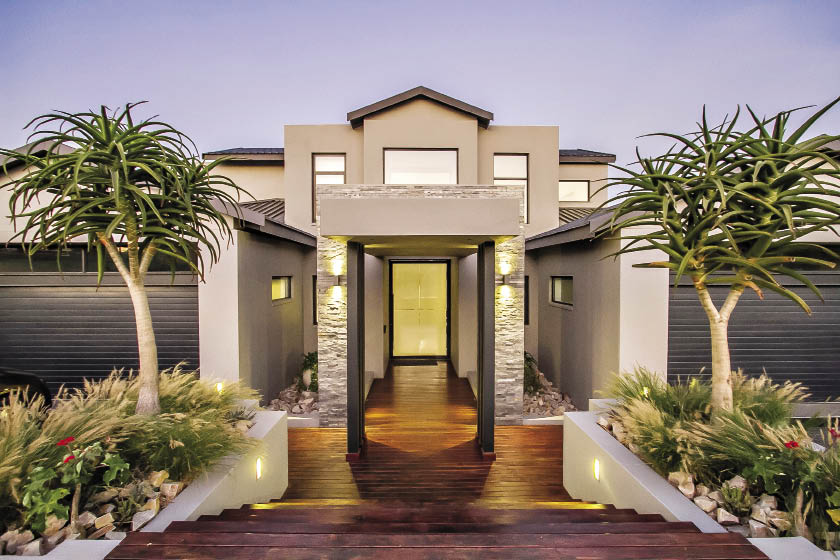 By Refiloe Serai-Mzolo, Project Consultant Candice Jin, Property Coordinator Chantel Spence, Photography Irma Bosch and Simon Webb
What makes this modern, open-plan home next to a flowing river stand out from its Highveld eco-estate surroundings, is its bold design, punctuated with its simple, yet eye-catching, minimalist interior. The extensive use of glass also creates an open flow between the interior of the home and the hectares of open space outside.
A wooden walkway, flanked by indigenous trees and plants, leads to a sandblasted glass pivot door that opens up to a floating staircase in the entrance way. Once inside, the clean lines of the interior of the home are brought alive by light and refreshing decor in a variety of colours and designs.
Robyn Pirie of Kuki Jeanne Design created an interior that reflected and enhanced the contemporary feel of the house within its natural landscape. "We did this by introducing environmentally conscious and locally made products to tie in with the fundamentals of the eco-estate," the home owner says. This can be seen in the wooden elements in the cabinetry, and other freestanding objects within and outside the home, as well as the stone cladding in the entertainment area that overlooks the pool.
The home is decorated in a natural palette of soothing colours – crisp whites, light stone, silver greys and charcoal – picked up in the furnishings, carpets and window treatments throughout the home. The interchangeable items can easily be replaced or moved, giving the home owners the freedom to reinvent their space for different seasons or the option of incorporating a new trend.
The minimalist design of the home is interspersed with bright accent colours in scatter cushions and other accessories, as well the geometric designs of the fabrics covering the chairs.
The bedrooms, which overlook the eco-estate, feature warm wooden floors, contrasted in the main bedroom with a dramatic all-white en suite bathroom. The crisp colour of the room is highlighted with black window treatments, creating an on trend monochromatic space. One of the highlights of the home is the stylish wine and bar area, which houses a wide range of wine and a state-of-the-art wine cooler. With a relaxing seating area, it is the perfect space for hosting friends and family or for unwinding after a long day.
Although modern in design, this is very much a family home. From the inviting family room with the wall-mounted TV and comfortable couches, to the brightly coloured children's bedroom, decorated with creative animal prints and multicoloured carpets, it is a home in which the owners can happily raise their children in and to which they return with renewed excitement.