As we all said farewell to an unpredictable and unprecedented 2020, many of us had hopes for getting back to the old normal, and back to comfortable well-fitted-out office spaces. Sadly this has not been the case, and most of us now get back into lounge-wear, working at dining room tables or kitchen counters. No need to delve into the impact this has on our performance, health and overall well-being.
The average worker spends approximately eight to 10 hours sitting behind a computer screen a day. When doing this in the wrong chair, this drastically affects posture, resulting in neck/back pain and ultimately decreases productivity.
So you're in the market for an ergonomic chair for your work-from-home space. But where to start? What makes a chair truly ergonomic and what specs should be on your radar?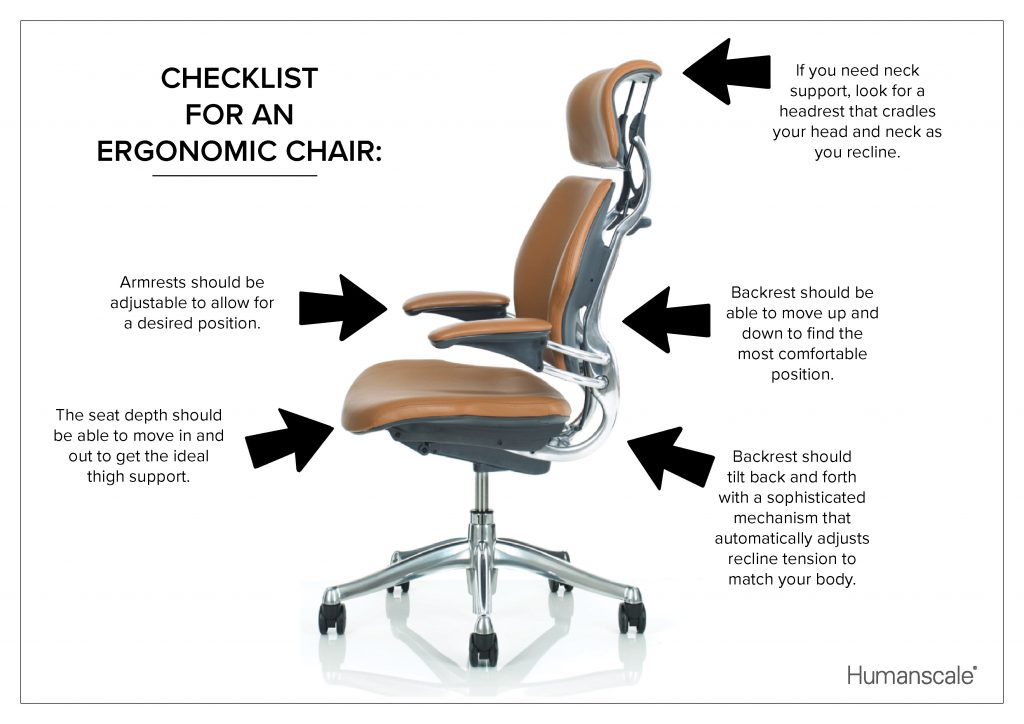 Checklist for an ergonomic chair
Now you're armed with what to look for in a chair. But just as important is to ensure you sit correctly and make the most of your ergonomic chair. Here are six important seating tips that will ensure best posture resulting in greatest daily output.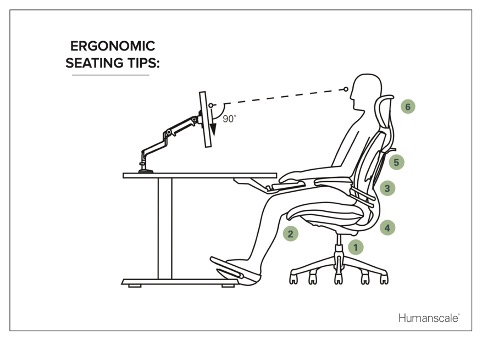 Raise or lower the seat to ensure your thighs are parallel to the floor with your feet flat on the floor or a footrest.
Adjust seat pan depth to maintain two inches of clearance between the back of your knees and the front edge of the seat.
Adjust backrest height to comfortably fit the small of your back.
Adjust the recline tension, if necessary, to support varying degrees of recline throughout the day. Avoid the use of recline locks.
Lean back and relax in your chair to allow the backrest to support your upper body.
When using a headrest, it should allow a support that cradles your neck keeping your head upright when looking at the screen. The headrest should not move with the backrest as this could lead to looking up at the roof, activating your neck muscles to lean forward to look at the screen.

Upgrade your home office and save 20%
At Ergolab, a combination of comfort, movement and posture are the key driving forces behind a healthy, productive and efficient workspace. Ergolab assists clients in selecting a full ergonomic solution – through a combination of Humanscale sit/stand workstations, monitor arms, office chairs and other ergonomic tools.

20% off sitewide!
For the next four weeks, Ergolab is running a sitewide promo of 20% off all Humanscale products online at www.ergolab.co.za
All you need to do is register/log in to activate and show product discounts. The sale ends on Sunday, 14 February 2021.
Check out what is available online at Ergolab
A bit more about Humanscale:
Humanscale is the premier designer and manufacturer of ergonomic products that improve health and comfort at work. Humanscale's Design Studio, based in New York City, abides by the philosophy that good design achieves more with less. It regularly partners with esteemed industrial designers and is known for its history of collaboration with the iconic designer Niels Diffrient. Various Humanscale innovations have been honoured with more than 200 prestigious awards since 2007. They have also featured in various museums, such as the Museum of Modern Art in New York.