How to heat your home in winter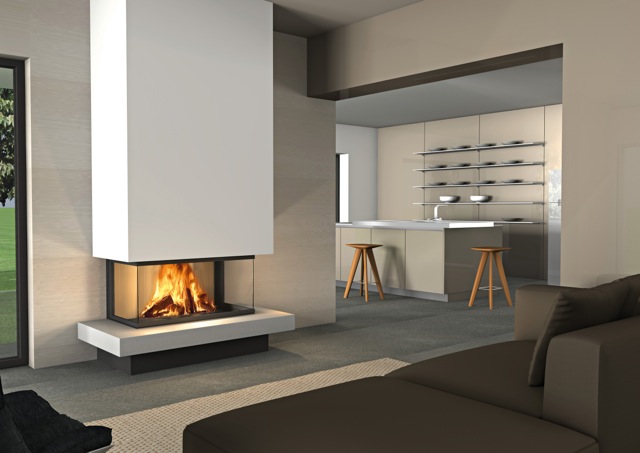 By Paolo Carlone
South African homes tend to be lovely and cool in summer but often aren't designed to keep you warm in winter. As the days get shorter and you start to feel the nip in the air, think about how best to heat your home and get organized before the cold really sets in. Hauling out the winter woolies, boots and blankets is a good start, but nothing comes close to a cup of hot chocolate by a cosy fire.
Traditional open fireplaces look gorgeous but sadly have a low thermal efficiency (only about 25% – 30%), as the majority of the heat is lost up the chimney. In comparison, a closed combustion fireplace has a minimum of 70% thermal efficiency. This is because you can limit the amount of oxygen entering the sealed firebox, which makes the wood burn for longer. The heat is also concentrated in a controlled space, so it reaches much higher temperatures.
Calore, a local company that sells Italian Piazzetta fireplaces, stocks both wood and wood pellet burning closed combustion fireplaces. Wood pellets are pretty nifty as they're incredibly easy to handle, transport and store. As a biofuel manufactured from compressed offcuts and waste from South Africa's timber industry and alien vegetation, they are a great green alternative to non-renewable energy sources. Having an efficient fireplace is also a great way to cut back on electricity costs.
If you want to heat more than one room the Calore Multifire System is the way to go. This ingenious system allows you to duct and distribute heat evenly throughout several rooms simultaneously, from the floor to the ceiling, offering comfort and constant warmth.
The options are endless, but before you start doing any research or set your eye on a particular fireplace, give some thought to the following:
Have a clear idea of the space you want to heat.
Come up with a realistic budget of what you are prepared to spend.
Decide where you want to put the fireplace and consider what will best suit the décor in this room.
Consider whether you want a built-in fireplace or a freestanding one.
Think about whether you would rather use wood or wood pellets as your source of fuel. Consider whether you would prefer a natural wood flame and traditional look or the convenience or wood pellets with a more controlled flame.
Calore is the exclusive distributor of Piazzetta fireplaces in South Africa–with showrooms in both Joburg and Cape Town. Visit www.calore.co.za for more information.