Recipe, styling and photography Deirdre Gullan
Lentil bobotie is a surprisingly super healthy and tasty dish. As you may know, I am always on the look out for new and inventive ways to use beans and pulses, given that they are affordable and filled with healthy goodness. Lentils are low fat and low GI, which means that it keep blood sugar levels stable and hunger pangs at bay. With its delicate curry taste, this dish is the perfect balance between sweet and savoury.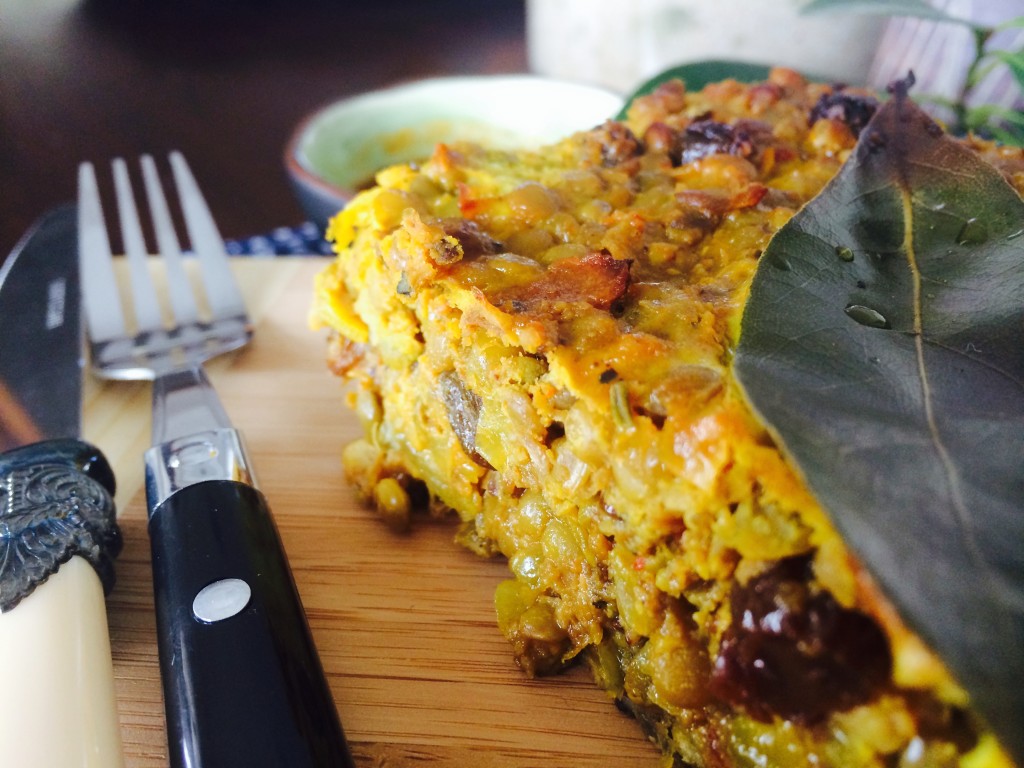 This is my own take on the Cape Malay recipe, which is traditionally made with mince. It's quintessentially South African and since we have Heritage Day coming up in September, I thought I would contribute by sharing this dish, in the hopes that you will make it and love it! You certainly don't need to be a vegetarian to enjoy this one, as it hits all the right taste spots. I even found myself happily eating the left overs for breakfast the next day.
This dish is satisfyingly earthy. The spices, curry powder and bay leaves enrich the depth of the flavour. The turmeric adds a subtle golden glow and every now and again you will get a sweet burst of flavour from the raisins and chutney, which between you and I is my favourite part. The lentils have a good crunch, adding to the gorgeous texture of this dish. And last but not least, is the silky, creamy egg topping. I just love eating healthy food, and I am sure you will enjoy this lentil bobotie as much as I do.
Serves: 4-6
Ingredients:
250g brown lentils
2 slices whole wheat bread
150 ml milk (soak bread in milk)
2 onions, sliced
3 garlic cloves, crushed
2 tsps olive oil
2 tsp mild curry powder
1 tsp turmeric
1 tsp ground coriander
1 tsp. ground cumin
30ml vinegar
60ml or ¼ cup chutney
3 tsps Worcester sauce
¼ cup raisins
Salt and pepper to taste
Topping:
2 eggs, lightly beaten
½ tsp turmeric
70ml milk
Bay leaves for decoration
Method:
1 Pre heat the oven to 180 degrees C.
2 Cook the lentils according to the packet instructions. Lentils must still have a slight crunch.
3 Mash soaked bread and add bread and milk to the cooked and drained lentils.
3 Fry the onion and garlic until soft.
4 Add the curry, turmeric, coriander and cumin and fry for 1 minute.
5 Add the vinegar, chutney, Worcester sauce, salt and pepper and raisins.
6 Add in the cooked lentil mixture and mix well.
7 Spoon into a greased oven dish.
Topping:
1 Beat eggs, milk and turmeric.
2 Pour over the lentil mixture.
3 Poke some holes in the lentil mixture for milk mixture to drain into.
4 Top with bay leaves and brush with a little oil to prevent burning.
5 Bake for 30-40 minutes until egg mixture has set.