Our panel of bedroom specialists reveal inspiring modern bedroom ideas.
Modern and organised
"A great way to create an inspiring and modern bedroom is to remove the clutter and introduce unfussy statement lines. You can do this by drawing attention to the shape and design of your bed. By adding a stunning four-poster bed, which has the simplicity of wood poles drawing the eyes upward to enhance the ceiling height, you'll give your bedroom a sense of grandeur while remaining modern.
"I am also a big fan of La Grange's Distrikt Bed which incorporates side tables and is made from solid oak with steel legs. By combining the side tables you're keeping your bedroom minimal and clean." – Heather Boting, interior decorator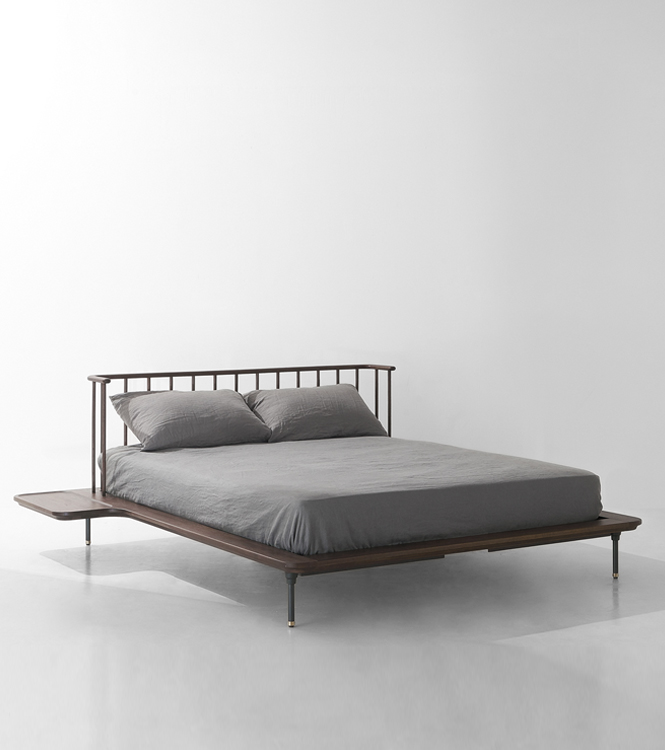 Layering and textures
"Modern does not mean cold and austere! Luxury textiles add that soft touch we all crave in a bedroom. Adding layers is also very important – we're talking deep-pile rugs, high thread count bed linens and layered textured throws. Add a scatter cushion or two – all leading to a plush feeling of comfort and luxury." – Ester Venter, owner of Posh Interiors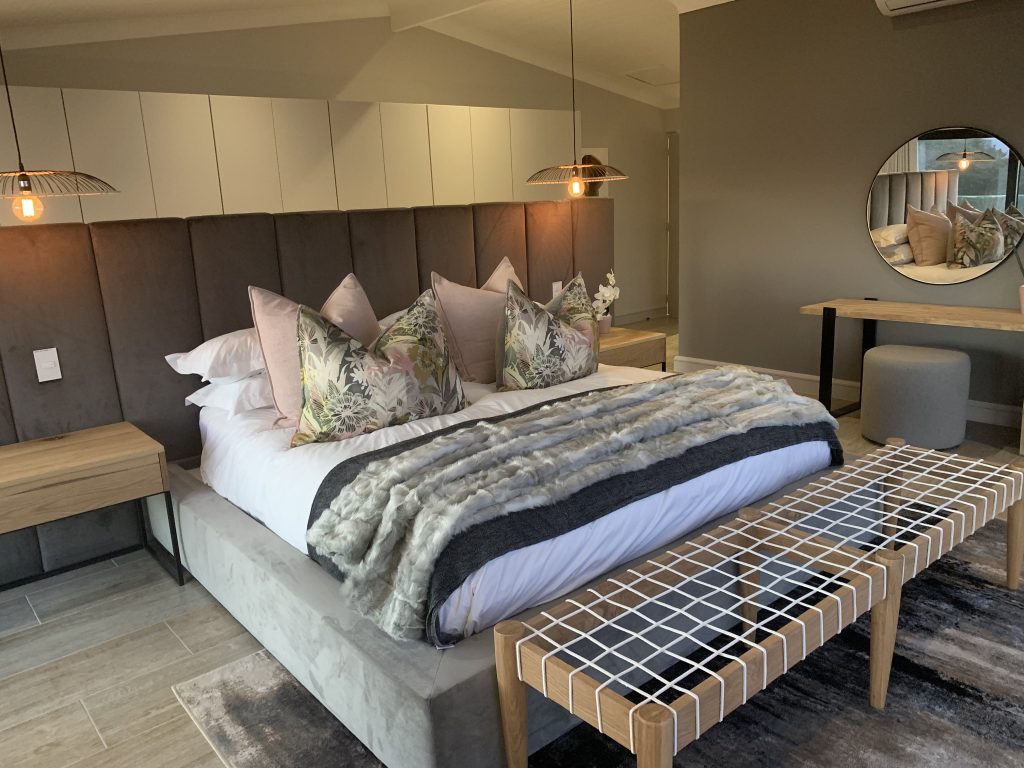 Subtle accent hues and lighting
"You don't have to stick to white and grey to achieve a modern look in your bedroom. Add subtle colour in your accessories – be it scatter cushions, a throw, striking wall art or a beautiful vase or objet d'art. Achieve a warm yet modern look by adding subtle bedside lighting. Always keep in mind that your bedroom should be your haven, a place of peace, love and rest." – Ester Venter, owner of Posh Interiors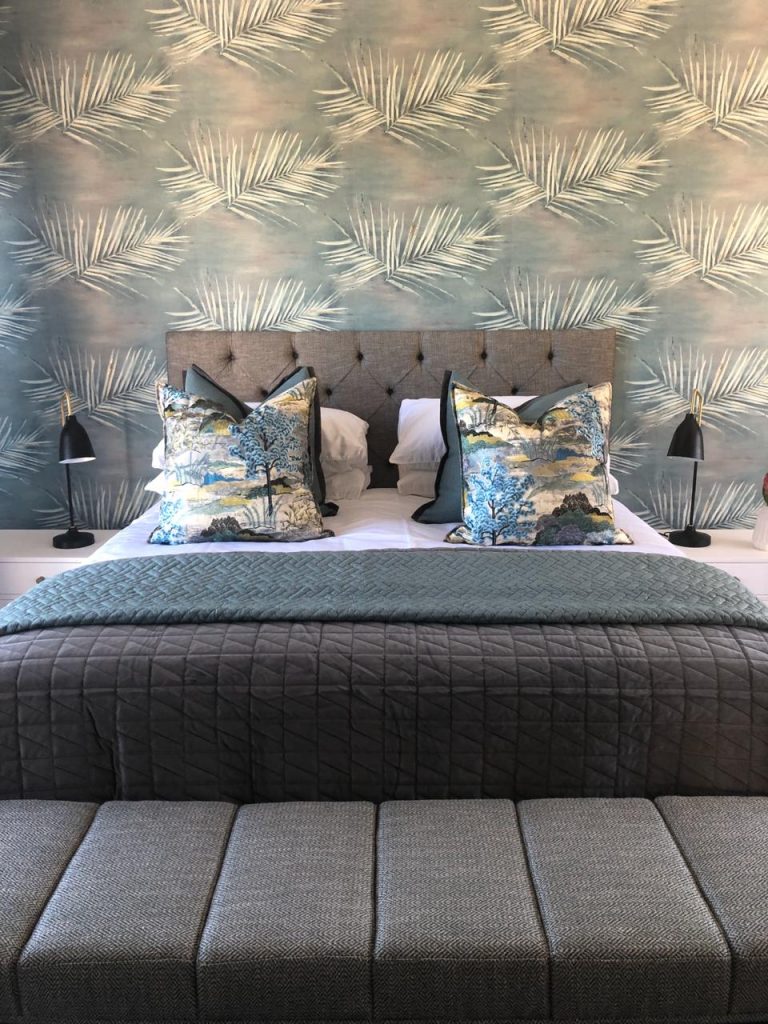 Go for a statement wall
"Modern design etiquette is to paint three of your bedroom walls and dress the fourth wall with a statement wallpaper. Try to maintain a neutral colour palette and opt for textured or patterned wallpaper. No modern bedroom would be complete without remarkable lighting.
"Consider choosing pendant hanging lamps either side of your headboard to keep the surface of bedside tables uncluttered and to create a contemporary aesthetic, while also creating a romantic ambience." – Sonika Maritz, creative director at Superior Interiors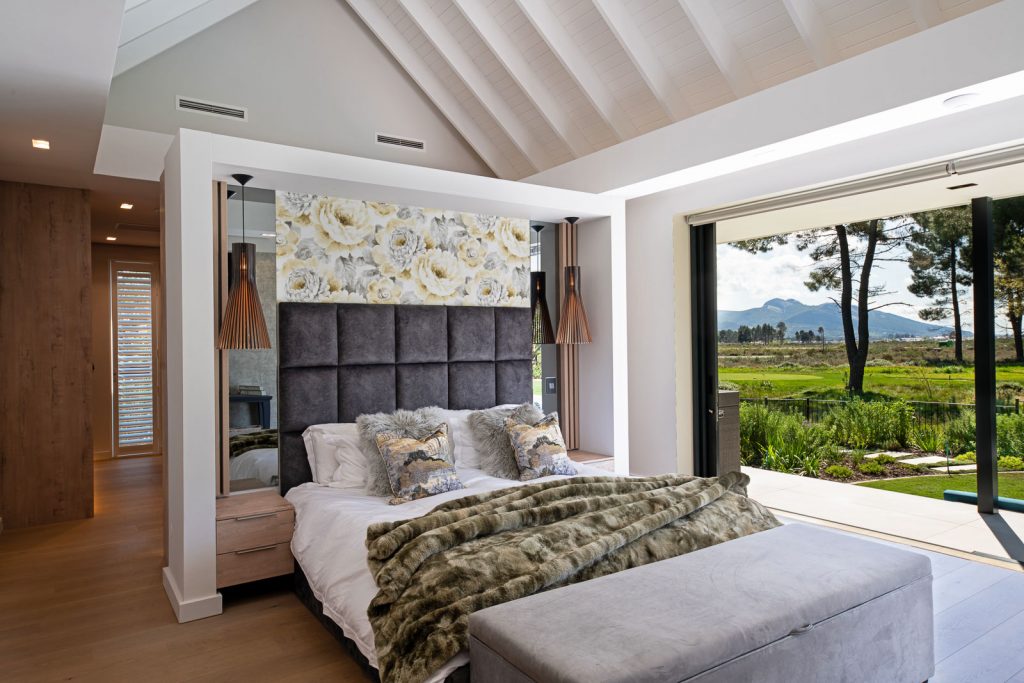 Consider the space and layout
"Remember to not overcrowd the space, and that the scale of furniture should be in proportion to the room. Using a combination of large, medium and small items creates another layer of interest. Each item should have a purpose and the lines should be clean and kept simple for the eye to follow through easily rather than creating chaos with too many contrasting lines/elements.
"Having the correct scale of furniture and utilising the space effectively creates balance and can make the room appear larger than it actually is." – Elisha Annandale, owner of Décor Identity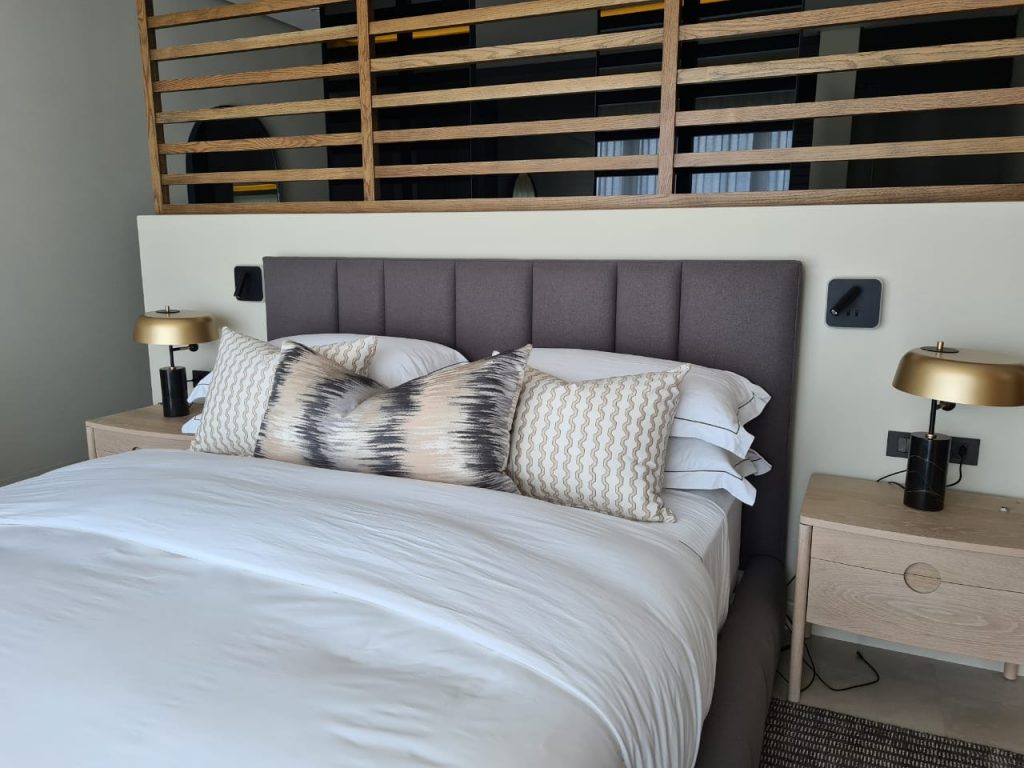 Let the light shine in
"Maximise the amount of natural light in your bedrooms with large windows and uncluttered window dressings. Gone are the days of built-in valances and fussy ruffled curtains." – Carin van Heerden, owner of Carné Interiors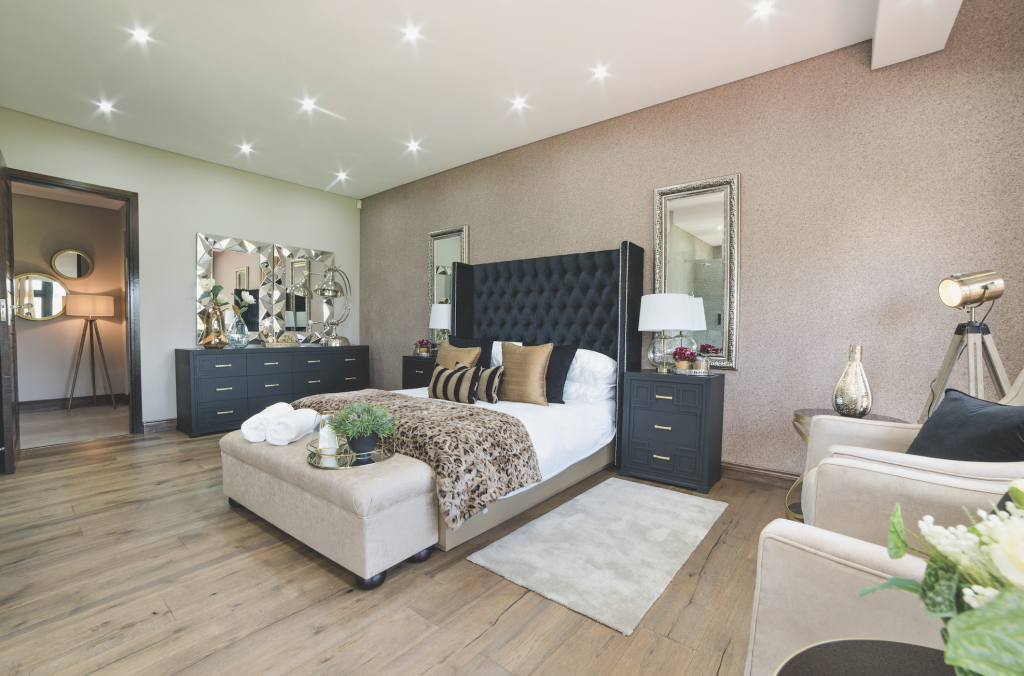 Display wall art
"One of my favourite additions to a bedroom are paintings that evoke a positive memory and set the tone for when you're in this private space. A more modern, inspiring and personal twist to this could be displaying a collection of family photographs that have been printed on metal or acrylic or canvas, rather than the conventional framing route." – Audi Snÿman, owner of Audi Snÿman Interior Design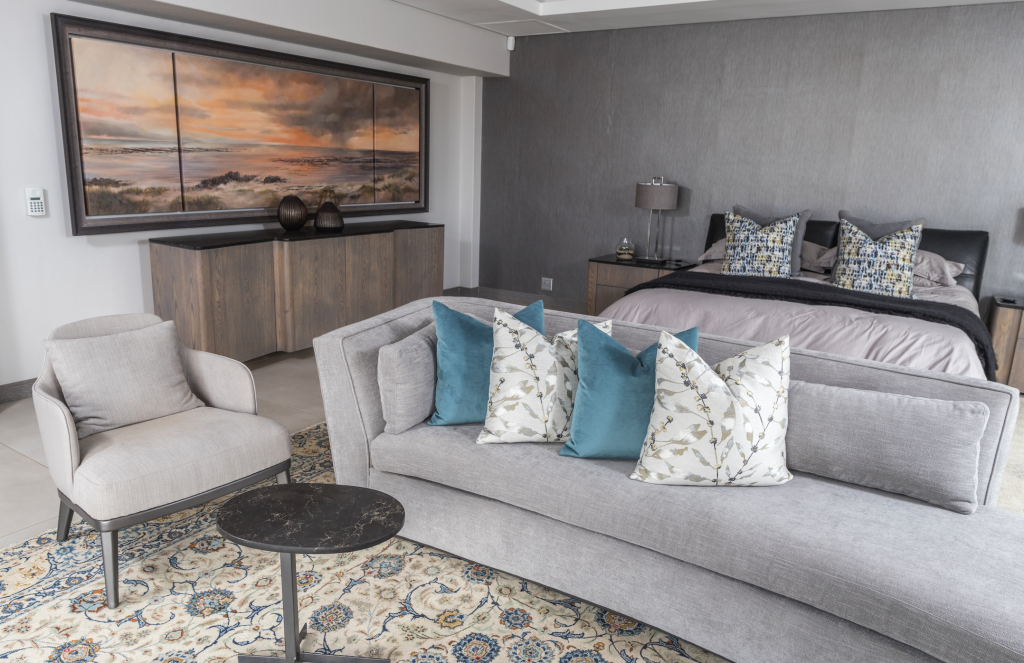 Consider your lighting
"Lighting plays the most critical role in setting the right tone for your bedroom. Create layers of light by using a combination of adjustable ceiling lights and above-bed chandeliers. Lighting should never overpower the room but rather set out a warm tone.
"Remember our bodies naturally follow a dark-light cycle, which means if a lot of external light comes into your room, your sleep will be affected. Invest in good-quality blockout curtains to help you sleep longer and deeper, especially in summer." – Tanya Ramos, Sealy marketing manager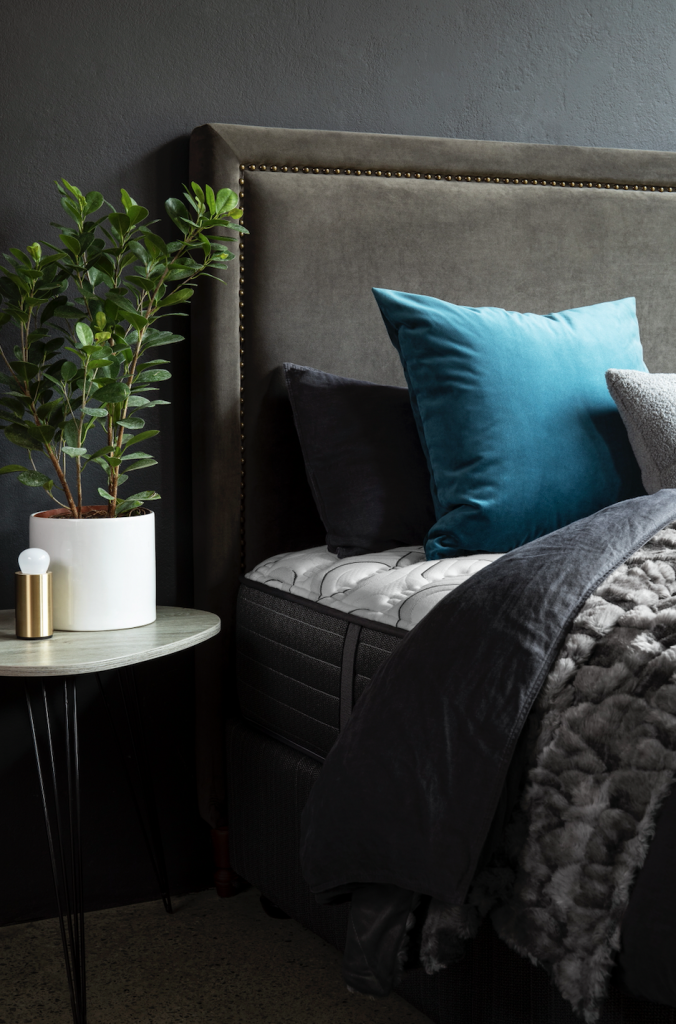 Stick to the essentials
"Must-have items will always include pretty and functional bedside tables for essential reading material and your favourite cup of coffee. Layered soft bedding, a stylish headboard, blockout curtains, a plush rug and a statement mirror will set the scene. An investment in a good-quality bed will go a long way; make sure to choose the right comfort and support to best suit you." – Tanya Ramos, Sealy marketing manager